3 Simple Smoothies for Kids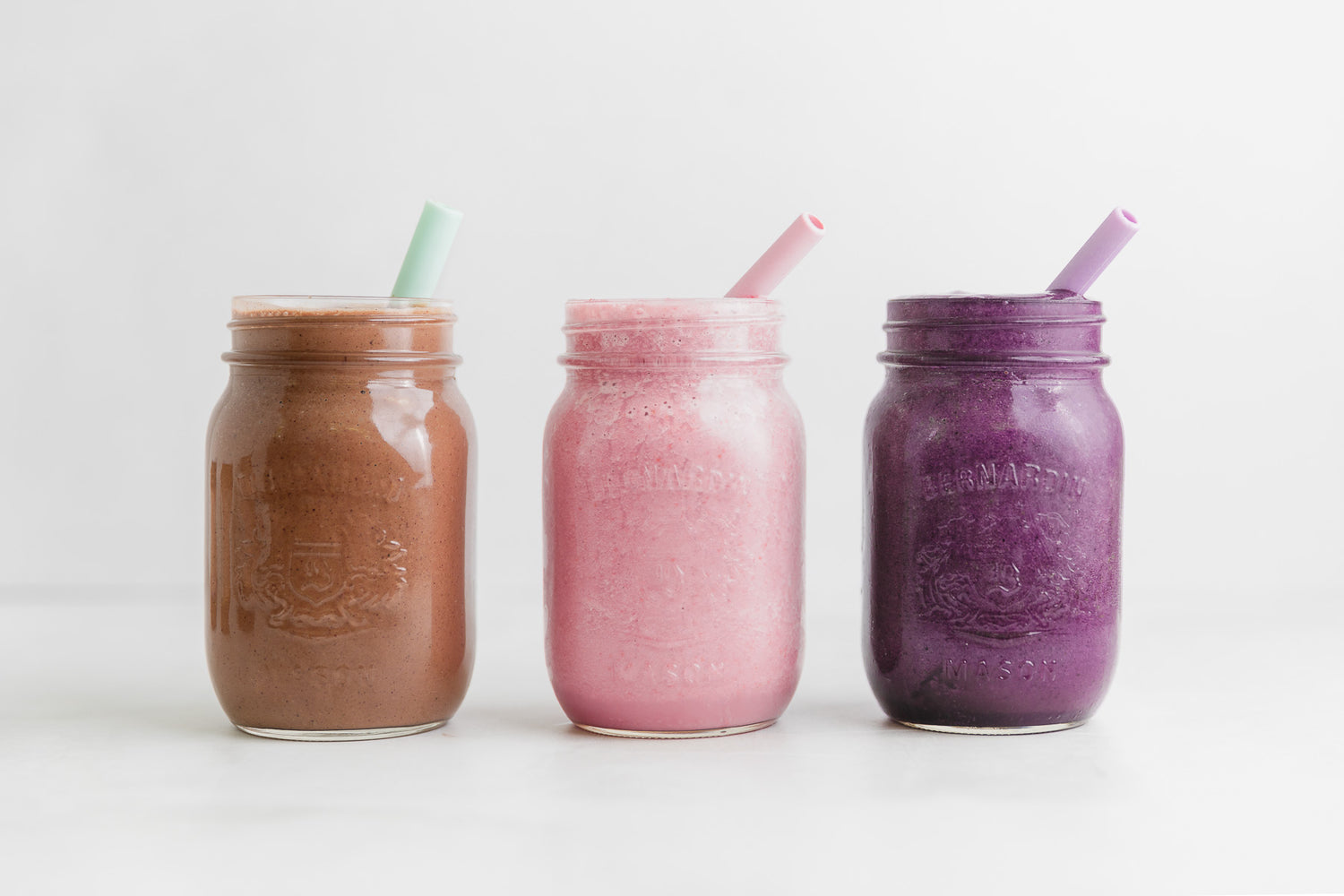 key points
Each smoothie is full of healthy fats, protein, vitamins and minerals
The smoothies are made with simple ingredients that even picky eaters will be able to enjoy
These smoothies are a perfect way to introduce children to new fruits and vegetables
Made with only 5 ingredients each – these 3 simple smoothies for kids are tasty and packed with nourishing ingredients for picky eaters! They each contain healthy fats, protein, vitamins, and minerals – all necessary to support healthy growth and development. 
When it comes to smoothies for adults – we love packing in superfoods, greens, adaptogens and more. Our ultimate smoothie with daily nourish is a perfect example! But, the key to making a delicious smoothie for kids or toddlers is to keep it simple. 
It's unlikely that a picky eater will jump at the chance to enjoy a green smoothie with spinach, kale, or other bitter-tasting veggies. Instead, you might try introducing a simple, balanced smoothie that is slightly sweet (thanks to berries and bananas) – packed with healthy fats and protein. 
Best of all, smoothies are so quick to make – especially the 3 we're sharing today! All you need is 5 minutes and 5 ingredients to make each one of these delicious (and nutrient-dense) smoothies. 
This is a great way to familiarize your kids with adding in more fruits and veggies into their diet.  Great for breakfast, lunch, or a snack - these smoothies can be customized based on your family's taste preference. Let's dig into these nutrient-packed recipes!


Simple Smoothie Add-Ins
Single-ingredient nut butter - The key to a creamy smoothie is nut butter! We love using single-ingredient organic nut butter in these smoothies to enhance consistency and add a boost of healthy fats and protein. Plus, nuts such as almonds, macadamia, hazelnuts, and pistachio are extremely beneficial for supporting healthy brain growth and development!
Chia seeds - are a great source of soluble fibre, protein, and omega-3 fatty acids! They are also rich in antioxidants and contain minerals such as manganese, phosphorus, and calcium.
Hemp hearts - are an amazing source of iron, calcium, and magnesium!  They are made up of 25% protein and 20% fibre. Plus, they support both heart and cognitive health. 
Nut milk - you can use almond milk, coconut milk, cashew milk, or even pea milk in these smoothie recipes! Learn how to choose the best type of milk for your baby & toddler here. 
Chocolate Banana Hazelnut
Nothing is more delicious than chocolate + hazelnut! This smoothie is our take on a chocolate milkshake – elevated. Chia seeds and hazelnut butter add in healthy fats and protein, making this smoothie satiating and delicious. 
½  Frozen banana

2 tbsp Hazelnut butter

1 tbsp Cocoa powder

1 tbsp Chia seeds

1 cup Almond milk
Hazelnut Butter Nutritional Benefits:
Hazelnuts are rich in vitamin E, healthy fats, and fibre - making hazelnut butter great for supporting brain health! They are also a great source of protein, providing 4.2 g of protein per serving (2 tbsp).
Strawberry Macadamia Mylkshake
Macadamia nuts have a neutral, slightly sweet, and buttery flavour that pairs so well with strawberries! You're going to want a taste of this refreshing pink smoothie, so if you're making this for your kiddos - be sure to make extra!
1 cup frozen strawberries

½ frozen banana

2 tbsp macadamia nut butter

1 cup almond milk

1 tbsp hemp seeds
Macadamia Nutritional Benefits:
Rich, perfectly balanced, and delish... we're not kidding when we say that this nut butter is spoon-licking good. Beyond the delicious taste - macadamia nuts are also a nutrient-dense powerhouse! ⁠Macadamia nuts are rich in healthy fats - in particular, ALA omega 3 fats and oleic acid (omega 9)- supporting your brain and heart.⁠ With 4 g of protein per serving and 3 g of fibre - macadamia nuts are a great addition to any smoothie. 
Very Berry Almond
Who can turn down a berry smoothie!? Wild blueberries are a tasty superfood – high in vitamin C, manganese, and antioxidants called flavonoids. You can swap out blueberries with frozen cherries, raspberries, or blackberries – any berry is delicious in this simple smoothie!
1 cup frozen blueberries (or mixed berries)

½  frozen banana

2 tbsp Almond butter

1 tbsp Hemp seeds

1 cup Coconut milk 
Almond Butter Nutritional Benefits:
Almonds contain essential minerals such as calcium, magnesium, phosphorus, and potassium. They are also rich in healthy fats - in particular, ALA omega 3 fats - hello brain food! 
Just like hazelnuts, almonds are high in Vitamin E - a fat-soluble vitamin that is important for vision, brain, and skin health! 
Veggies to Hide In Smoothies
Once you've mastered these simple recipes and have smoothie-lover on your hands, try adding in hidden veggies to up the nutritional benefits! Your picky eater will be none the wiser! Be sure to start with a small amount (for example 1-2 kale stocks, or ½ cup spinach) for the best flavour:
Kale

Spinach

Frozen cauliflower

Cooked & cooled sweet potatoes

Pumpkin purée

Zucchini
We hope you found this blog post helpful - be sure to share a photo and tag us on social media @nomz #nomz if you make any of these simple smoothie recipes!