6 Reasons to Snack on Cashews + an Irresistible Chocolate Frozen Treat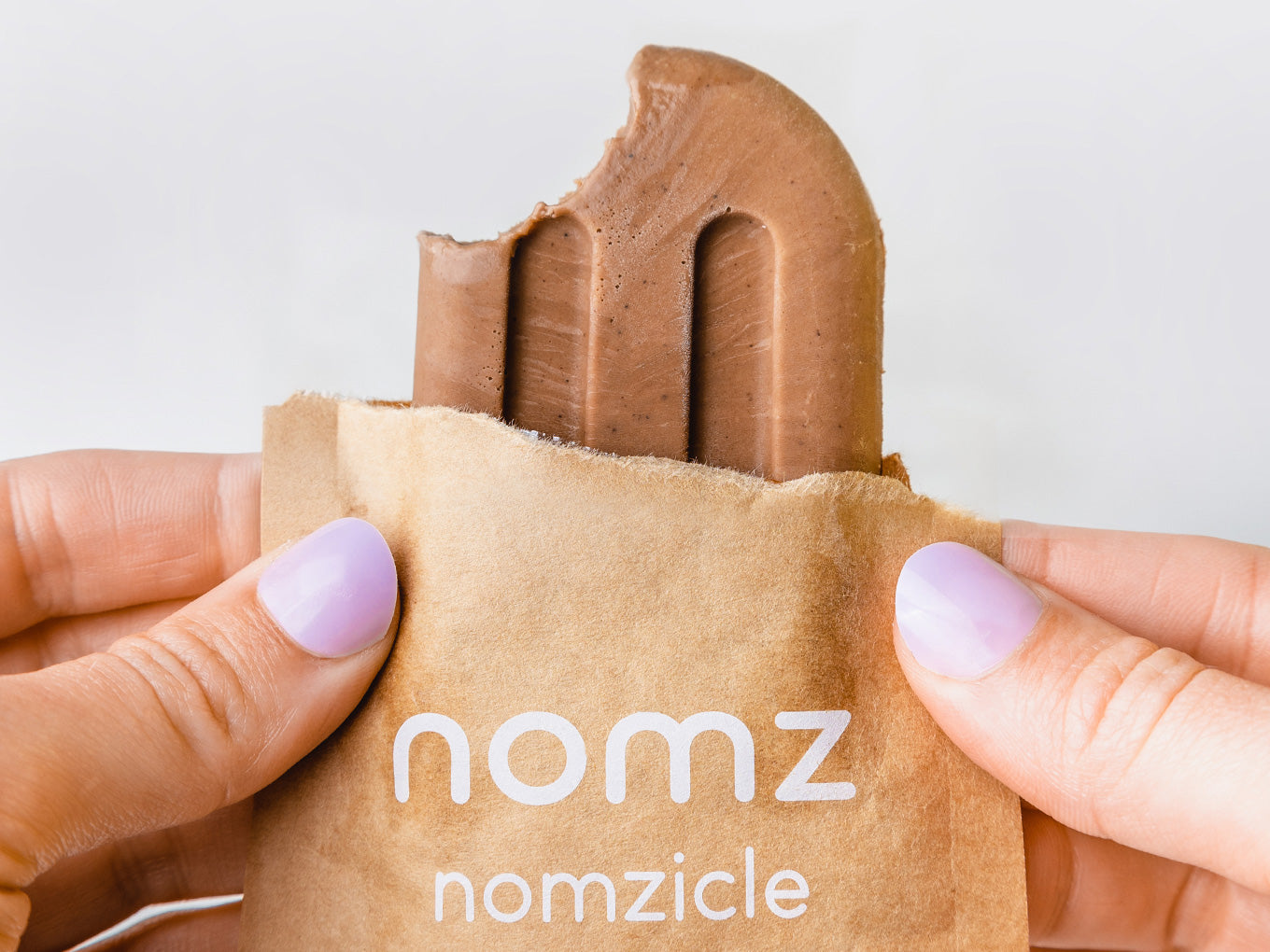 When it comes to healthy snacking options, cashews often steal the spotlight, and for good reason. These versatile nuts have gained widespread popularity due to their exceptional nutritional profile and a range of health benefits. From heart-healthy fats to their role in weight management, cashews offer a delicious and satisfying option that keeps you coming back for more.
Here are 6 reasons to snack on cashews PLUS an irresistible chocolate frozen treat that incorporates cashews for a healthy snack or dessert!
6 Health Benefits of Cashews
1. Heart Health
Cashews are rich in heart-healthy monounsaturated fats, which have been shown to improve cardiovascular health. These good fats help to balance out LDL cholesterol levels while increasing the good cholesterol (HDL) levels, reducing the risk of heart disease. Additionally, cashews contain magnesium, which aids in maintaining healthy blood pressure levels and supports overall heart function. 
2. Weight Management
Contrary to popular belief that nuts are high calorie and therefore will lead to weight gain, cashews can be a valuable addition to a weight management plan. Though they are calorie-dense, the combination of healthy fats, fiber, and protein in cashews provides a sense of satiety, helping you to feel full for longer. This can prevent overeating and unnecessary snacking on carbs and nutrient-poor foods, ultimately supporting healthy weight management. 
3. Nutrient Powerhouse
Cashews are packed with essential vitamins and minerals. They are an excellent source of copper, which is important for the production of red blood cells, iron absorption, and the maintenance of healthy connective tissues, joints, and bones. Additionally, cashews are an excellent source of magnesium, which plays a vital role in supporting muscle and nerve function. Zinc and phosphorus are also abundant in cashews, both of which contribute to bone health and support proper cell function.
4. Antioxidant Boost
These tasty nuts are rich in antioxidants, including vitamin E and plant compounds such as flavanols and polyphenols. Antioxidants help neutralize harmful free radicals in the body, reducing oxidative stress and inflammation. Regular consumption of cashews may contribute to a strengthened immune system and a reduced risk of chronic diseases.
5. Blood Sugar Management
The combination of healthy fats, fiber, and protein in cashews makes them an ideal choice for managing blood sugar levels. The fiber content in cashews slows down digestion and the absorption of carbohydrates, preventing spikes in blood sugar levels. What's more, research suggests that regular consumption of cashews may improve insulin sensitivity. 
6. Mood-Boosting Properties
Cashews contain an amino acid called tryptophan, which plays a crucial role in the production of serotonin – the "feel-good" hormone. Serotonin helps regulate mood, sleep, and appetite, promoting overall emotional well-being. In addition, the Vitamin B6 that is found in cashews can also help to regulate mood. Overall, incorporating cashews into your diet may have a positive impact on your mood and help combat stress and anxiety.
Snack on Cashews with
nomzicles
Ready to indulge in a wholesome, mouthwatering treat that harnesses the power of cashews? Our organic chocolate popsicles have the crave-worthy taste of the fudge pops you grew up loving, but enhanced with good-for-you ingredients including cashews, dates, cocoa, and spring water. 
With rich chocolaty flavour and smooth, creamy texture – nomzicles are a great way to enjoy the health benefits of cashews. These dairy-free, vegan, and organic fudge pops are a delightful way to satisfy your sweet tooth without compromising your well-being. 
Cashews are more than just a delicious snack; they are a nutrient powerhouse that can positively impact your health in various ways. From heart health and weight management to antioxidant support and blood sugar management, cashews have proven to be a valuable addition to any diet. Try incorporating the health benefits of cashews by enjoying nomzicles for an indulgent treat to cool off this summer. Your taste buds and your body will thank you!
faq
Are nomzicles kid-friendly?
Yes! Nomzicles are 100% toddler and kid approved. Many parents have reported back that their kiddos and picky eaters LOVE snacking on our decadent fudge pops. Who wouldn't?!
Why are nomzicles sweetened with medjool dates?
Swapping refined sugars for naturally sweet Medjool dates is our favourite way to satisfy cravings while nourishing the body with a nutrient-dense whole food. Medjool dates are rich in fiber (hello, blood sugar balance!) and contain beneficial antioxidants, vitamins and minerals.
Do nomzicles really taste like ice cream?
Yes! Cashews add a creamy texture and subtle nutty flavour – making nomzicles even more delicious than the fudge pops of your childhood. In the words of one of our customers: "As a huge fan of ice cream and sweets, this is my new go-to, and with less guilt thanks to what I like to call good-for-me ingredients" - Michaela P.
3 comments
Eric Jones
Eric Jones
Eric Jones