Elevate Your Morning Routine: Nut Butters as a Source of Protein and Energy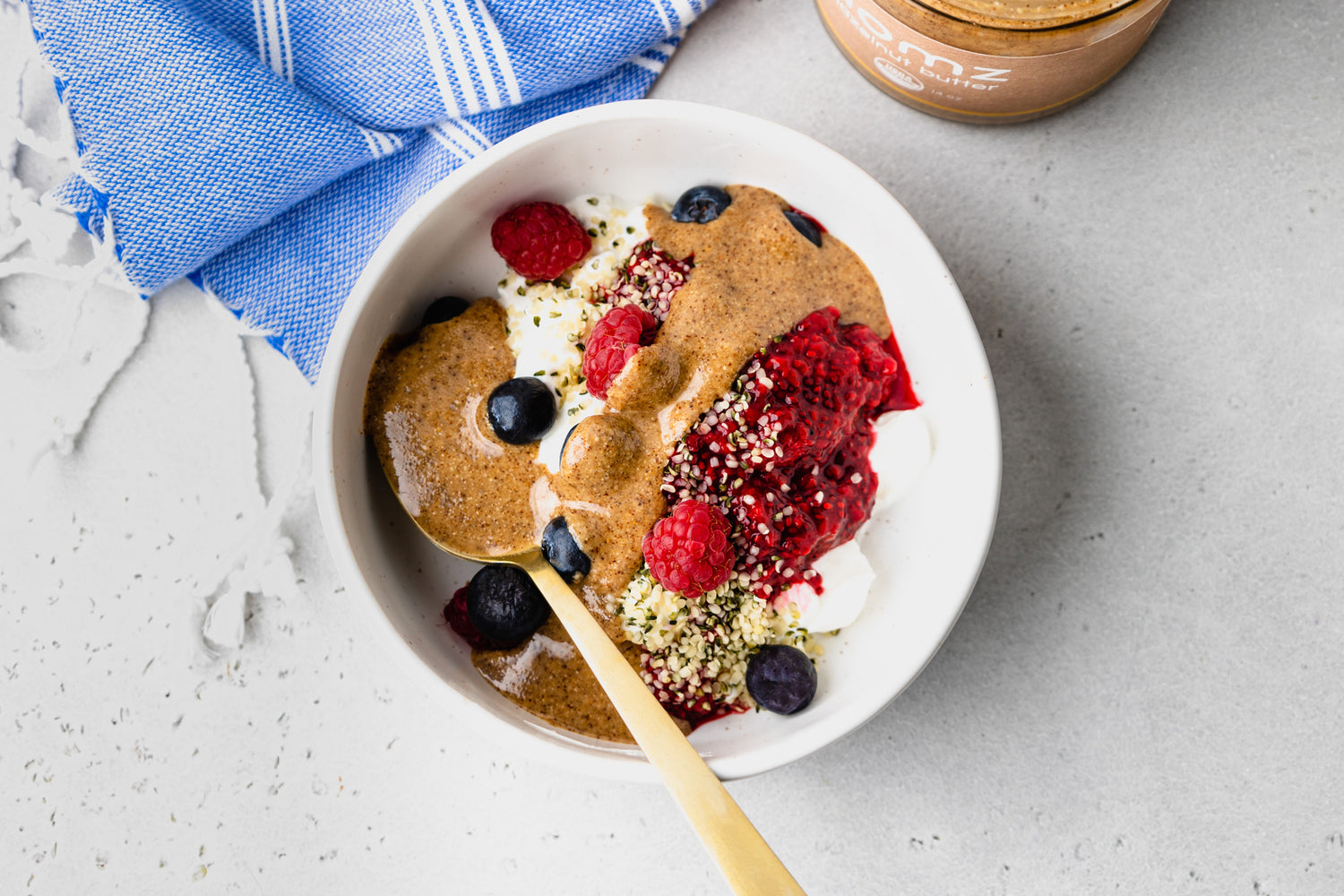 Are you tired of the same old breakfast routine? Looking to add a burst of energy to your mornings that will sustain you through the day? Incorporating blood sugar-balanced breakfasts with nut butter as a source of protein and fats could be the key to elevating your morning routine! 
These creamy delights not only provide you with a hearty dose of protein but also offer the sustained energy you need to conquer your daily tasks. In this blog post, we are sharing how to use nomz organic macadamia butter, hazelnut butter, almond butter, and pistachio butter in 6 different easy blood sugar-balanced breakfast recipes. These single-ingredient organic nut butters are free from added oils and refined sugar, making them a wholesome addition to your breakfast table!
Why Choose Single-Ingredient Nut Butters?
Before we jump into the breakfast ideas, let's take a moment to understand the importance of quality when it comes to nut butter. Nomz organic macadamia butter, hazelnut butter, almond butter, and pistachio butter stand out for their simplicity. Unlike other options that may contain added sugars, oils, and preservatives, these single-ingredient alternatives allow the natural, nutty taste and nutritional benefits of the nuts to shine through!
Breakfast Ideas to Fuel Your Day
Nut Butter Yogurt Bowl
Layer nomz organic macadamia butter with plain Greek yogurt, fresh berries, peaches, and a sprinkle of bee pollen and paleo granola. Macadamia butter's rich, buttery flavour pairs perfectly with the tanginess of yogurt and the sweetness of berries.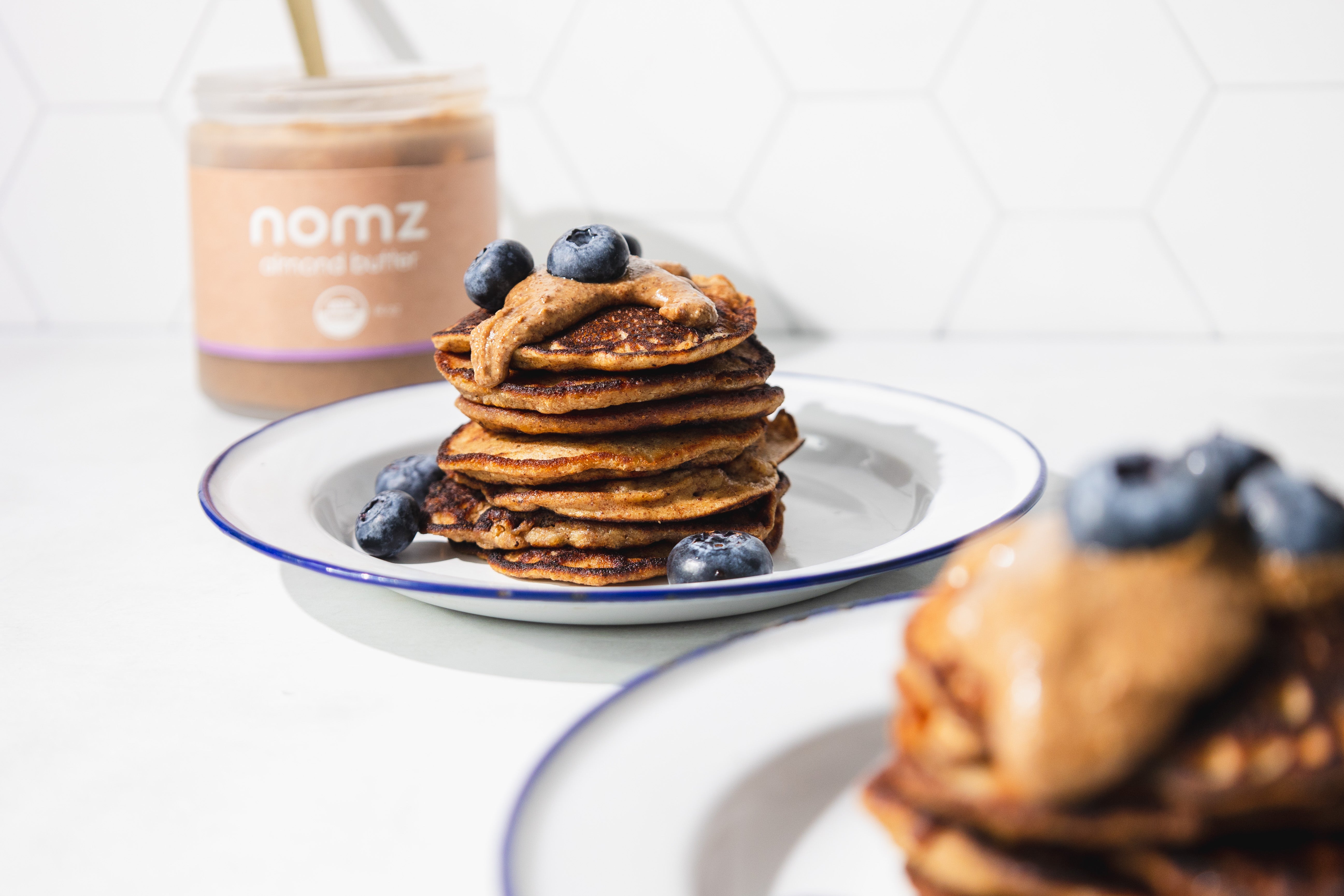 3 Ingredient Paleo Pancakes
Blend ripe bananas, eggs, and a dollop of almond butter to create a grain-free pancake batter. Cook the pancakes until golden and serve with a drizzle of more almond butter for a delightful twist on a classic breakfast. Get the full recipe for our 3 ingredient paleo pancakes here. 
Nut Butter Banana Muffins
For a quick energy boost, mix up a batch of these paleo nut butter banana muffins! Kids and adults alike will love this recipe, which can be made with hazelnut, almond, pistachio, or macadamia butter. Pro tip: serve with a drizzle of nut butter on top!
Hazelnut Chocolate Chia Pudding
Combine hazelnut butter, coconut milk, chia seeds, and cocoa powder in a jar and refrigerate overnight. Wake up to a creamy, protein-packed chia pudding that tastes like nutella and is loaded with omega-3 fatty acids and fiber.
Nut Butter Sweet Potato Toast
Upgrade your morning toast by spreading a generous amount of your favourite nut butter on sweet potato toast or paleo-friendly bread. Top with sliced bananas, a drizzle of honey, and a sprinkle of cinnamon for a comforting and satisfying breakfast.
High Protein Green Smoothie
With 24 g of protein per serving, this high-protein green smoothie (without protein powder) is the ultimate blood sugar balanced breakfast as it's packed with fiber, healthy fats, and protein. Blend nomz organic pistachio butter with avocado, cucumber, banana, nut milk, one serving of daily nourish superfood mix, and a handful of spinach for a tropical green smoothie that's both creamy and nutritious. 
Embrace Nut Butters for an Energized Day
Incorporating these single-ingredient nut butters into your breakfast routine can instantly elevate your mornings! Whether you're following a plant based or paleo lifestyle, these nut butters offer a versatile and delicious way to load up on protein, healthy fats, and essential nutrients. From the luxurious flavor of macadamia butter to the rich sweetness of hazelnut butter, each nut butter brings its unique flavour and benefits to the table. With these creative and nutritious breakfast ideas, you'll be well on your way to jump starting your day 
Learn More About The Benefits of Nuts