Hazelnut Butter Banana Muffins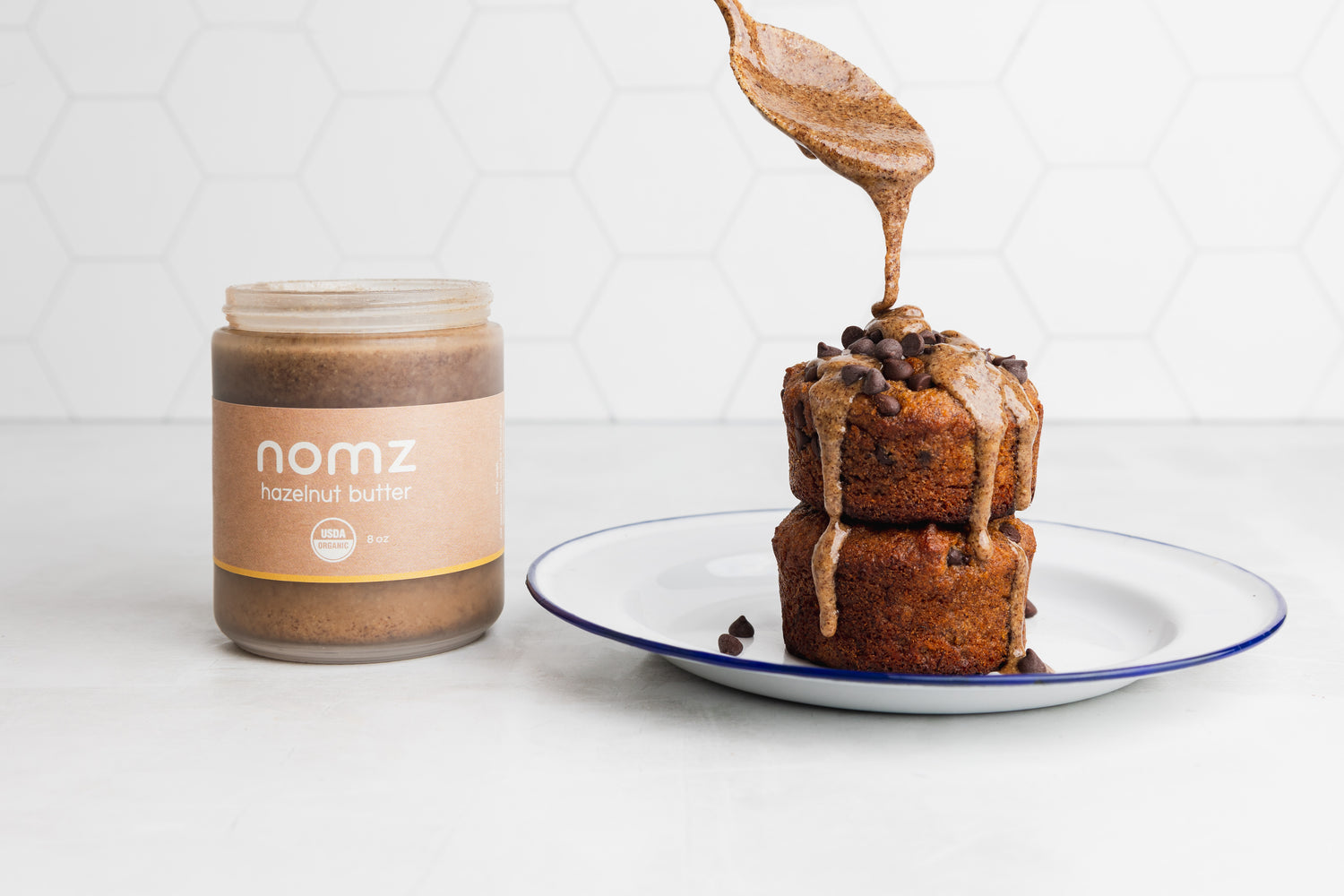 key points
Hazelnut Butter Banana Muffins is Paleo, refined sugar-free, Gluten-free and vegan friendly
Packed with protein, healthy fats and fiber sure to keep you energized
A perfect afternoon snack or on the go breakfast
Rich, sweet, chocolaty and moist, these hazelnut butter banana muffins are truly decadent. Made with almond flour, organic hazelnut butter, and chocolate chips, and naturally sweetened with banana and maple syrup – they are the perfect afternoon snack or breakfast on the go!
reasons you'll love this recipe
Refined-sugar free, and naturally sweetened with bananas and maple syrup
Paleo and vegan friendly
Oil-free – we're using organic hazelnut butter instead!
Just like our hazelnut chocolate chip cookie skillet, these hazelnut butter banana muffins use almond flour as a gluten-free, paleo and protein-packed alternative to regular white flour. Baking with almond flour is a great way to pack in healthy fats, protein, and fiber into your baking for a more satiating treat that will keep you feeling satisfied and energized! 
Serve warm with a drizzle of hazelnut butter on top for the ultimate afternoon snack. Feeling hungry? Let's dig into the recipe!
nutrient breakdown
hazelnut butter - rich in vitamin E, healthy fats, and fibre - making our single ingredient hazelnut butter ideal for supporting brain health! They are also a great source of protein, providing 4.2 g of protein per serving (2 tbsp).
almond flour - is made from ground almonds, which are rich in healthy fats, protein, fibre, and minerals including magnesium, manganese, copper, and phosphorus. 
bananas - are a great source of potassium, vitamin C, vitamin B6, magnesium, copper, and manganese. In addition, they are loaded with fiber that acts as a prebiotic in your gut – helping to support a healthy microbiome. 
chocolate - is a great source of minerals such as magnesium, manganese, phosphorus, potassium, iron, and zinc. In addition, cocoa powder is high in antioxidants including polyphenols! We recommend opting for organic, vegan, and refined sugar free dark chocolate.
#nomzilicious
Be sure to share a photo and tag us on social media @nomz #nomz when you make these hazelnut butter banana muffins - we would love to see your creations!
faq
How do you make a flax egg?
Flax eggs are amazing for vegan baked goods! One flax egg is made by combining 1 tablespoon ground flax with 2.5 tablespoons of water. Let it sit for 5 minutes to thicken, and use as an egg replacement in baked goods. For this recipe, we're using 2 flax eggs (2 tablespoons ground flax; 5 tablespoons water).
What is arrowroot flour, and can it be swapped?
Arrowroot flour is a starchy flour that is paleo, grain-free and gluten-free. It helps to hold gluten-free baking together. You can swap it for equal parts tapioca flour (a similar starchy gluten-free flour).
Can I swap the hazelnut butter?
Yes, these hazelnut butter banana muffins can be made with almond butter, pistachio butter, or macadamia nut butter!
2 comments