Antioxidant Berry Beet Smoothie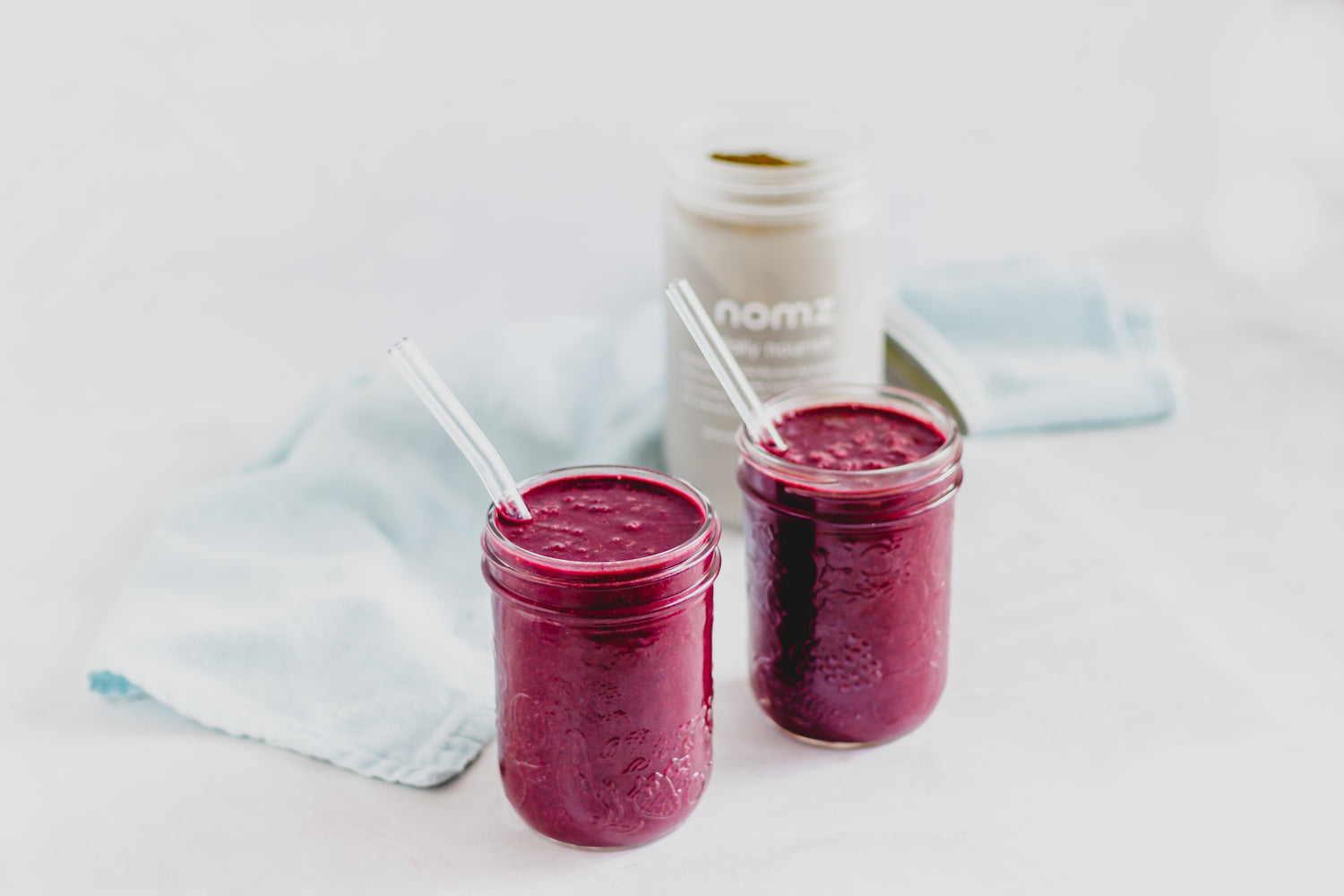 key points
This smoothie will boost your energy, nourish digestion and support your immune system
Packed full of anthocyanins and other nutrients to nourish your body
This antioxidant berry beet smoothie is packed with ingredients to boost your energy, nourish your digestion, and support your immune system. Blend up this vegan superfood smoothie with beets, berries, ginger, lemon, and daily nourish!
Have you ever been to a juice bar and had the BEST smoothie of your life... only to realize you can't possibly replicate it at home because there are too many superfood powders and adaptogens involved?! 
That's the beauty of our superfood mix: daily nourish!⁠ With 13 superfoods conveniently combined into one product, it's easier than ever to elevate your daily smoothie. Let's take that morning smoothie from yummy to functional + nutrient-packed!
We're loving the zing of ginger and beets alongside tart berries and lemon in this delicious anthocyanin-rich smoothie! And of course, it's packed with superfoods thanks to daily nourish.⁠
Nutrient Breakdown
This smoothie is especially rich in anthocyanins - a phytonutrient found in berries and beets that act as antioxidants!
In addition, betacyanin is another phytonutrient that gives beets their deep red-purple colour. This nutrient is a powerful antioxidant, meaning it helps to prevent free radical damage in the body. Betacyanin also has powerful anti-inflammatory properties. 
The bioactive component in ginger that provides many of it's health benefits is called gingerol. Gingerol also has anti-oxidant and anti-inflammatory properties. Adding ginger into your diet can help to reduce inflammation and is especially helpful for calming digestion, and reducing menstrual pain!
All of these benefits are in addition to the powerhouse superfood blend we're adding - daily nourish. Let's take a closer look at the ingredients in daily nourish, and how it helps to support and nourish your body from the inside out:
Daily Nourish
This combination of 13 nutrient-dense superfoods is formulated to boost your energy, immunity, and overall health, daily. Rich in antioxidants, protein, Omegas 3 and 6, and so much more, this blend is made from absorbable organic ingredients to make you feel your best. 
With 11 g of plant-based protein per serving, 12 g of fiber, it's a great addition to any smoothie. This blend can help to balance blood sugar + cholesterol, while also providing a bioavailable source of iron (thanks to the curry leaf). No need to scoop out multiple superfood powders into your smoothie - instead we've combined all of the best into one convenient jar: 
sprouted flax seeds + chia seed powder⁠

hemp hearts⁠

bee pollen⁠

turmeric⁠

gelatinized maca⁠

camu camu⁠

spirulina⁠

ceylon cinnamon⁠

curry leaf⁠

moringa leaf⁠

amla berry⁠

cayenne pepper⁠