Hazelnut Chocolate Chip Cookie Skillet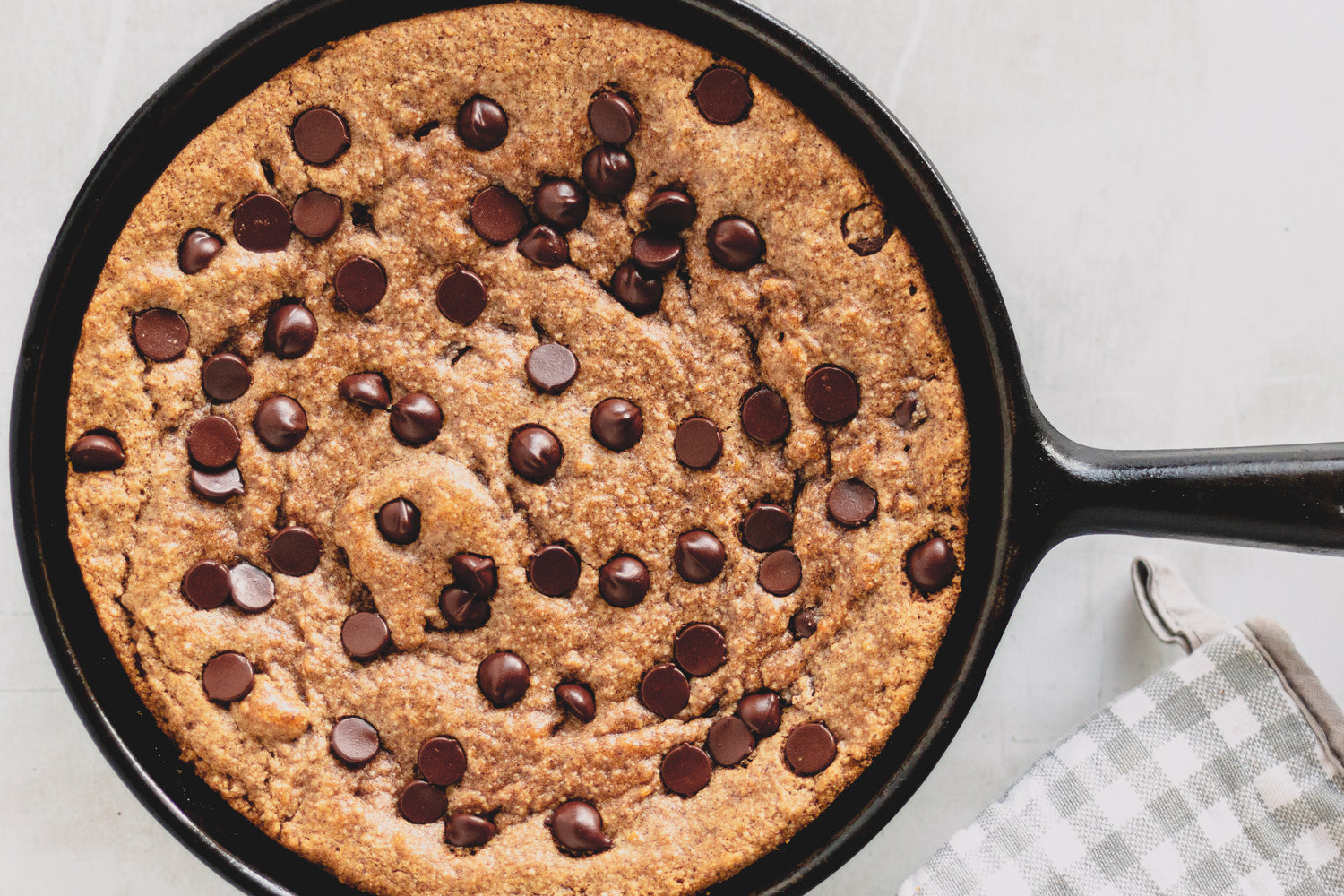 key points
Our hazelnut chocolate chip cookie skillet is paleo, vegan and gluten-free
Made with simple wholesome ingredients to create a healthy dessert option
Best served warm for a decadent gooey dessert that will leave you in awe
This hazelnut chocolate chip cookie skillet is paleo, vegan, gluten-free and absolutely delicious! Made with simple ingredients, the perfect healthier dessert option or sweet snack. 
Have you ever had a skillet cookie? If not, you're world is about to be changed with this decadent hazelnut chocolate chip cookie skillet! 

Not only is this hazelnut chocolate chip cookie skillet made from wholesome ingredients like almond flour, hazelnut butter, maple syrup, and flaxseed - it's also super delicious. Think nutella meets chocolate chip cookie, meets gooey brownie... It doesn't get any better than that!
Hazelnut Butter
Our single ingredient hazelnut butter is the perfect addition of delicious healthy fats to your diet. Smooth and creamy in texture; naturally sweet, rich and nutty in taste. It's especially delicious when paired with chocolate, and adds so much flavour to this chocolate chip cookie skillet! 

Check out this post on hazelnut butter uses for more ways to use our delicious organic hazelnut butter!
This recipe makes one deep dish chocolate chip cookie in an 8-inch skillet!
Be sure to share a photo and tag us on social media @nomz #nomz when you make this hazelnut chocolate chip cookie skillet - we would love to see your creations!
faq
Can I swap hazelnut butter for almond butter?
This hazelnut chocolate chip cookie skillet should work no problem with any of your favourite organic nut butters - though we have only tested it with hazelnut butter.
What is arrowroot flour, and can it be swapped?
Arrowroot flour is a starchy flour that is paleo, grain-free and gluten-free. It helps to hold gluten-free baking together. You can swap it for equal parts tapioca flour (a similar starchy gluten-free flour).
How do you make a flax egg?
Flax eggs are amazing for vegan baked goods! One flax egg is made by combining 1 tablespoon ground flax with 2.5 tablespoons of water. Let it sit for 5 minutes to thicken, and use as an egg replacement in baked goods. For this recipe, we're using 2 flax eggs (2 tablespoons ground flax; 5 tablespoons water).