10 Delicious Healthy Snacks for Kids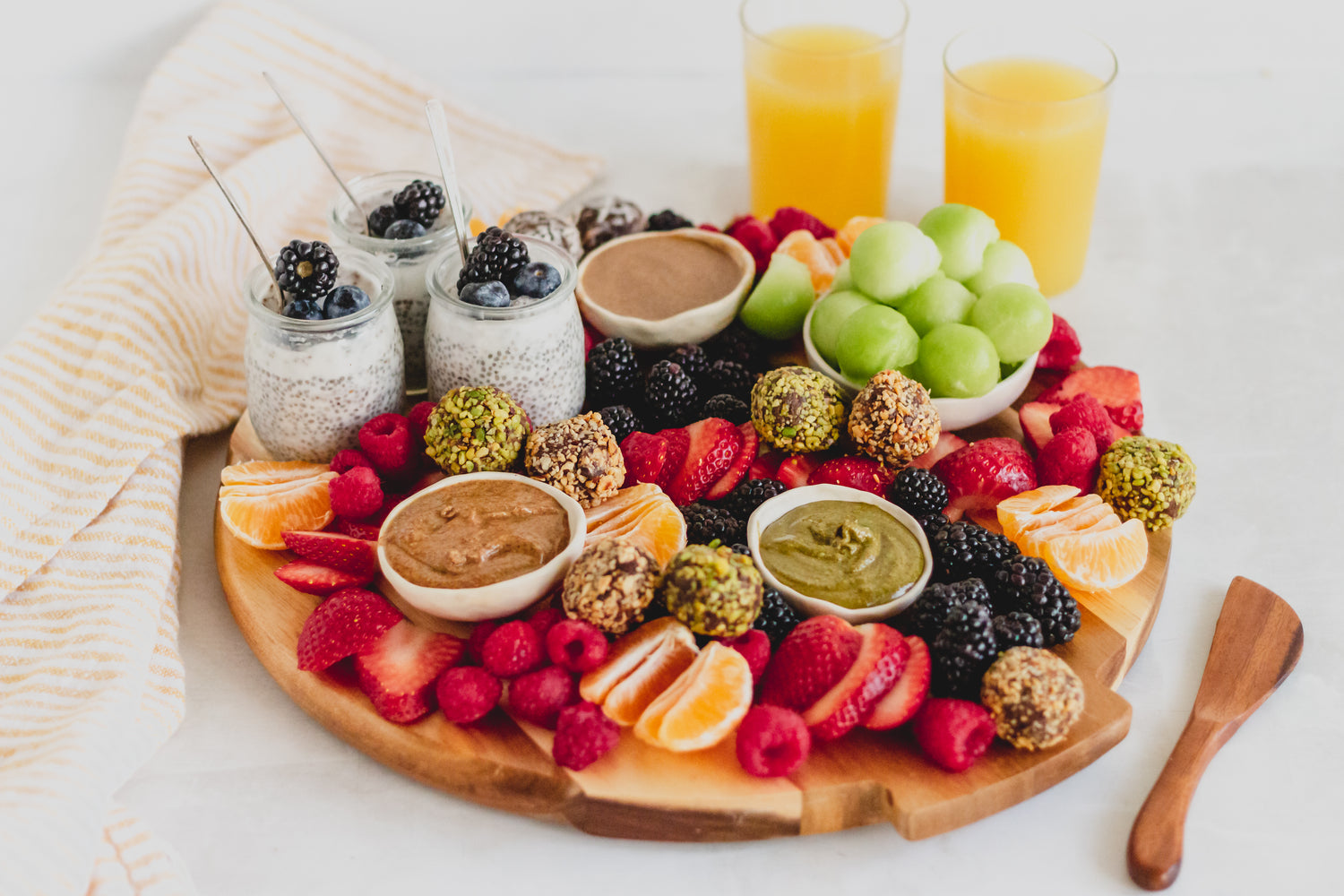 key points
Having a snack drawer is a great way for children to have autonomy and choice
Snacks are a great opportunity to ensure that your child is getting enough nutrients in their diet
These 10 delicious healthy snacks for kids are perfect to pack for school lunches and ideal for stocking your pantry and fridge with nourishing snack options. Simple balanced snack ideas that are vegan, gluten-free, and nutrient-dense. 
If you have hungry little ones who are constantly wondering when the next meal is - then you know how important it is to have a stockpile of snacks available. However, many snacks and packaged foods for kids are high in refined sugar and depleted of essential macro and micronutrients that our kiddos need for proper growth and development! 
With that in mind, we've rounded up 10 delicious healthy snacks for kids. Hopefully, these ideas give you some new inspiration for nourishing and healthy snacks! We also wanted to share a few helpful tips to make snack meal prep easier, from the experts.
Designate A Snack Drawer
Our friend Denise over at Sweet Peas and Saffron recommends putting together a kid's snack drawer that is both accessible for your little ones AND involves them in meal prep. We love this strategy because it allows your kiddos to have some autonomy and choice. They will feel so proud that they were able to put together their very own snacks, and they will know exactly where to go when hunger hits.
Pack In The Nutrients
Snack time is a great opportunity to pack in some additional nutrients and superfoods into your child's day. Certified Holistic Nutritionist McCarthy at Joyous Health recommends incorporating superfoods that are packed with vitamins, minerals, and antioxidants into your child's meals and snacks. Superfoods such as hemp seeds, wild blueberries, chia seeds, quinoa, and avocado are a few of Joy's recommendations for superfoods your kids will love to eat.
Registered Dietitian Nutritionist, Megan Roosevelt, also recommends snacks that are nutrient-rich for toddlers. Iron and calcium in particular are two important minerals for growth and development, with Iron deficiency being one of the most common nutrient deficiencies for kids. Megan has incorporated spinach into tasty toddler spinach muffins - a simple way to add more iron, vitamin C, and fiber into your kiddo's snack time!
Registered Paediatric Dietician Edwena Kennedy at My Little Eater recommends mixing up healthy dips for toddlers as an easy way to encourage picky eaters to try new foods. Apple sauce, yogurt, pesto, and guacamole are just a few of the dip options that Edwena recommends for packing in a few extra calories for growing toddlers and kids, while keeping their snacks tasty and intriguing! 
10 Healthy Snacks for Kids
Having a list of go-to snacks on hand will make grocery shopping and meal prep so much easier. 
These 10 healthy snacks for kids are a few of our favourite ideas, but we would love to know what your kiddos enjoy! Leave a comment below on this blog post to let us know.
Nomz Energy Bites: are peanut-free, vegan friendly, and are made from simple natural ingredients high in healthy fats, protein, and fiber: nuts dates, cocoa, and coconut oil - that's it. Choose from coconut, hazelnut, almond, or pistachio! Kids love these chocolate-y treats. 


Simple Berry Smoothie: the trick to getting kids to love smoothies? Make them with simple, tasty ingredients such as banana, blueberries, raspberries, and almond butter or hazelnut butter. Use filtered water or dairy-free milk as the base, and you have an easy snack packed with antioxidants and healthy fat + protein from the nut butter.


Apple Slices Dipped in Almond Butter:

another nostalgic snack you may remember from your childhood, but we're

swapping peanut butter

for almond butter. Not only is this snack easy to prep ahead, but it's a great way to make apples and other fruits more appetizing to your little ones. Hint: kids love to dip!


Veggie Sticks and Hummus: speaking of dips, veggie sticks including carrot, bell peppers, and cucumber are perfect for dipping in hummus. 


Coconut Yogurt with Berries: coconut yogurt topped with berries, hemp hearts, and a dollop of nomz organic almond butter is another great snack.


Nomzicles: free from refined sugar, nomzicles are a nostalgic nod to the fudge pops of the past. The beauty of nomzicles? They definitely fall into the healthy snacks category - with an ingredients list of just: cashews, dates, fair trade cocoa, and spring water. Skip the sugar rush with this balanced chocolatey snack.


Chia Seed Pudding with Berries: can you tell we love berries?! Kids do as well - and you can't go wrong with a simple chia seed pudding topped with fresh berries. A healthier option instead of packaged puddings that are high in sugar.


Banana Boats: sometimes the simplest options are the best! Banana sliced in half with a drizzle of pistachio butter, topped with fresh blueberries, chocolate chips, or chia seeds! 


Toast with Hazelnut butter: whole-grain toast topped with hazelnut butter, a drizzle of honey, sliced banana, and hemp hearts. Yum! This one doubles as a yummy breakfast option. 


Kiddo Charcuterie Board: for the discerning snackers! Prep this in a bento box to take on the go, or have as an after-school snack. Some options to include: 
– Dried seaweed snacks (aka nori) are full of vitamins and minerals and make a great savoury snack.
– Cashew cheese
– Crackers
– Veggie sticks
– Dried fruits
– Olives
– Written by Jasmine Ouellette, Certified Holistic Nutritionist
Shop This Post