Hazelnut Butter Uses & Recipes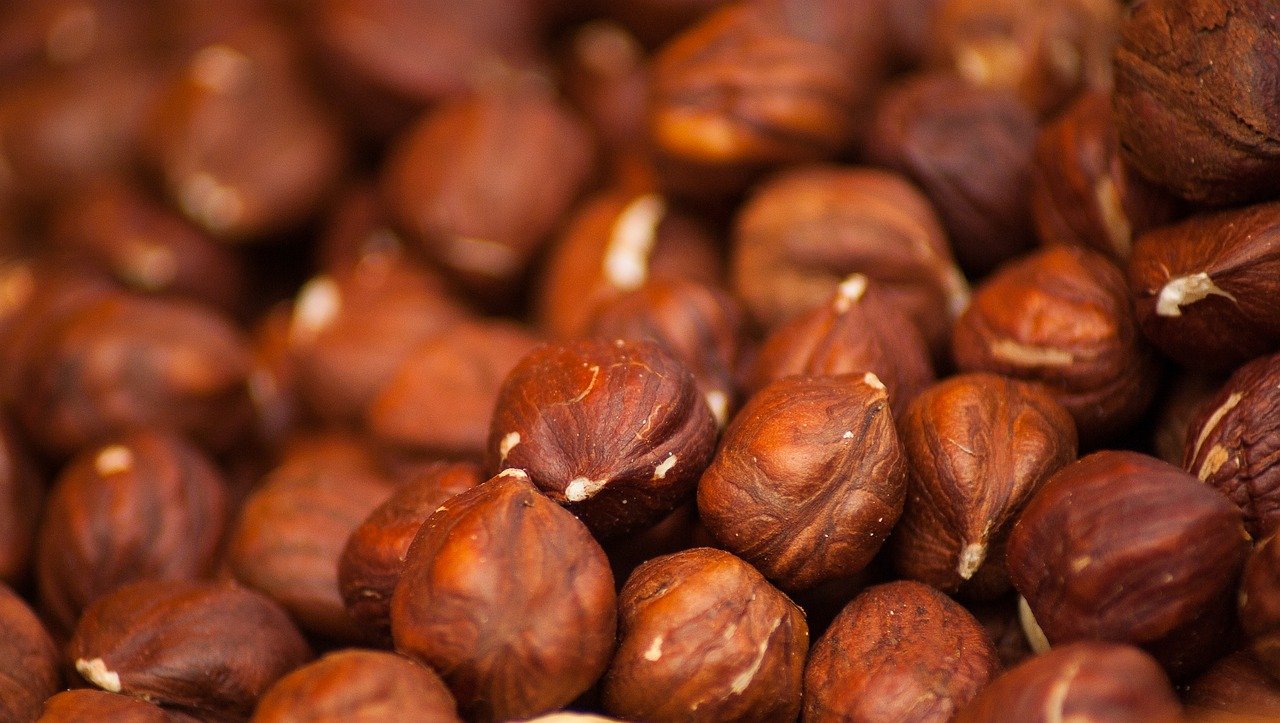 key points
Hazelnut butter is full of nutrients such as vitamin E and magnesium
Hazelnut's provide healthy fats, energy, iron and protein
It is high in monounsaturated fats which are cholesterol reducing
Hazelnuts are one of the best sources of polyphenolic compounds
Hazelnut butter is delicious and nutrient-dense nut butter that will elevate any recipe! We will explain its growing popularity and will give some ideas on how to use hazelnut butter - from smoothies to homemade chocolate hazelnut spread, our favourite hazelnut chocolate chip cookie skillet, and more! 
Are Fats Healthy?
For decades, fats had a bad reputation – especially when it comes to cardiovascular diseases. However, newer research shows that fats, (and even "bad" saturated fats are not always bad for us (Nutrition Journal, 2017).

Fat is an essential part of our diet and many processes in our bodies rely on lipids for optimal function. For example, fat-soluble vitamins including vitamins A, D, E and K require lipids to be absorbed in the small intestine. 
These changes in nutrition research created new dieting trends, such as the keto and paleo diets. Focus on healthy fats is also important for vegan and vegetarian diets, as this macronutrient is one that can be easily missed if you are not consuming animal-based food. This is exactly why nuts are ideal for those consuming a plant-based diet. Learn more about healthy fats here!

Hazelnut Health Benefits
Hazelnuts provide healthy fats, energy and numerous nutrients, such as Vitamin E and magnesium. In addition, hazelnuts are a great source of folate and contain both iron and zinc as well as protein. Hazelnut butter is high in cholesterol-reducing monounsaturated fats, specifically oleic acid. Research shows that hazelnut consumption reduces total cholesterol (Journal of Clinical Lipidology, 2012), LDL cholesterol, ApoB, and triglycerides, therefore reducing risk of cardiovascular diseases (The American Journal of Clinical Nutrition, 2012)
Hazelnut Fun fact: The skin of hazelnuts is one of the best sources of polyphenolic compounds, which have 25 x the antioxidant capacity of blackberries, 10 x the antioxidant capacity of espresso!
Hazelnut butter has a distinct aroma and taste that makes it very appealing, especially when used on desserts.  So, how exactly can you incorporate this delicious-smelling, healthy snack into your life?
Hazelnut Butter Uses
We love drizzling our single-ingredient organic hazelnut butter on pretty much anything! Some of our favourite hazelnut butter uses are:
In smoothies - add a spoon or two of hazelnut butter to banana, coffee, chocolate or berry smoothies – these flavour combos work very well. Check out these 3 simple smoothies for kids for inspiration - the chocolate banana hazelnut recipe is a fan favourite!
In your coffee – add a teaspoon of hazelnut butter, hazelnut or almond milk and a sprinkle of cacao powder for an ultimate healthy alternative to Starbucks Hazelnut Bianco Latte. A drop of vanilla essence and maple syrup will make it even better! Check out our hazelnut butter iced coffee recipe here. 
On strawberries – mix hazelnut butter with some raw cocoa powder and some sugar/maple syrup if your strawberries are not too ripe. Dip strawberries in the mixture. Indulge. Repeat.
Apple snack - slice apples, spoon some hazelnut butter on top, dust with cocoa or cinnamon powder.



Hazelnut date snickers - to make this delicious treat:

 pit a medjool date, dip in nomz hazelnut butter, roll in crushed hazelnuts, then roll in melted vegan dark chocolate. Freeze… and enjoy! See how to make hazelnut date snickers here!  
Baked apple – takes simple apple snack to the next level. Core an apple, combine the hazelnut butter with maple syrup, cocoa powder and chopped almonds (or other nuts). Add a spoon of cottage cheese for extra protein. Stuff your apple with this filling and bake on foil for 30-40 minutes.
Salad dressings – mix a spoon of butter into your salad dressing. Hazelnut work especially well with pears, blue cheese, celery, green apples and green salad leaves. Try mixing it with a little water, crushed garlic clove and a squeeze of lemon juice. This works great on tender steamed broccoli, green beans and celery.

Recipes Using hazelnut butter
Hazelnut flavour works so well with chocolate, so there are plenty of chocolate and Nutella-inspired combinations here:
This healthy vegan banana split combines all your favourite flavours of a ferrero roche, with the texture of delicious soft-serve ice cream! All you need are 3 simple ingredients, and a blender - and it's ready in 5 minutes!  Get the recipe for this vegan banana split nice cream.
This 4 ingredient hazelnut chocolate spread is refined sugar-free and absolutely delicious! Made with just hazelnut butter, dates, cocoa, and plant-based milk - it's an easy and satisfying sweet snack that you can dip or spread! Get the recipe here. 
Rich, sweet, chocolaty and moist, these hazelnut butter banana muffins are truly decadent. Made with almond flour, organic hazelnut butter, and chocolate chips, and naturally sweetened with banana and maple syrup – they are the perfect afternoon snack or breakfast on the go!
This hazelnut chocolate chia pudding (aka "nutella" chia pudding!) is a healthy breakfast option that you can prepare ahead! Packed with nourishing fats, protein, and fiber - it's vegan, gluten-free and paleo. Get the recipe here!
This hazelnut chocolate chip cookie skillet is paleo, vegan, gluten-free and absolutely delicious! Made with simple ingredients, the perfect healthier dessert option or sweet snack. Get the recipe for this hazelnut chocolate chip cookie skillet here!
This triple flavor chocolate hazelnut berry layered smoothie is rich and delicious. Made with strawberries, blueberries, raw cacao, banana, and hazelnut butter - it tastes like a chocolate ice cream but is vegan and dairy-free. Get the recipe for this chocolate hazelnut berry layered smoothie here!
Dukkah Style Hazelnut Butter

This Middle Eastern topping works great on toast, vegetables and some meats too. Try it on grilled corn, grilled zucchini or even as a dip for raw vegetables.
Ingredients for Dukkah Butter
4 tbsp of nomz hazelnut butter
1 tsp of coriander seeds
1 tsp of cumin seeds
1 tbsp of sesame seeds
Salt& pepper
Ingredients for Crunchy Spice Mix
1 tbsp of toasted coriander seeds
1 tbsp of toasted cumin seeds
1 tbsp of toasted sesame seeds
1 tbsp of crushed roasted hazelnuts (optional)
Pinch of sea salt flakes
Method
Blend hazelnut butter with a pinch of coriander seeds, cumin seeds, table spoon of sesame seeds and some salt and pepper until smooth.
Mix all ingredients for crunchy spice mix
Spread on toast and sprinkle with a crunchy mix of toasted sesame, coriander and cumin seeds for extra crunch.
Store crunchy spice mix separately and use it as a topping or simply stir it in the butter
Celery, Pear & Hazelnut Salad
Ingredients
2 tbsp nomz hazelnut butter
2 tbsp cider vinegar
2 teaspoons whole-grain mustard
1 tbsp hazelnut oil or extra virgin olive oil
1 teaspoon salt
6 celery talks, thinly sliced
1 medium Asian pear, cut into matchsticks
1/4 cup chopped dill
Method
In a large bowl whisk vinegar together with mustard and salt. Gradually whisk in the oil and hazelnut butter, add a little bit of water if the consistency is too thick. Add celery, pear and dill. Toss salad well. Serve immediately.
 These hazelnut butter brownies are paleo, gluten-free, and refined sugar-free. Made with organic hazelnut butter, cassava flour, chocolate and sweetened with date sugar – they are rich, fudgy, and decadent! 
---
The options for how to enjoy hazelnut butter are endless! If you come up with another great use for our hazelnut butter - let us know by tagging us on social media @nomz! We'd love to see your creations!
Related Articles