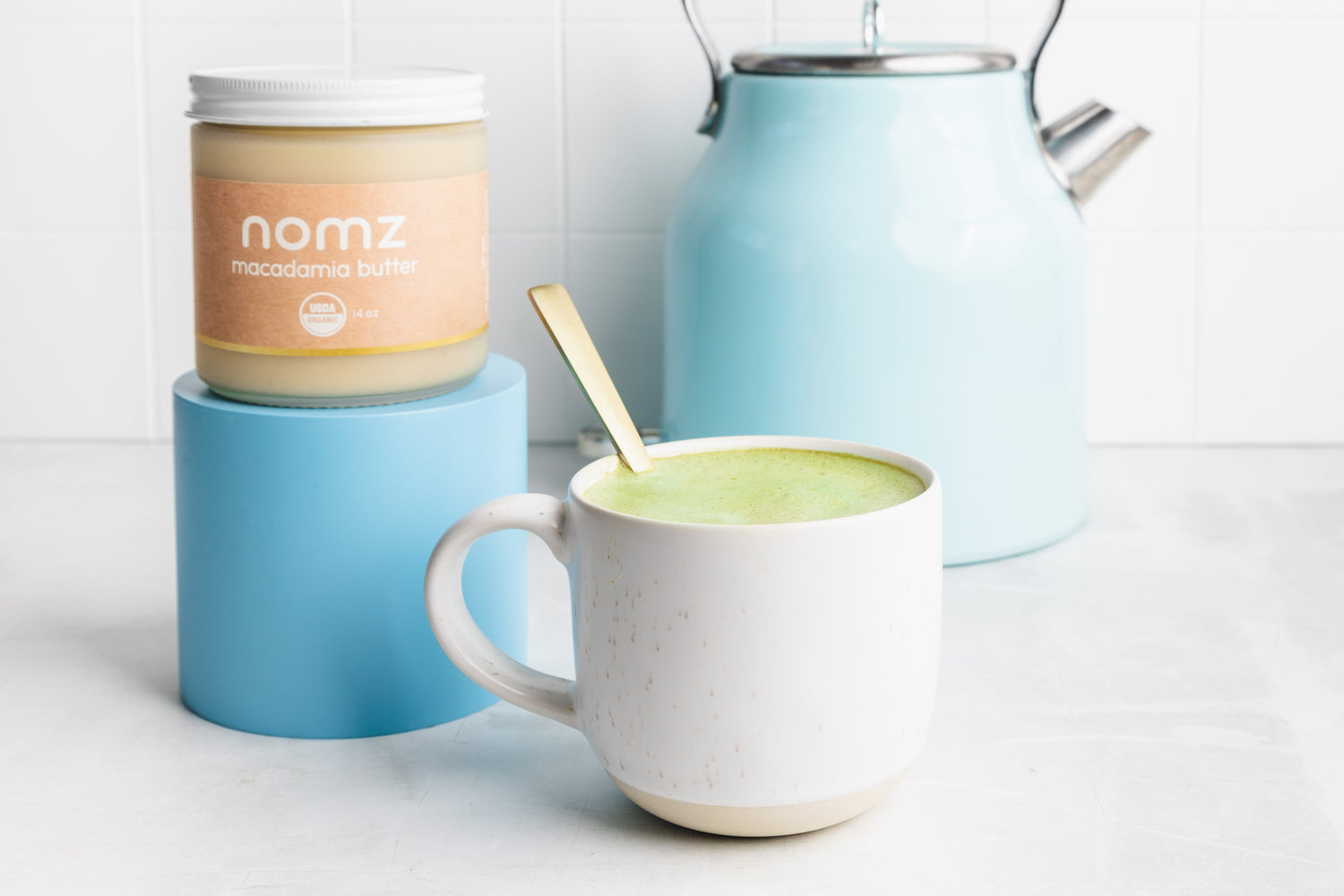 key points
A delicious snack without refined sugar.
Nutritionally dense and made with only four pure and simple ingredients.
This macadamia matcha latté is made with three simple ingredients – organic macadamia nut butter, matcha, and water. It's a delicious energizing warm drink with a boost of healthy fats to help fuel your day!
From hazelnut butter iced coffee to macadamia nut butter iced coffee, and this macadamia matcha latté... we will never get tired of adding nut butter to any latté – hot or cold! 
Similar to bulletproof matcha or bulletproof coffee – this macadamia matcha latté pairs healthy fats with your favourite calming green tea for a nootropic effect. But, instead of using MCT oil from coconut oil, we're using our organic macadamia nut butter, which is rich in healthy fats, for an elevated flavour experience. Creamy, indulgent, and luxurious – you'll love this brain-boosting combination. 
Nutrient Breakdown
Macadamia Nut Butter
Rich, sweet, and luxuriously nutty ... we're not kidding when we say that this nut butter is spoon-licking good. Beyond the delicious taste – macadamia nuts are also a nutrient-dense powerhouse! 
⁠Macadamia nuts are rich in healthy fats – in particular, ALA omega 3 fats and oleic acid (omega 9) - supporting your brain and heart.⁠ In addition, macadamia nut butter is also a great source of Vitamin A, B Vitamins and folate, Iron, and manganese. 
Matcha
Matcha is a potent green tea that is rich in antioxidants such as catechin EGCG, along with the fat-soluble amino acid L-theanine. L-theanine has been found to promote relaxation and alertness. Coupled with caffeine (which is also found in matcha), L-theanine helps to enhance memory and endurance. 
faq
Can I make a coffee latté with macadamia nut butter?
Absolutely! You can use this same method to make coffee with any type of nut butter -
hazelnut butter
would also be delicious!
Do I need to use a blender?
You don't need to, but for the best creamy smooth results – we highly recommend it. Blending the macadamia nut butter helps to emulsify the fats, resulting in a delicious latté with froth on top. If you're in a hurry, a battery-operated whisk will do the trick!
Can I make this macadamia matcha latté iced?
For sure – we would recommend using the same method, adding ice in after blending to cool your matcha latte.
Can I make nut milk using nut butter?
Why sweeten with raw honey?
Raw honey is lower on the glycemic index than refined sugar and contains vitamins, minerals, and antioxidants. Raw honey usually contains a small amount of bee pollen and bee propolis, which have antibacterial and antiviral properties!