What Are Energy Bites (And Why Are They So Good)?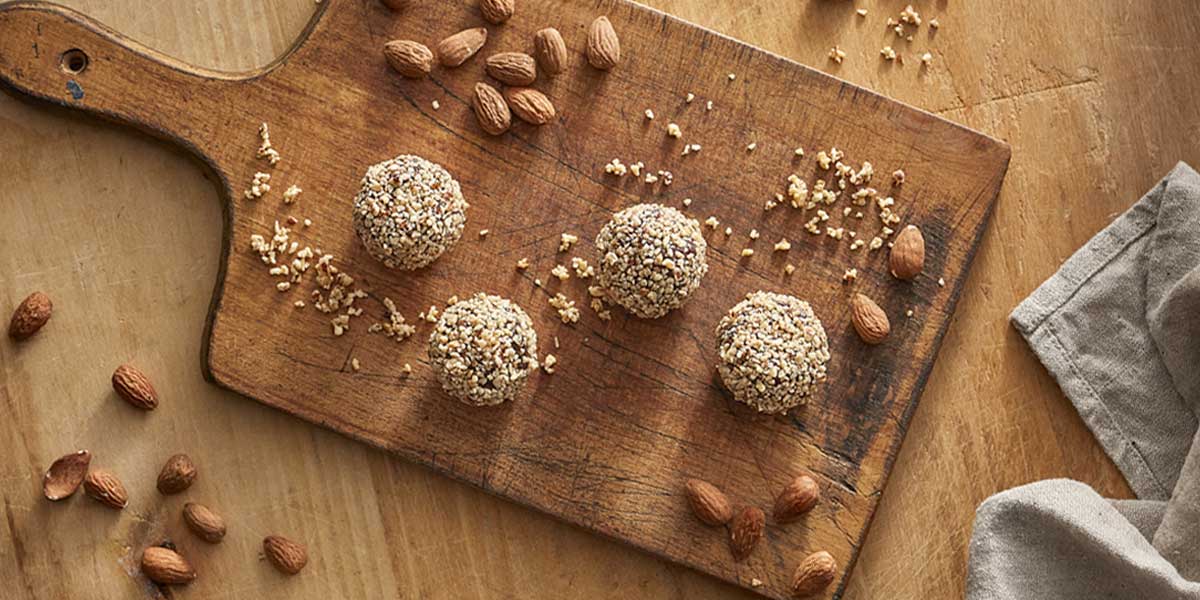 key points
Energy Bites vegan, gluten-free, refined sugar free, peanut free and paleo
Energy Bites are available in four different flavours: almond, hazelnut, pistachio and coconut
They are versatile and perfect for a variety of activities and occasions
Energy Bites: The Perfect Healthy Snack
When you are on a mission to be healthy, and that sweet tooth hits, it can be trouble. Ignoring your cravings can start to feel like mission impossible... but now it doesn't have to. Cue, Energy Bites!
What Do Energy Bites Contain? 
Energy Bites are clean and simple, but don't think that means they lack taste in any way. Like Leonardo da Vinci said, "Simplicity is the ultimate sophistication" and we couldn't agree more.
Energy Bites are delicious, nutritious and ideal for anyone who loves something sweet sans the guilt. Energy Bites all contain the same healthy base, they are hand-rolled with organic dates, nuts, cocoa, coconut oil and sea salt.
Currently Energy Bites are available in 4 flavours: fresh coconut, pistachio, almond and hazelnut. We choose these distinct flavours because of their incredible taste and nutrition.
Organic, Vegan and Gluten-Free
There are ways to satisfy your sweet cravings without compromising your health. Energy Bites contain only natural and organic ingredients. When we carefully crafted each recipe, our goal was to have them fit into many people's different lifestyles and diets.
We know one size doesn't fit all, but these Energy Bites come close! All flavours of Energy Bites are both vegan and paleo.
All flavours are gluten-free and peanut-free. Yes, that is right, Energy Bites check the boxes of being vegan, paleo, gluten-free and peanut-free! 
Energy Bites Contain NO Refined Sugar & Lots of Nutrient Packed Ingredients
The best part about Energy Bites? There is absolutely no refined sugar! Sugar has become a serious addiction for many people and it comes with a serious price.
Excessive sugar in your diet has a whole long list of negative consequences and can really damage your overall health. Sugar is everywhere, from beverages to meals to a variety of even so called healthy snacks.
If you are looking to keep your body strong, mind clear and have a sense of overall well-being, it is time to take a look at what you eat and see how much refined sugar you are consuming on a daily basis.
If you consider your diet to be high in refined sugar, one of the most important things for your health and well-being is to cut back as much as possible and as quickly as you can.
Why We Use Dates For A Sweetener (Nature's Candy!)
In order to get that sweet and satisfying taste, we use dates in our Energy Bites. Dates are packed with nutrients, provide many health benefits and they taste really, really good! Two words: nature's candy.
Processed food, additives, and all of the other junk in most "healthy" snacks don't taste nearly as delectable and sweet as the real thing. Dates are high in natural sugars like fructose, sucrose and glucose. These sugars are easily processed and utilized by the body for energy.
Dates are an ideal choice for someone looking to eat healthy without compromising taste. Dates are packed with fiber, potassium and magnesium, three key minerals for the body.
Coconut Oil: Healthy, Energizing & Delicious 
In order to get the desired texture, nutritional profile and taste, we use organic coconut oil. Coconut oil has become a major ingredient in health products around the world and there's good reason for that.
Coconut oil is packed with nutrients, is antibacterial, contains good fats and tastes delicious! It is important to remember that healthy fats do not make you fat! The healthy fat in coconut oil does not circulate in the bloodstream like other fats; they are sent directly to the liver and are converted into energy. So the body does not store the fat in coconut oil as fat; it uses it to produce energy instead.
Snacks with coconut oil in them is a great addition for those who lead an active lifestyle. Health benefits include: helps lower cholesterol, stimulates metabolism, helps control blood sugar, supports the immune system and is rich in antioxidants (think, glowing skin!).
Energy Bites Are Much More Than A Snack!
Energy Bites are versatile and that means they are good for a variety of people and endless occasions. The obvious one is for healthy snacking but people eat Energy Bites at all times of the day for all different kinds of activities and occasions.
Pre-workout snack, post-workout snack, breakfast (they go great with coffee!), after dinner treat, travel food, and they are great for teaching kids how to snack healthy! 
Where Can You Get Energy Bites? 
Order Energy Bites directly on our website or at a store near you!