Regular price

$ 60.00 CAD

Unit price

per
12 of the world's best superfoods, all in one jar! Daily Nourish is our holy grail for making the most nutrient-rich smoothies, meals or beverages. Enhance your wellness by adding this all-in-one ...
12 of the world's best superfoods, all in one jar! Daily Nourish is our holy grail for making the most nutrient-rich smoothies, meals or beverages.

Enhance your wellness by adding this all-in-one organic superfood mix to your daily routine for a boost of vitamins, minerals, antioxidants, fiber, healthy fats, and protein. Formulated to help increase your energy, nourish your gut, and support your immune system for overall health.

Daily Nourish is one of the most extensive and complete superfood mixes on the planet. The best part? It's so simple to use! Just add one serving of this all-in-one superfood mix to any food or beverage. If you're short on time, simply mix in Daily Nourish with water and you're good to go!

Made from high-quality whole-food ingredients to make you feel your best, this powerhouse superfood blend nourishes your body from the inside out. 

14 servings per jar/pouch
Benefits of Daily Use:
Rich in Antioxidants  · 10g Protein · 11g Fiber (39% DV) · Healthy Omega 3 & 6 Fats · Excellent Source of Vitamin B12  · Source of Bioavailable Iron  · 76% of Daily Vitamin C · 9% of Daily Potassium
Organic Ingredients:
sprouted flax seeds (grounded), sprouted chia seeds (grounded), hemp hearts, bee pollen, turmeric, maca, camu camu, spirulina, ceylon cinnamon, moringa leaf, amla berry, cayenne pepper.
organic
gluten-free
vegan
no refined sugar
Translation missing: en.products.product.view_full_details
upgrade your wellness
360° Whole Body Benefits
Rich in vitamins, minerals and essential micronutrients, this superfood blend is formulated to increase your energy, immunity, and mood so you can feel your best, all with one serving.
Balanced Macronutrients
With a balance of protein (10g), healthy fats (11g) and fibre (11g), adding Daily Nourish to your smoothie or any meal will help you feel energized, satiate your hunger, and stabilize blood sugar.
Supports a Healthy Gut Flora
Daily Nourish contains 11g of fibre per serving from whole food ingredients and 39% of your recommended daily fibre intake to help improve your digestion and support a healthy gut microbiome.
Convenience, Elevated.
With 12 of the world's best superfoods combined into one convenient jar, it's easy to add a boost of nourishment to your day! Each serving has the optimal amount of each ingredient.
inside our
daily nourish superfood mix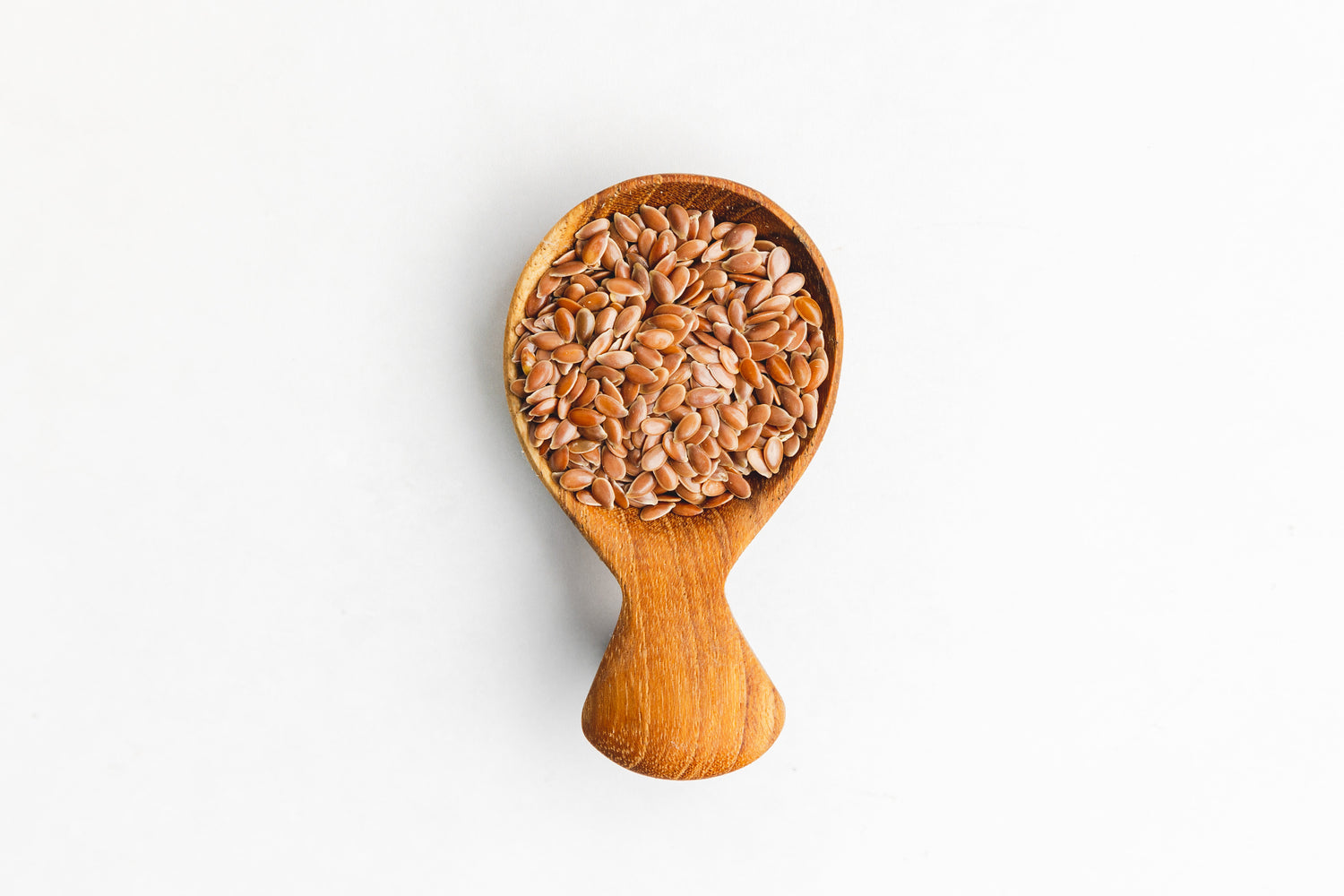 Flax Seeds
Rich in fiber, omega-3, and amino acids – sprouted seeds result in higher amounts of vitamins and increased nutrient absorption compared to unsprouted seeds.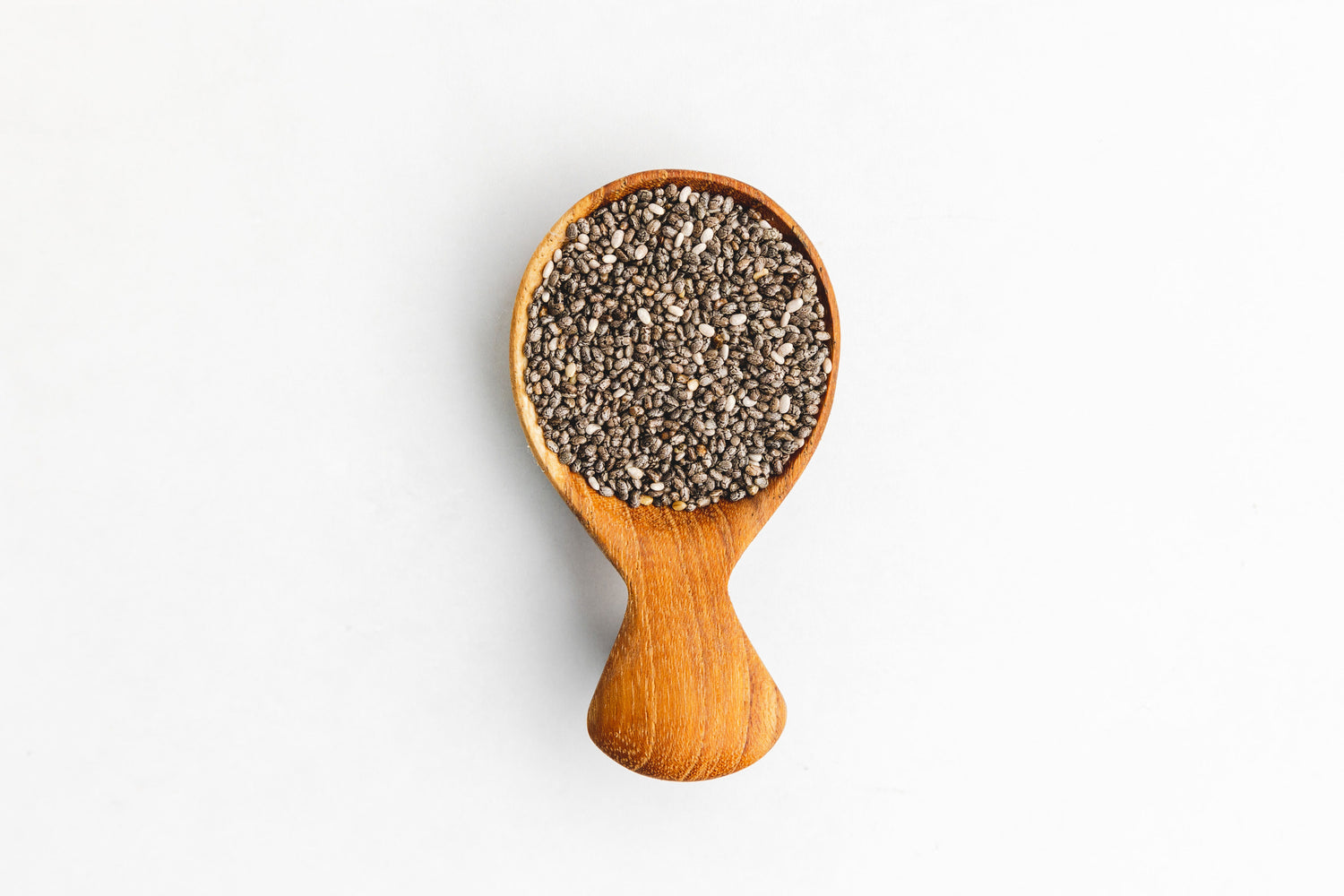 Chia Seeds
Chia seeds are packed with healthy fats and antioxidants. Plus, they're a superb source of essential minerals like manganese, iron, magnesium, and calcium.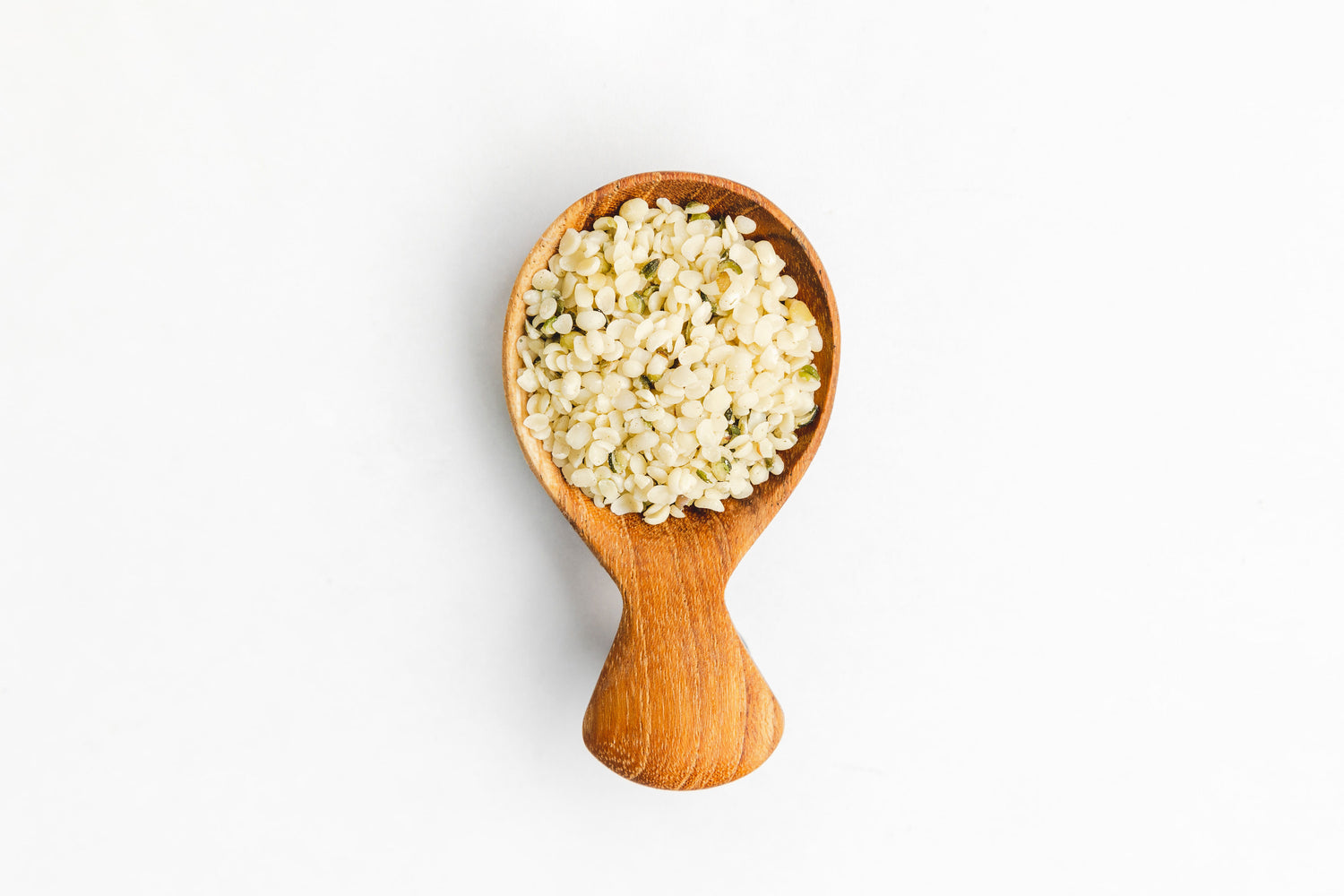 Hemp Hearts
A great source of iron, calcium, and magnesium – hemp hearts are comprised of 25% protein and 20% fiber. Plus, they support both heart and cognitive health.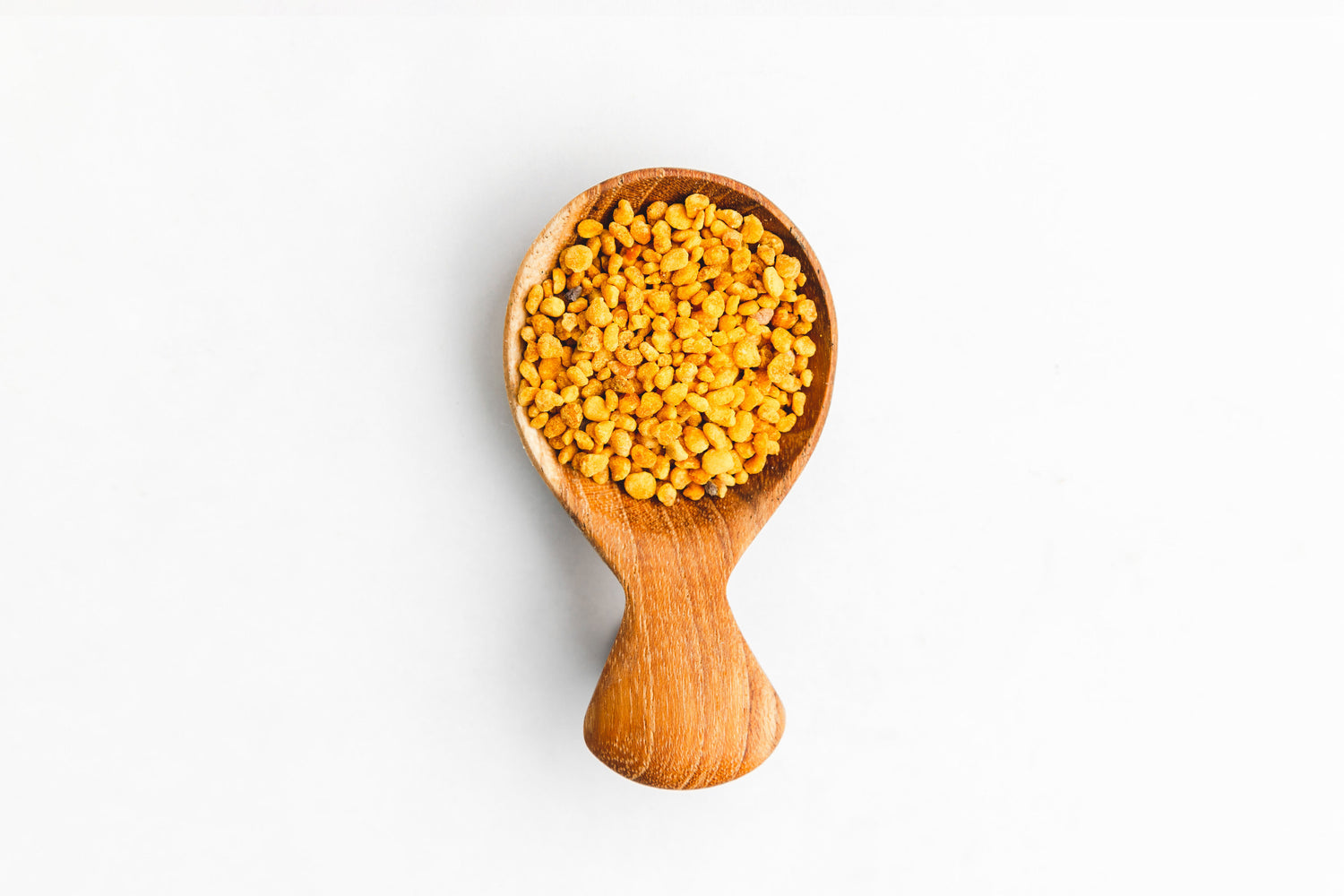 Bee Pollen
Nature's multivitamin! Bee Pollen contains anti-inflammatory properties and is known to enhance energy, speed healing, reduce stress, and boost liver health.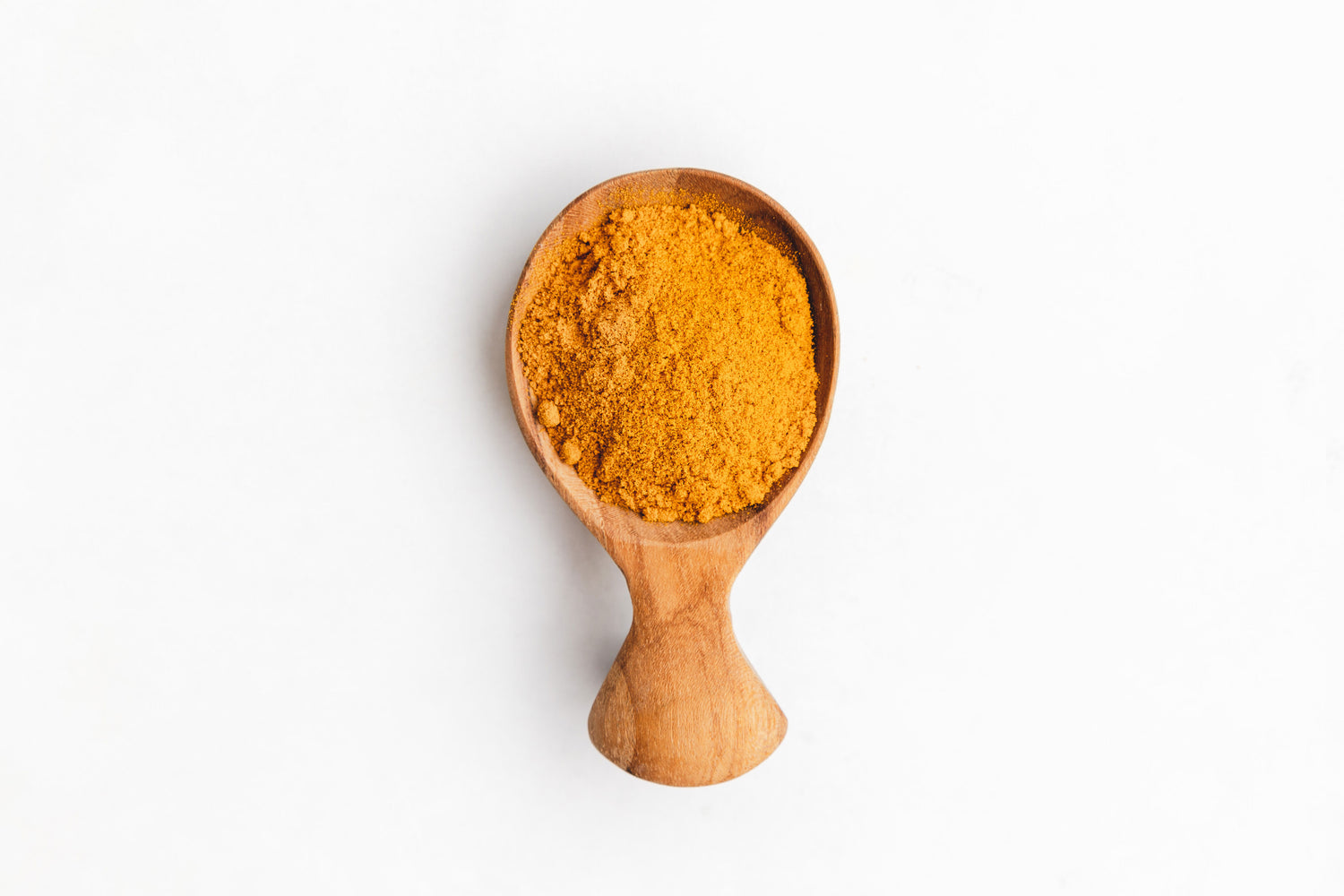 Turmeric
This calming plant is a potent antioxidant that reduces inflammation, aids in detoxification and liver support – all of which support mental well-being.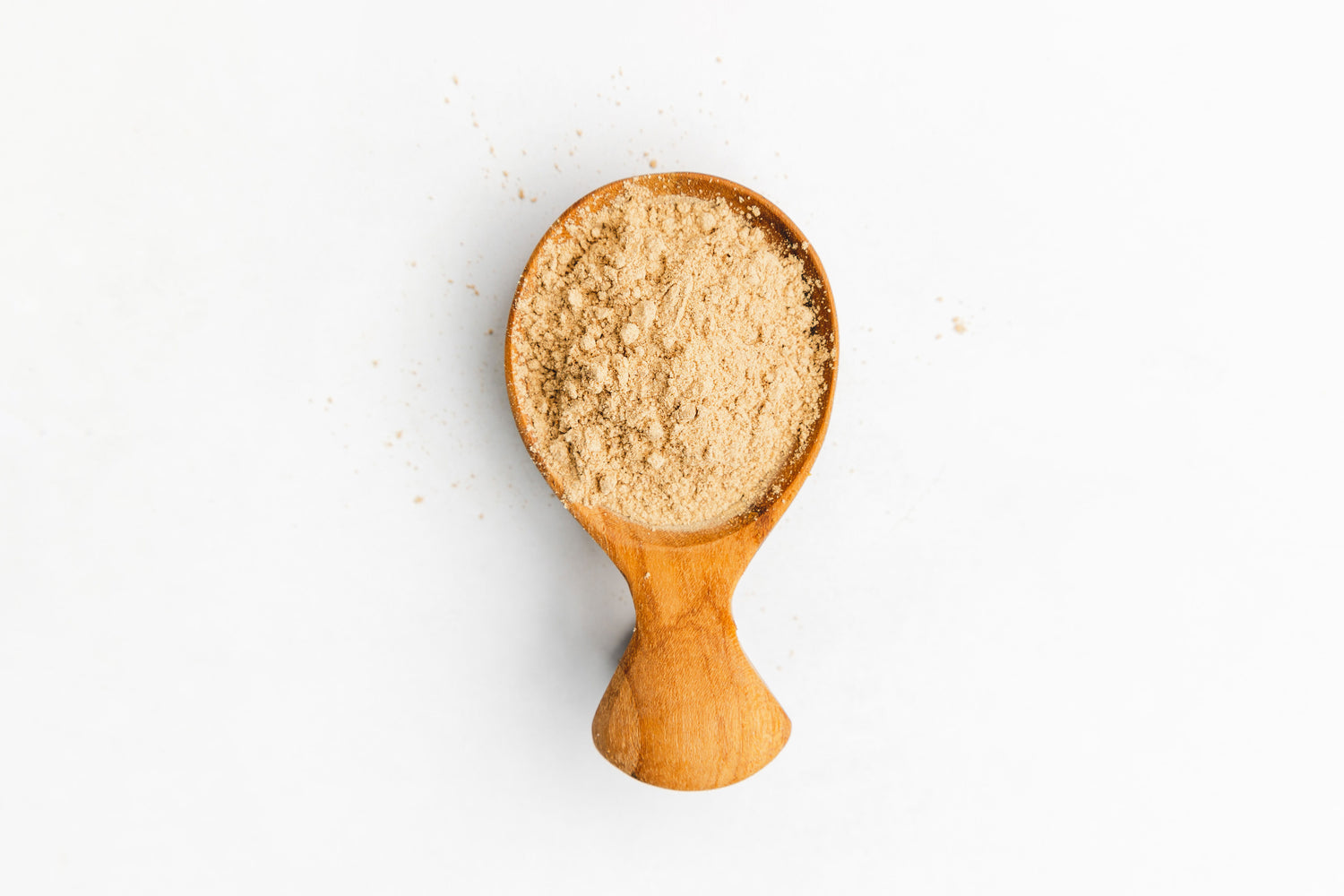 Maca
This popular adaptogen promotes hormone balance and vitality! Gelatinized powder is not gelatin, but a process of removing starches, allowing easier digestion.
Moringa Leaf
Sometimes called the "Miracle Tree" – moringa can help lower cholesterol and balance blood sugar. It is an excellent course of iron, calcium, and potassium.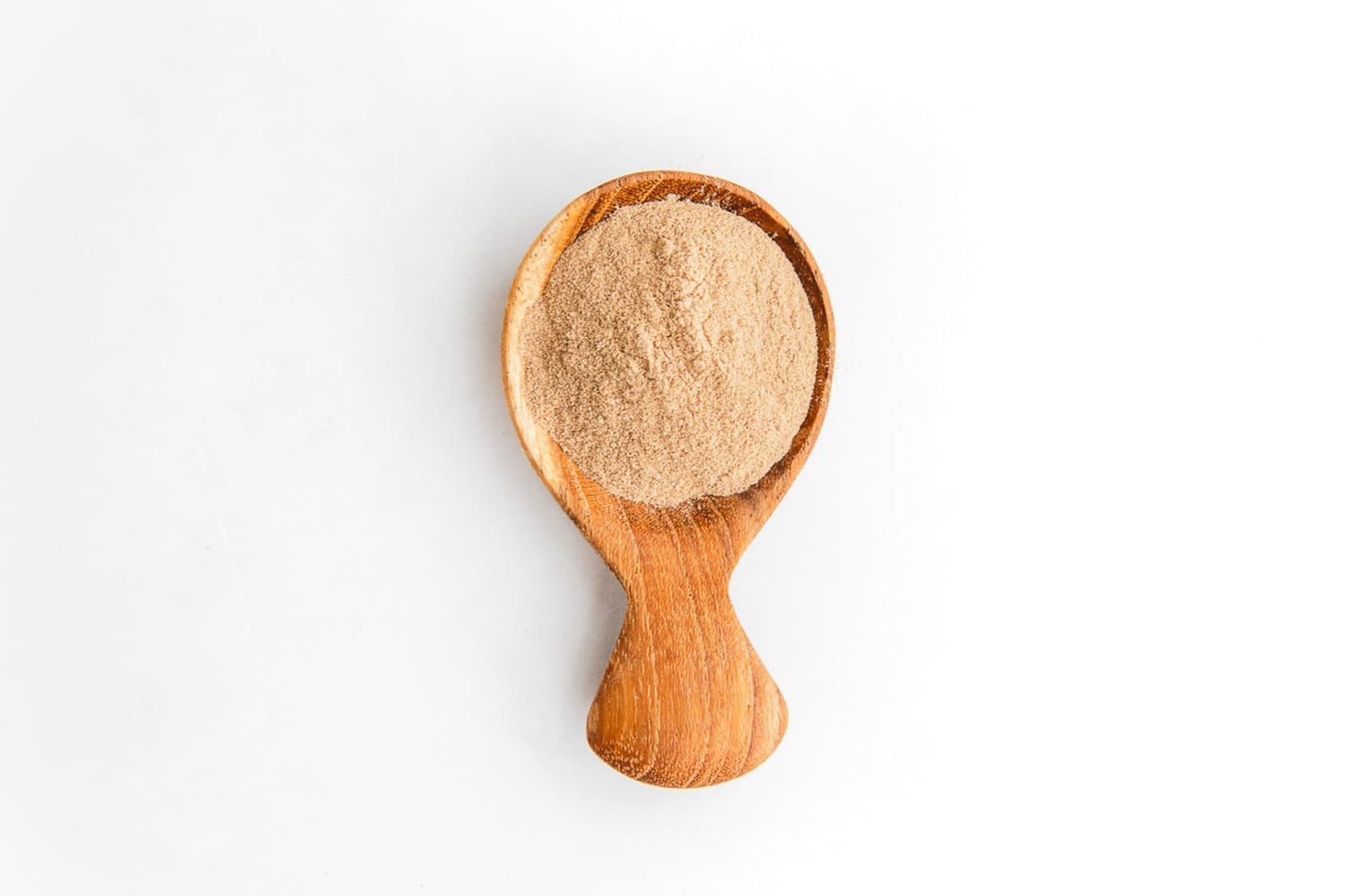 Amla Berry
This superb antioxidant has twice the power of acai berry and around 17 times of a pomegranate. It also improves kidney health and helps digestive function.
Camu Camu
This superfood berry helps promote collagen formation and support intestinal health. It's an amazing source of vitamin C – with 30x more than a kiwi!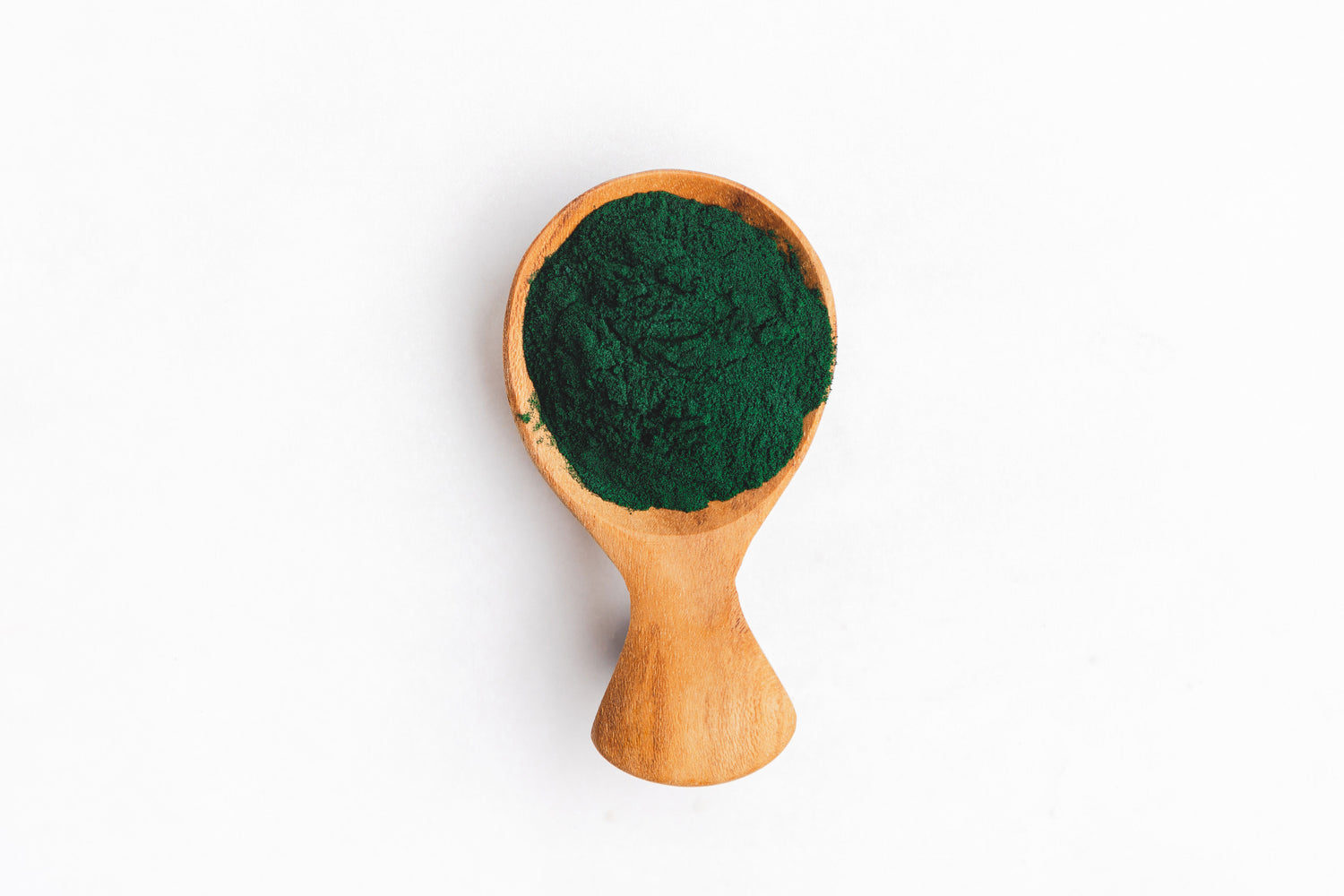 Spirulina
One of the most nutrient-dense foods on the planet – this powerhouse superfood helps flush out toxins, boost the immune system, and support mental health.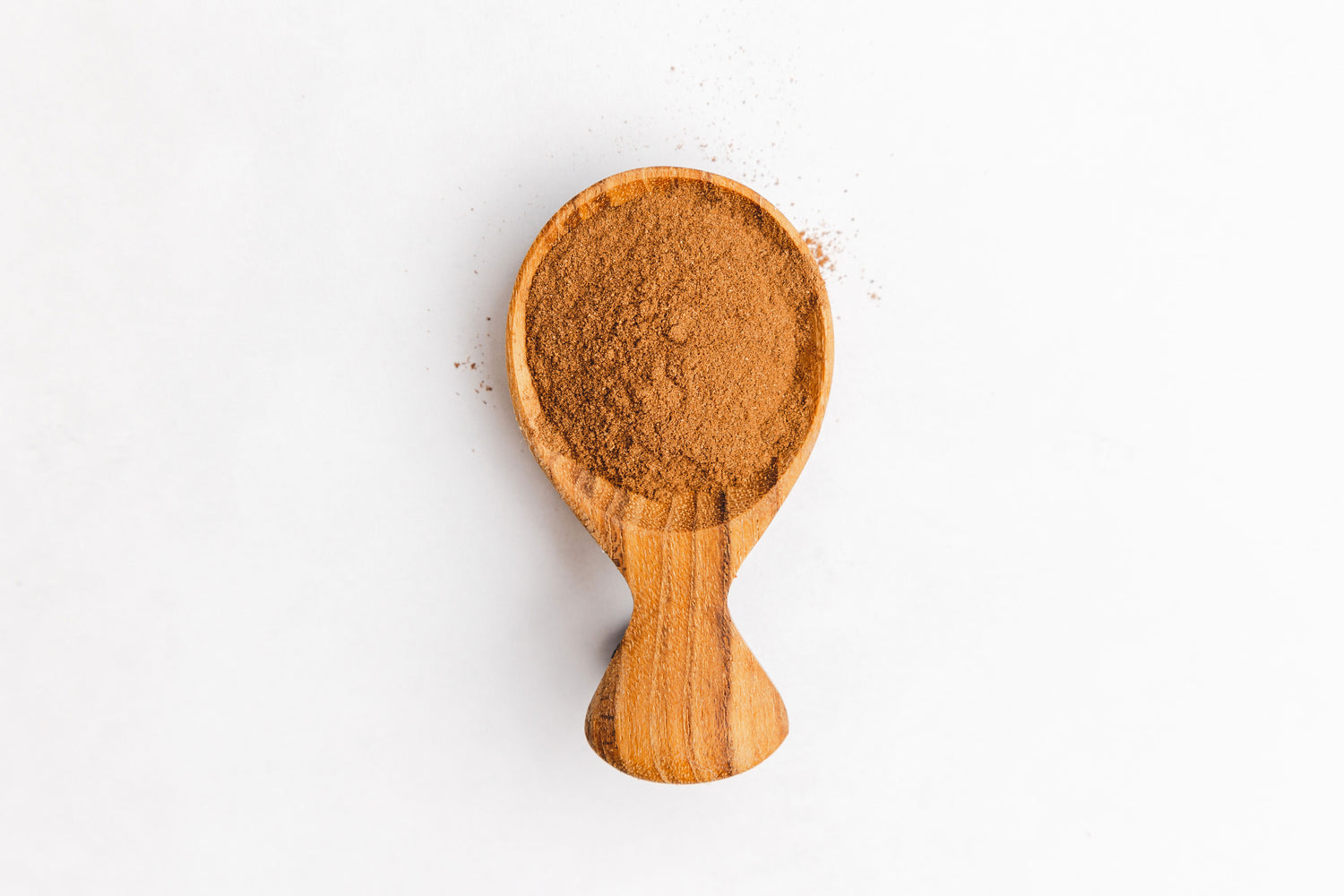 Ceylon Cinnamon
Ceylon cinnamon is superior nutritionally to cassia cinnamon. It regulates blood sugar, preserves brain function, protects heart health, and improves immunity.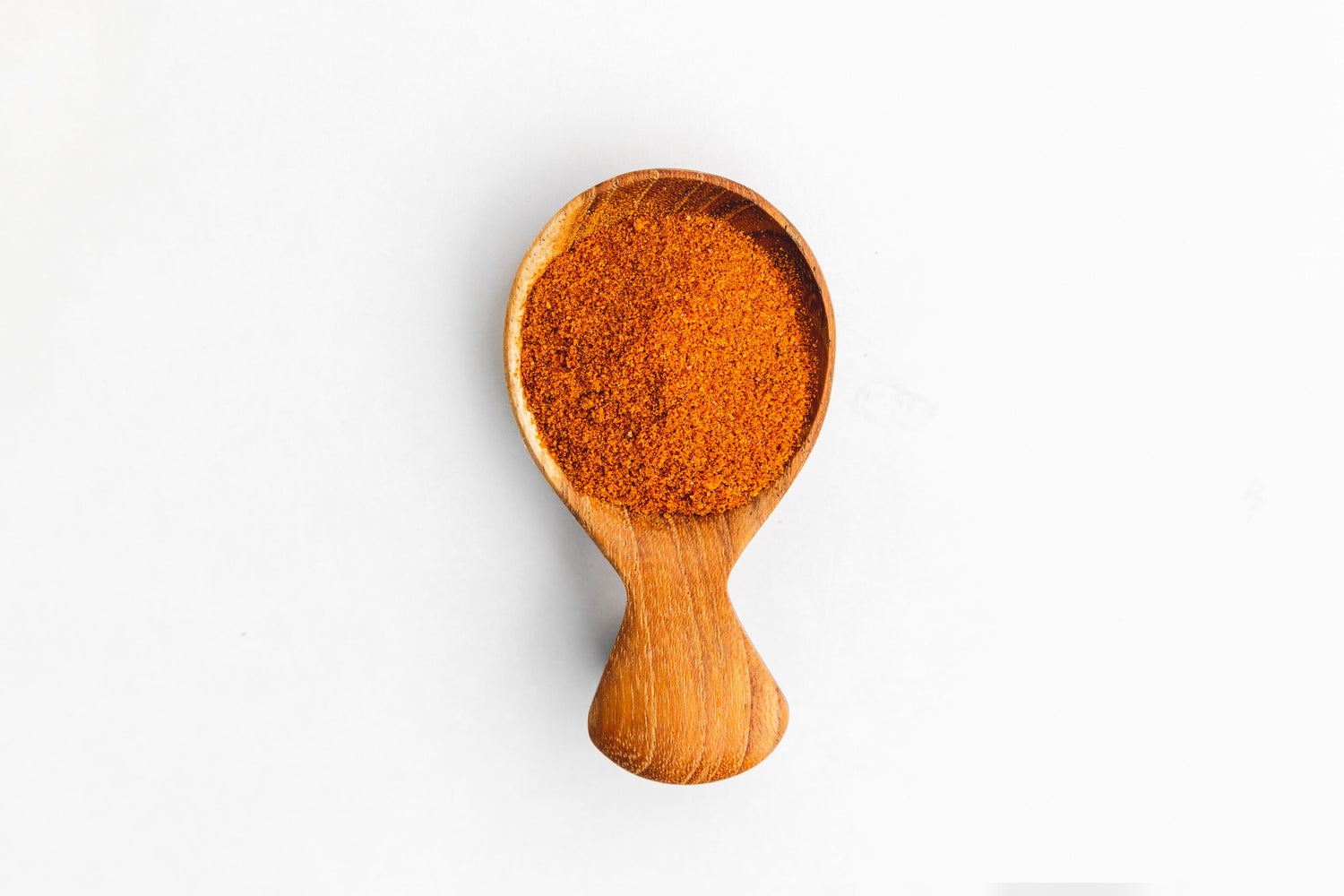 Cayenne Pepper
A rich source of vitamins B6, C, and E – Cayenne pepper contains beneficial plant compounds that help protect against cellular damage from oxidative stress.
How does it taste?
Daily Nourish has a neutral, light earthy taste. With subtle sweetness from the hemp hearts and bee pollen, it's a perfect base for adding in your favourite fruits and veggies in smoothies or a perfect addition to salad dressings. With a similar taste profile to green tea or matcha, it's very easy to drink – so much so that we sometimes just blend in 45g of Daily Nourish with 16oz of water and a squeeze of lemon juice for some flavour. Wanting an extra kick of antioxidants? Add a cup of frozen wild blueberries and blend! Pro tip: Once your Daily Nourish jar is empty, reuse the glass jar as a drinking jar for your nutrient-rich smoothies or just use it as a water bottle! Filling up the jar twice a day equals 64 oz or 8 cups of water so you'll be sure to meet your water target goals.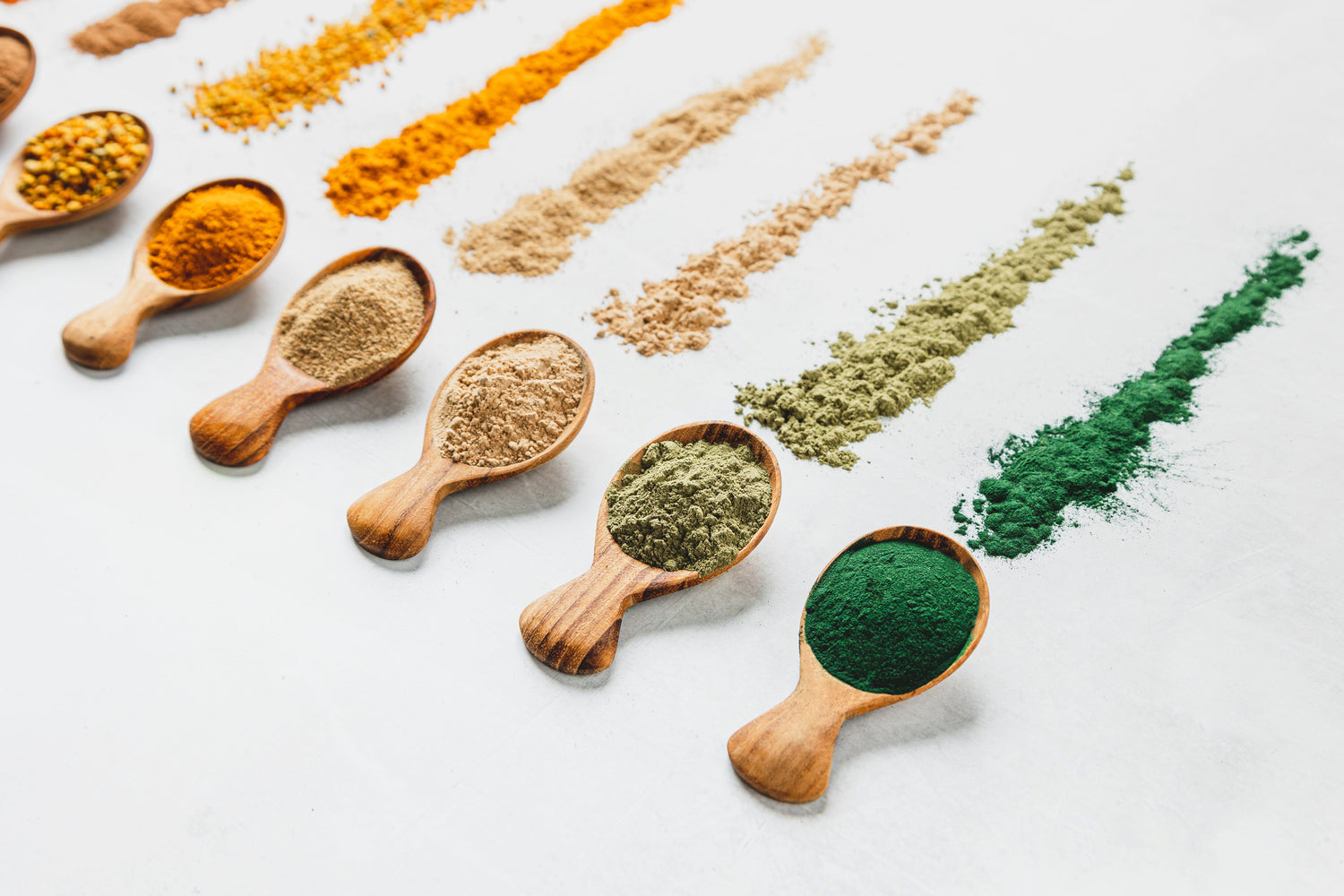 faq
Superfoods can be defined as any food that is very rich in health-promoting macro and micronutrients, including vitamins & minerals, antioxidants, fiber, and fatty acids. Food can be considered nutrient-dense when they are lower in calories but high in nutrients. Due to their nutrient-dense profile, superfoods are often linked to health benefits (beyond basic nutritional value), helping you to take your wellness to the next level and truly thrive.
What benefits can you expect from consuming superfoods?
Superfoods can help to support whole body health – from digestion, to cognitive function, anti-aging, heart health, energy, and metabolic health.
Is Daily Nourish rich in antioxidants?
Daily Nourish contains a substantial dose of bioavailable vitamin C per serving (68 mg) - thanks to a combination of camu camu, amla berry, moringa, and spirulina. These plant-based superfoods contain numerous phytochemicals that act as antioxidants including polyphenols, flavanols, anthocyanin, catechin, and more! Antioxidants are a key component for longevity and health - helping the body to fight oxidative stress and neutralize free radicals, slowing down cellular aging and helping to prevent the development of chronic disease over time.
What are some ways to enjoy Daily Nourish?
Add Daily Nourish to your smoothies, your salad dressings, or just with water. With its neutral taste, you can add Daily Nourish to just about anything, for an extra boost of nutrients with any meal or beverage. Be sure to check out the blog for more inspo on ways to incorporate Daily Nourish, on the daily.
What is the recommended serving size for Daily Nourish?
45 grams, which is 4 tablespoons or roughly 1/3 cup. The serving size can be conveniently measured using the lid of the jar - which holds 45 grams.