Jana's Ultimate Smoothie with Daily Nourish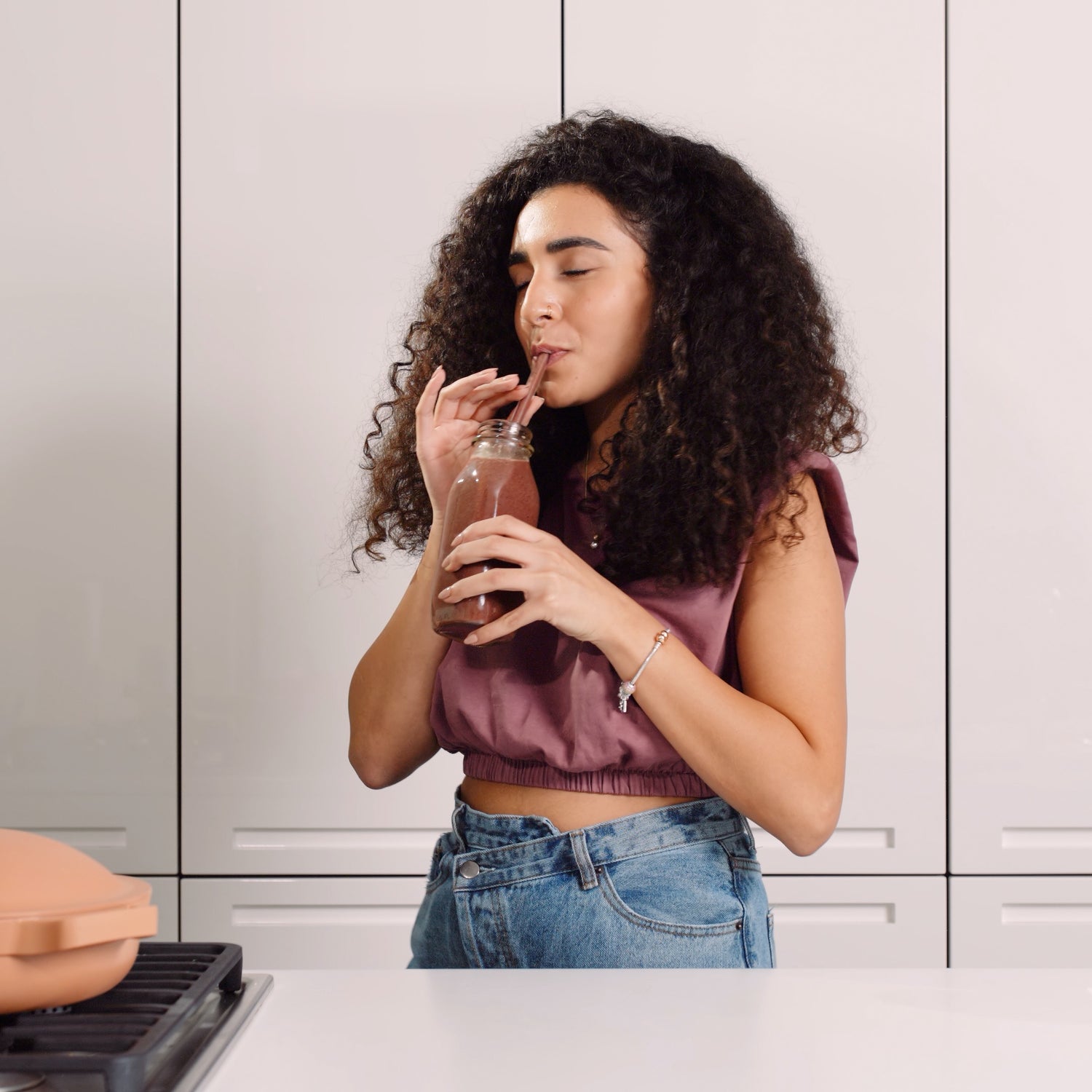 The ultimate smoothie recipe to boost your immune system - featuring daily nourish superfood mix! Packed with vitamins, minerals, fibre, healthy fats, and plant-based protein - this smoothie recipe is like a multivitamin in a glass.
You can enjoy Daily Nourish so many ways - from our energizing açai smoothie bowl to our delicious antioxidant berry beet smoothie and this ultimate smoothie recipe! This smoothie is loaded with superfoods, antioxidants, vitamins and minerals.

While we all love a good salad from time to time, there are days when you may crave something that is both nourishing and easy. This ultimate smoothie with Daily Nourish is our go-to recipe for whole body 360º nourishment. It contains healthy fats, protein, fibre, antioxidants, and plant-based iron. It's incredibly high in Vitamin C, thanks to the fresh lemon juice and the amla berry and camu camu provided by Daily Nourish superfood mix!
Nutrient Breakdown
Coconut Yogurt - we love good goddess coconut cloud yogurt from Toronto! Coconut yogurt is an excellent source of probiotics - live microorganisms that offer many health benefits. Studies have shown that probiotics can promote systemic health - from digestive health to heart, metabolic, and immune health. 
Oregano oil - is well known for its antibacterial, anti-inflammatory, and antifungal properties! Oregano oil is a source of antioxidants, including the powerful phenol carvacrol. (1) One in vitro study found that the antibacterial activity of oregano oil helped to inhibit the growth of Escherichia coli and Pseudomonas aeruginosa. (2) These are two strains of bacteria that can cause infection in humans! 

Elderberry Syrup - is rich in vitamin C and many powerful phytonutrients. Polyphenols, flavonols, phenolic acids and proanthocyanidins are few of the phytonutrients found in elderberry that contribute to its antioxidant activity! (3,4) This randomized placebo-controlled study found that elderberry extract to be a safe and effective treatment for influenza, with patients who received 15 ml of elderberry extract four times a day recovering 4 days earlier (on average) compared to the placebo.

Mushroom Tincture - this super multi mushroom synergy tincture from Rainbo is our go-to blend of functional mushrooms! With 11 functional mushrooms, including reishi, lion's maine, chaga, cordyceps, and more - this blend is formulated to support immune health, energy, and resilience. 

Fresh Lemon Juice - cuts the earthy taste of greens the lemon juice and is another excellent source of Vitamin C. If you're looking for a way to lighten the taste of your smoothie with fresh zesty flavour, lemon juice is your new go-to!

Daily Nourish - takes this smoothie to the next level, covering all your bases with 360º full-body benefits! Daily Nourish is made with some of the world's best superfoods, including spirulina, moringa leaf, camu camu, amla berry, curry leaf, bee pollen, turmeric and more! Rich in antioxidants, protein, healthy fats, vitamins, and minerals – this blend is made from bioavailable organic ingredients to help increase your energy, boost immunity, and reduce inflammation to support overall health.

Tips for Making the Ultimate Smoothie
Many people avoid adding greens to smoothies because they are intimidated by the flavour - will it taste earthy and unappetizing? Absolutely not! We like to add in lots of yummy ingredients that add a light and refreshing flavour - making it SO easy to get your greens in and enjoy them in the process. Here are our tips for making a yummy green smoothie:

• Use a high-speed blender if possible - chunky smoothies are not the tastiest
• Layer the spinach or any greens you are using in the bottom of the blender first - this will allow them to be mixed in even better

• Add fresh lemon juice to for zesty flavour - this compliments the flavours of all the superfoods perfectly

• Add ginger to help to "warm" up your smoothie and stimulate your digestive system

• Add healthy fats for a more satiating and deliciously creamy smoothy! We love adding in almond butter, macadamia nut butter, hazelnut butter, or pistachio butter for an added boost of health fats (in addition to the omega 3 and 6 fats found in Daily Nourish)!

• Add a source of protein! Protein is essential for tissue growth and repair, the storage and transportation of nutrients, and it is also a component of every cell in the body. Best of all, protein provides energy, and helps to keep you feeling full for longer. See our high protein smoothie recipe for ideas on how to add plant based protein to your smoothie without any protein powder. 
Daily Nourish
This combination of 13 nutrient-dense superfoods is formulated to boost your energy, immunity, and overall health, daily. Rich in antioxidants, protein, Omegas 3 and 6, and so much more, this blend is made from absorbable organic ingredients to make you feel your best. 
With 11 g of plant-based protein per serving, 12 g of fiber, it's a great addition to any smoothie. This blend can help to balance blood sugar + cholesterol, while also providing a bioavailable source of iron (thanks to the curry leaf).

No need to scoop out multiple superfood powders into your smoothie - instead we've combined all of the best into one convenient jar.
We hope you found this blog post helpful - be sure to share a photo and tag us on social media @nomz #nomz if this post resonated with you. 
faq
What does Daily Nourish taste like?
Daily nourish
has an invigorating flavour that will wake up your taste buds and light up your immune system! With some heat from the cayenne (not spicy, just a slight heat), subtle sweetness from the hemp hearts and bee pollen - it tastes delish when blended into a green smoothie like this.
What is the recommended serving size for Daily Nourish?
45 grams, which is 4 tablespoons or roughly 1/3 cup. The serving size can be conveniently measured using the lid of the jar - which holds 45 grams.
Which ingredient in Daily Nourish provides plant based iron?
Organic curry leaf! This understated superfood has many health benefits - from Read more about organic curry leaf here.