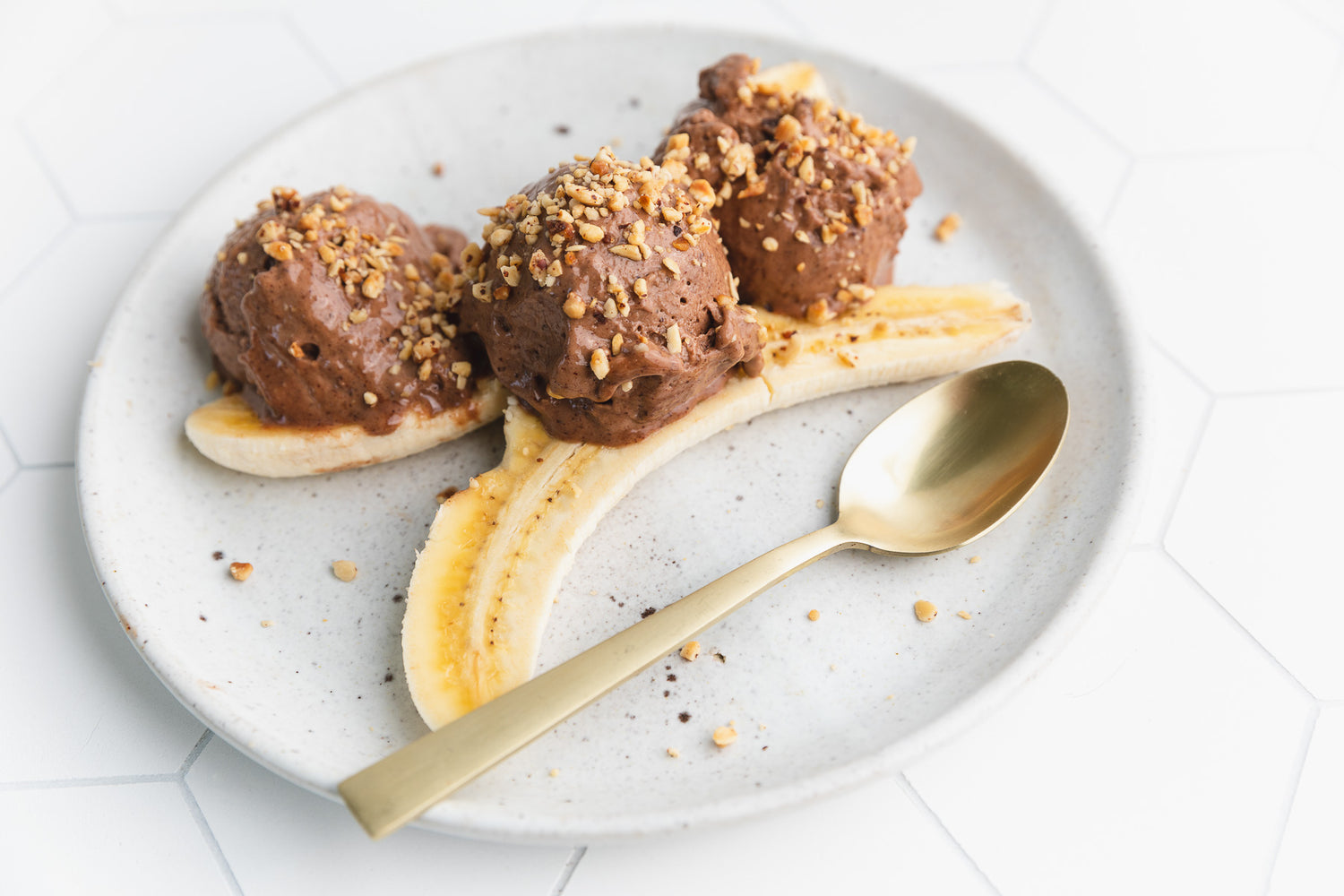 When it comes to refined sugar free snacks, we are well known for our organic bites... but you might not know that we also have some expertise when it comes to frozen treats, too! 

A hot summer day is not complete without a nomzilicious frozen snack – and we've got you covered with vegan chocolate popsicles, nice cream, frozen yogurt and more.
Whether you're looking for a refreshing dessert to cool down on a scorching day or a nutritious alternative to satisfy your sweet tooth, these five options will surely hit the spot.
blood sugar balanced frozen treats
Our secret to creating wholesome and nutritious frozen treats is our single ingredient organic nut butters. Organic pistachio, macadamia, hazelnut, or almond butter adds incredible flavour and health benefits to any nice cream, while cashews add healthy fats and protein to our nomzicles.
Each of our single ingredient organic nut butters contain monounsaturated and polyunsaturated fats that are beneficial for supporting optimal hormone production, nutrient absorption, and even brain function.
Including healthy fats in your nice cream can also help promote blood sugar balance. When you consume a treat that is solely based on fruit sugars, you may experience a rapid rise in blood sugar levels, followed by a subsequent crash. However, the healthy fats found in organic nut butters can help slow down the absorption of sugars from the fruits, resulting in a more balanced release of glucose into the bloodstream. This can prevent the blood sugar spikes and crashes that can leave you feeling lethargic and craving more sweets!
Of course, these nut butters also add a delightful creamy texture to the nice cream, making it even more luxurious and indulgent. The combination of the natural sweetness from the banana and the richness of the nut butters creates texture and flavour that will satisfy your ice cream cravings – no dairy or refined sugar needed!
1. nomzicles
Ready to indulge in a wholesome, mouthwatering treat that harnesses the power of cashews? Our organic chocolate popsicles have the crave-worthy taste of the fudge pops you grew up loving, but enhanced with good-for-you ingredients including cashews, dates, cocoa, and spring water. 
With rich chocolaty flavour and smooth, creamy texture – nomzicles are a great way to enjoy the health benefits of cashews. These dairy-free, vegan, and organic fudge pops are a delightful way to satisfy your sweet tooth without compromising your well-being. 
2. healthy vegan banana split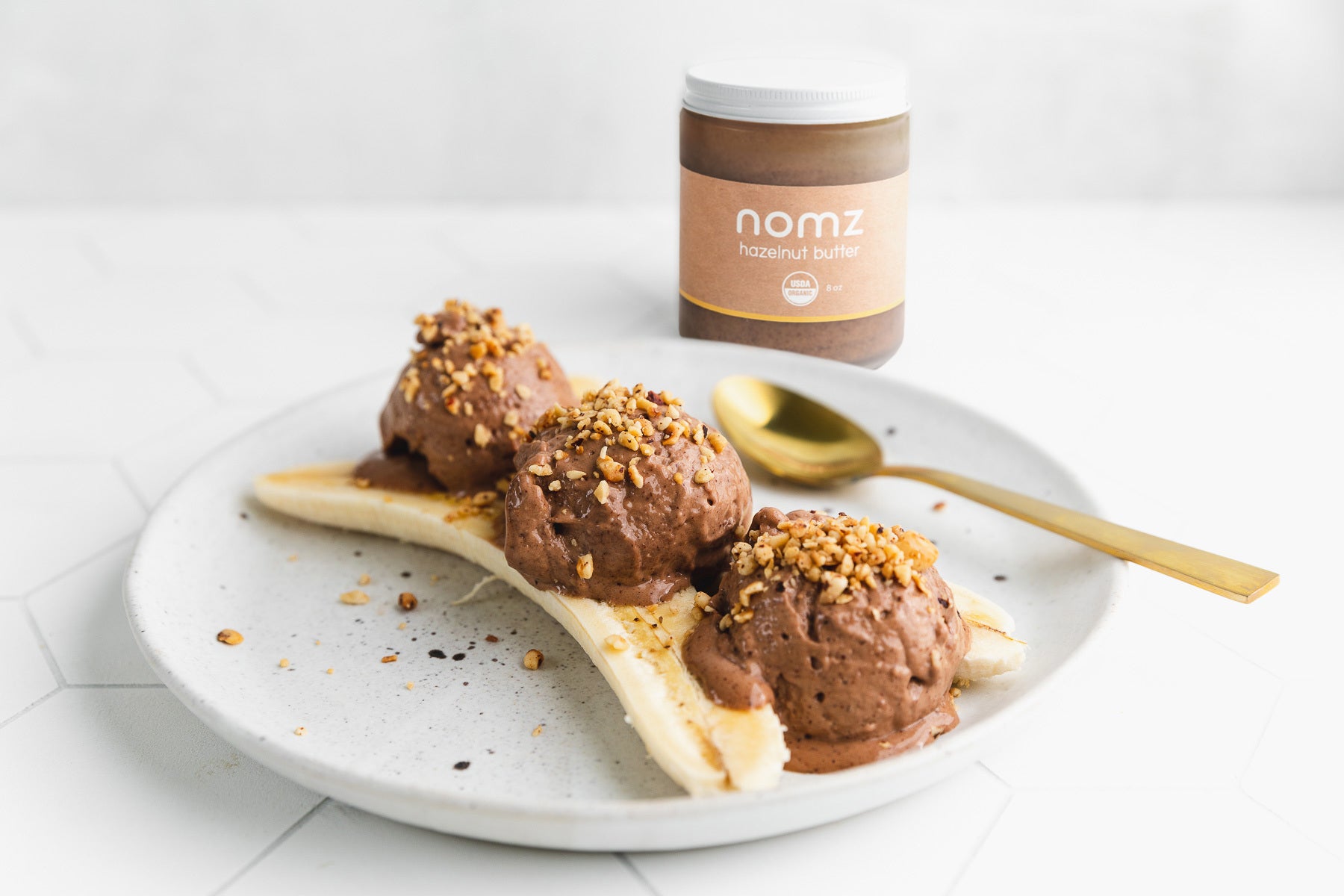 This healthy vegan banana split combines all your favourite flavours of a ferrero roche, with the texture of delicious soft-serve ice cream! All you need are 3 simple ingredients, and a blender - and it's ready in 5 minutes!  
By adding in our single ingredient organic hazelnut butter – it becomes a tasty snack loaded with nutritious healthy fats! Loved by vegans and non-vegans alike – this healthy vegan banana split will not disappoint!
3. nomzicle affogato
Heat waves are better with a nomzicle affogato in hand! This iced coffee 
tastes like a Starbucks iced café mocha, but with with zero refined sugar or dairy. 
This might just be your go-to summer iced coffee order!
Ingredients:
• nomzicle (cashews, dates, cocoa, spring water)
• double shot espresso
• almond milk
• ice
Sip, enjoy, and stay cool!
4. macadamia butter nice cream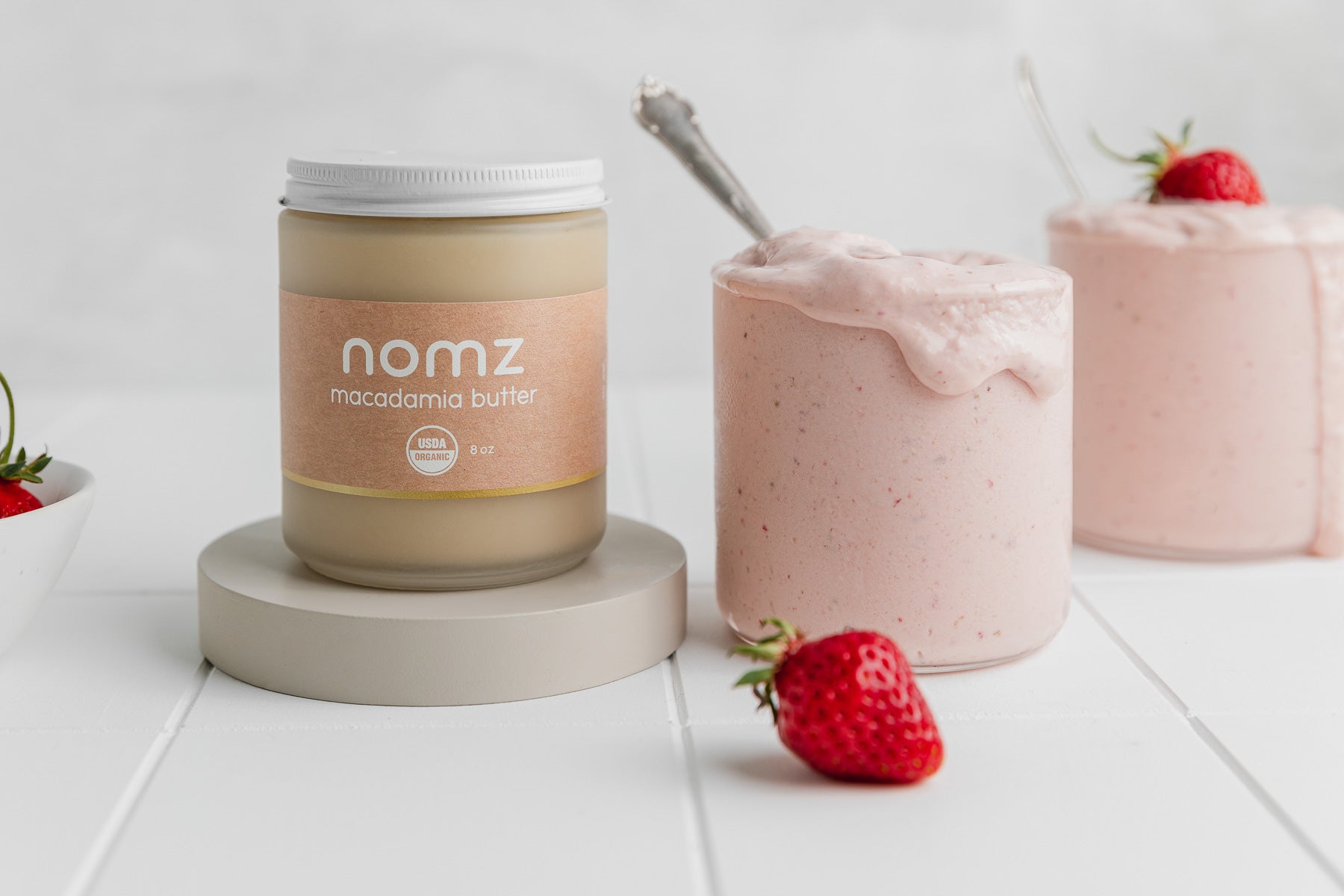 A healthier take on traditional ice cream – this macadamia nut butter nice cream is made with just 3 ingredients. That's right! You can whip up a summer favourite using only macadamia nut butter, strawberries, and bananas. Plus, it's refined sugar-free, packed with healthy fats and so refreshing on a hot summer day. 
5. snickers magic shell frozen yogurt 
Indulge in your cravings – no refined sugar needed! These magic shell yogurt cups taste like nutella with the combination of hazlenut butter + chocolate. We can't get enough of this snack! Give it a try with our single ingredient organic hazelnut butter.
We hope you enjoy cooling off with these delicious frozen treats! We'd love to see how you incorporate our nut butters and nomzicles into your snacking routine this summer. Be sure to tag us @nomz on social media to share your healthy frozen treat ideas with us! 
recipe contest
Have a frozen treat, snack, or other recipe that you like to make with your favourite nomz products? We'd love to hear about it – be sure to enter our summer recipe contest for a chance to win a $200 gift card to nomz!