Celebrating 3 Years of Endaayaan Awejaa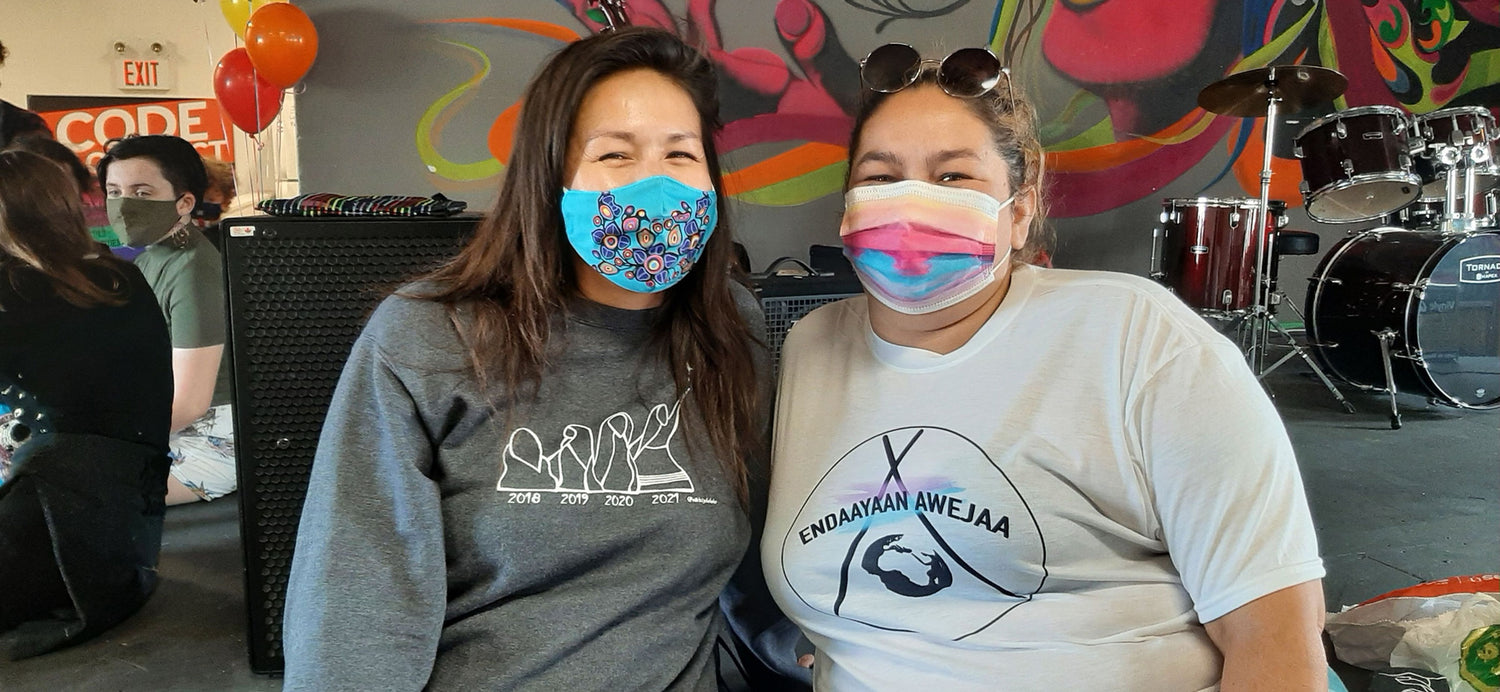 Endaayaan Awejaa is a start-up non-profit organization based in North Bay that is dedicated to providing all youth and families with safe places to heal and build solid foundations for their future. Arts & culture, reconciliation, education and harm reduction are key pillars that Endaayaan Awejaa incorporates into their programs and workshops. They work to provide support for youth and families who may need assistance with groceries, closure, resources, connection to culture, or basic hygiene needs, amongst many other initiatives. 
As the recipient of the first annual nomz grant in 2020, we are so honoured to celebrate the third anniversary of Endaayaan Awejaa this summer! In celebration, we would like to highlight their story and incredible impact on the community. We spoke with the CEO & Founder of Endaayaan Awejaa, Natasha Lariviere, to learn about her mission, impact, and goals as Endaayaan Awejaa continues to grow. Natasha's Spirit name is Strong Earth Woman, and she is part of the deer clan of Nbisiing Aka Nipissing First Nation:
What was the inspiration behind the creation and development of your business/organization?
Natasha: I grew up on and off reserve. I didn't grow up in my culture or know who I was as an Indigenous person, not really knowing my roots until high school. I went to Nbisiing Secondary, which is located on Nipissing First Nation. During my time there I met a lot of other Indigenous youth that relocated for a better education or for their families to have more opportunities. The teachers there always went above and beyond for their students, even outside of the classroom. I made many friendships; unfortunately, some of my friends did not make it to adulthood. I have been through a lot of grief, especially as a youth at Nbisiing. In high school, I decided to turn my pain into something positive. I decided to be a youth worker so that I could make a change and hopefully, we would not have to lose any more of our youth. I created a business plan in high school to open up an Indigenous youth home. This has been my life's work since then, and I've slowly been working towards that. When I finally finished my SSW diploma in 2020, I decided now is the time to start working back on that dream of having a home of mine. I have reached out to people I have met over the years who have been in various roles working with Indigenous communities and families.  It has not been easy, especially since forming in July of 2020 as a non-profit organization. I still go through a lot of grief due to the effects of intergenerational trauma. All our work at Endaayaan Awejaa is dedicated to those who have gone before us and those who will come 7 generations after us.
Can you share the meaning behind the mission statement of Endaayaan Awejaa?
Natasha: Our motto is Maawi Bmosedaa which means Walking in Unity. This was translated by one of the elders in my community Murielban Sawyer. We strive to do this with the youth and families we work with. In our culture, everyone has a role, everyone has a purpose and everyone has a gift to share. We understand this at Endaayaan Awejaa. 
We want our clients to know that we walk along with them and are here to offer them support on their journey. 
How does Endaayaan Awejaa incorporate culture and traditional teachings? 
Natasha: We incorporate our traditional teachings into our work at Endaayaan Awejaa. When we open our youth home, we want the youth who live there to have easy access to our teachings and traditions.  One of our pillars is art and culture, so we do our best to host monthly traditional art and culture teachings. We incorporate the Nipissing dialect into our monthly calendar and sometimes throughout our posts on Facebook. 
A lot of our staff here at Endaayaan Awejaa has experience lost and this is why they do the work they do within the community to create change. One of the teachings I received was that when someone you love passes away, you put all the good they were within the centre of your circle and work towards being that as well. This is what we do at Endaayaan Awejaa: work on being the best support we can be for our community in memory of our loved ones.
The impact of your offerings on the community is clearly immense. What would you say the top services are that individuals come to you for?  
Natasha: We have youth and families come to us a lot for our care packages as well as for our culture workshops. Our care packages include basic hygiene supplies , dry food and PC gift cards. They really help our youth and families get by when times are hard. A lot of our youth and families are looking to reconnect and reclaim their culture. Our culture workshops are always quick to full. 
We would love to hear more about the workshops you organize for Indigenous youth and what you aim to achieve through these gatherings. Could you share some details with us?
Natasha: The workshops we put on are for our youth and their families to build a strong foundation for their future. We create safe spaces for youth to come and learn. Our feedback from our community helps us decide what workshops we will put on. We believe in Maawi Bmosedaa which means Walking in Unity. We walk together with our youth and their families so that we can support them. The goal of our gatherings is to help strengthen our next 7 generations so that they may be our future leaders within our communities. We love to see Indigenous youth succeeding and being their authentic selves. We want to continue to create a safe space outside of our workshops so in the future we hope to have a Indigenous youth transition home. 
Is there a recent success or win that resulted from Endaayaan Awejaa's programs and services that you can share?
Natasha: This last year we were able to support a youth from our community with completing their last course for their Bachelor's of Psychology. This youth has been living on their own away from their community since high school. Growing up in the city as an Indigenous youth alone is never easy. She is a single mom and finding funding for her program was not the easiest to do. Due to us receiving donations from community members this year we were able to fund her last course to complete her education. She now hold her BA in Psychology and is looking to help volunteer with Endaayaan Awejaa to help other Indigenous youth. 
What motivated you to apply for the nomz grant?
Natasha: When I first saw the nomz grant I saw that Jana had visited  Moose Factory and how it was a transformative experience for her. I had always had a connection with Moose Factory. Many of my friends I grew up with were from Moose Factory, and my friends who passed away were also from Moose Factory. One friend, in particular, was Thomas Trapper, who had passed away in 2009. He is the biggest reason why I do the work I do. So when I saw this grant, I took it as a sign to apply for the nomz Grant that this could be very helpful for the work I am trying to do within the community. 
What impact did the nomz grant have on your business and what were some of the resources that you were able to invest in using this grant?
Natasha: The nomz grant helped us kick off our now annual winter drive. We were able to purchase new winter gear for 10 youths within our community. It also helped us purchase items for our care packages and medicine bundles that we hand out to youth in our community. This grant also helped us purchase supplies for ongoing art workshops that we offer within the community. Being able to purchase these supplies and host these workshops helped us when we were starting off our journey as a new non-profit in our community. It helped us get momentum and get our name our there by offering these services.  
Can you speak to the current government funding options to support Indigenous communities, and what our government can do to provide better support?
Natasha: The government should give more funding to Indigenous entrepreneurs and non-profit organizations. During my time within the non-profit field, I have noticed the need for multi-year funding for non-profit organizations. There are a lot of funding opportunities out there, but you need to jump through hoops in order to apply.
What would be your biggest piece of advice to any Indigenous youth or entrepreneurs who are looking to pursue their dreams by starting a business or non-profit?
Natasha: Do not think your dream is too big or too small. Research on the field you are getting into. At first you may feel you are alone but the more you push yourself out of your comfort zone and network you will find those people who support you. Always be looking for opportunities to learn and grow your business. Mentors within the field can be helpful but make sure you know who you are getting into business with and set in place your policies that will help you will run your business and organization before hand incase problems arise so you have a way to handle them. 
How To Support Endaayaan Awejaa
As a non-profit organization, Endaayaan Awejaa always seeks donations of all shapes and sizes! Whether it's a recurring monthly donation, or something as little as a dollar - every little bit helps! 
By donating, not only are you helping out a start-up organization, but you are allowing us the chance to give back to our community and continue to help out indigenous youth and families! Donate directly to Endaayaan Awajaa here. 
Natasha: We are always looking for donations wether it be in kind for our care packages so such as dry food, shampoo, hair brushes, hair ties, pads or condoms. We also rely on monetary donations to help us when we are in between grants. All donations go right back into supporting our community.
$10,000 Grant
As a purpose-driven team – giving back to the community and recognizing those who have inspired and supported us along the way has always been important. Applications are once again open for our $10,000 Grant! Learn more about the grant and help to spread the word here.