Chocolate Almond Butter Cups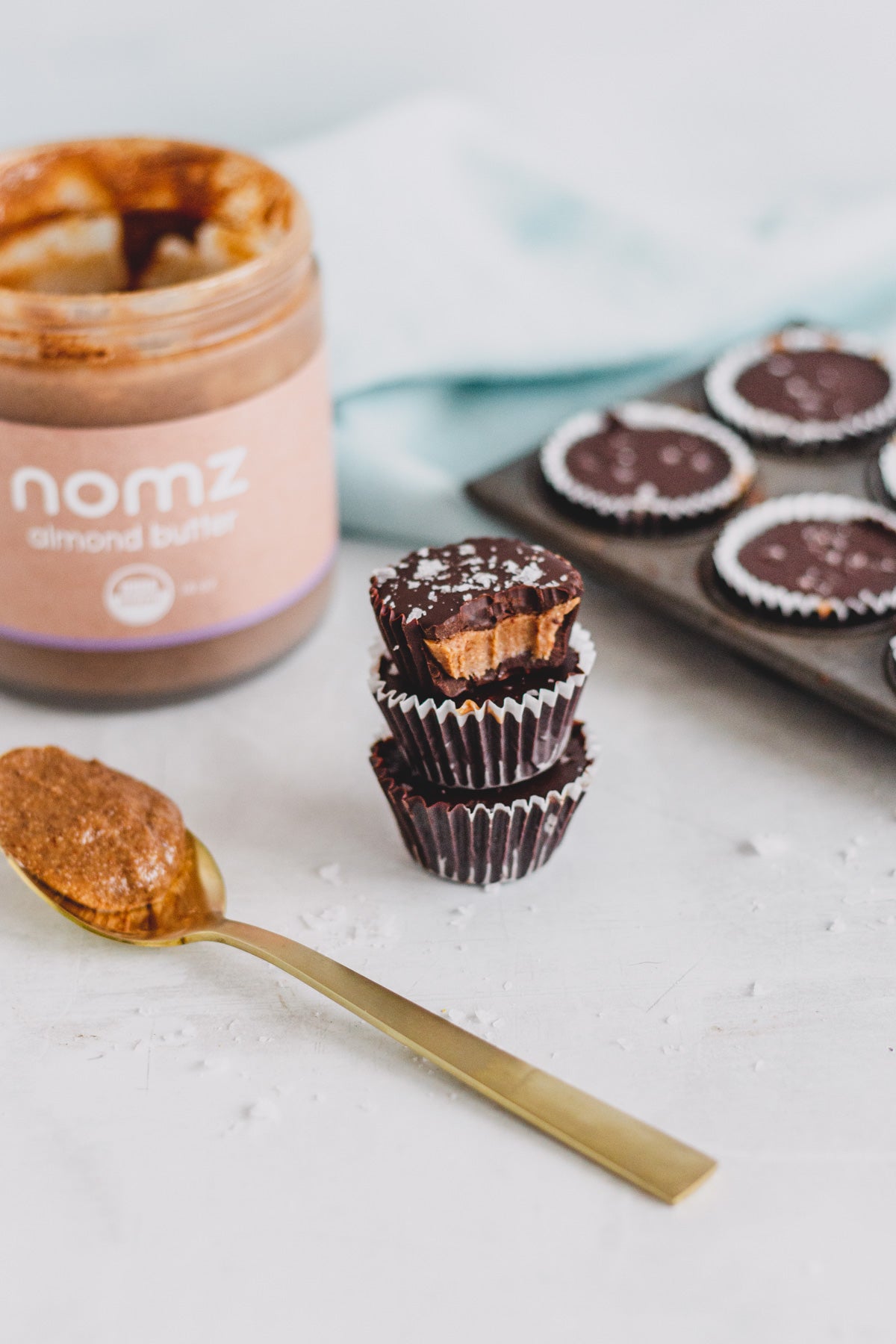 key points
Chocolate almond butter cups are vegan, gluten-free, refined sugar free and paleo
These cups are full of healthy fats and protein
Perfect for satisfying any chocolate or sugar cravings
These homemade chocolate almond butter cups are a healthier twist on classic peanut butter cups, without any refined sugar! Packed with healthy fats and protein thanks to 100% organic almond butter.
These almond butter cups are a fun and easy treat that you can make with just 5 simple ingredients. Satisfy your chocolate craving with this gluten-free and vegan sweet treat. 
Decadent and rich, and slightly sweetened with maple syrup. These are be the perfect treat to take to your next gathering, or to give as a yummy gift!   
Almond Butter
Our single ingredient almond butter is the perfect addition of delicious healthy fats to your diet. Smooth and creamy in texture; mild and nutty in flavor. Enjoy it drizzled over fresh fruit, in your smoothie or a spoonful on its own.
Here are 3 fun facts about almonds that make us want to dive right into a jar of almond butter right away:


they have a high mineral content, containing essential minerals such as calcium, magnesium, phosphorus, and potassium


almonds are rich in healthy fats - in particular, ALA omega 3 fats - hello brain food!


almonds are high in Vitamin E - which is a fat-soluble vitamin responsible for fighting free radicals and helping to repair damaged skin
This recipe makes ~ 20 mini almond butter cups. For equipment, you will need a mini muffin tin, paper muffin cups/ liners, and a double boiler for melting the chocolate. 
Storage
Store in an airtight container in the fridge for up to 1 week, or in an airtight container in the freezer for up to 3 months.
faq
Can I swap almond butter for a different nut butter?
Sure! You could swap almond butter for any of our organic nut butters -
pistachio butter
would be especially delicious and has a similar consistency to almond butter.
Do I need to add the maple syrup?
Though these almond butter cups are just lightly sweetened - feel free to skip the maple syrup or add less if you wish to cut down on the amount of sugar.
I don't like the taste of coconut oil. Can I swap for something else?
We wouldn't recommend it - as the coconut oil helps these almond butter cups to solidify. Instead, opt for refined coconut oil - which is flavourless!