Healthy Chocolate Turtles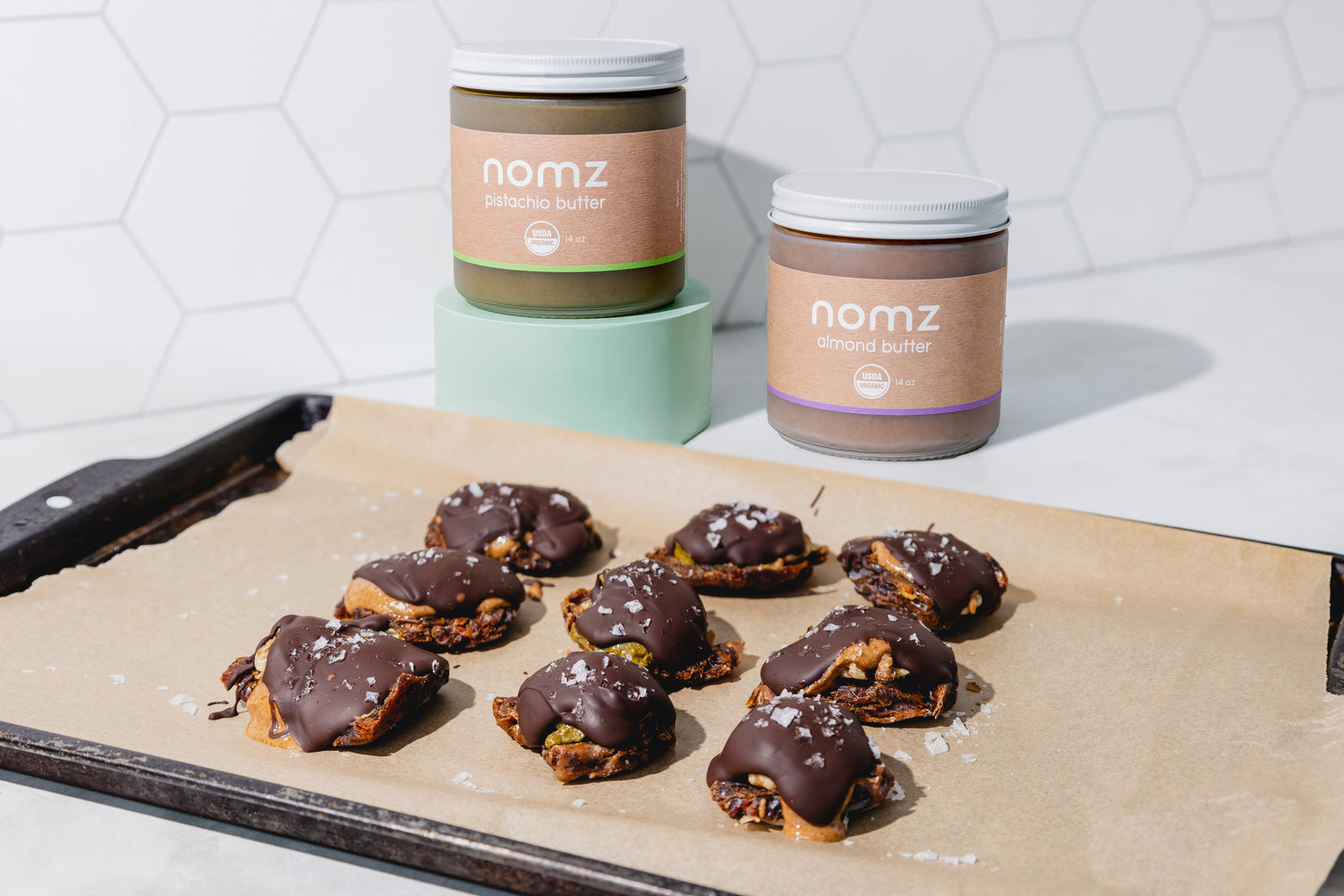 These healthy chocolate turtles are a refined sugar-free twist on classic turtles, made with four simple ingredients. Filled with healthy fats, fiber, and protein – you can snack on these without healthy chocolate turtles without spiking your blood sugar!

Chewy dates, topped with crunchy nuts, creamy nut butter and rich dark chocolate... does it get any more delicious than this?!

You'll want to make these vegan, refined sugar-free, paleo treats as soon as possible! The good news? They are so easy to assemble.

You'll need some high-quality dark chocolate, walnuts (or your nut of choice), fresh Medjool dates, and nomz organic almond butter.

For this recipe, we used organic pistachio butter and organic almond butter, but feel free to use macadamia nut butter or hazelnut butter as well! Top them off with a sprinkle of flaky sea salt for the ultimate sweet & savoury snack.
Nutrient Breakdown
Dark Chocolate -  is a great source of minerals such as magnesium, manganese, phosphorus, potassium, iron, and zinc. In addition, it is high in antioxidants including polyphenols! We recommend opting for organic, vegan, and refined sugar free dark chocolate.
Medjool Dates -  our favourite natural sweetener, dates are rich in fiber, antioxidants, vitamins and minerals. Fiber helps to reduce blood sugar spikes, and is important for optimal digestion!
Organic Pistachio Butter - contains powerful antioxidants including two carotenoids - lutein and zeaxanthin! These antioxidants are responsible for the green hue of pistachios, along with chlorophyll. Pistachios are a great source of vitamin B6 (25% DV), thiamine (20% DV), and copper (20% DV). They also contain potassium, magnesium, iron, and calcium. Best of all, pistachios contain 12 g of healthy unsaturated fats per serving including monounsaturated and polyunsaturated fats. Read more about healthy fats here!
Organic Almond Butter - Our single-ingredient almond butter is made with organic dry-roasted almonds that are high in minerals including calcium, magnesium, phosphorus, and potassium. Almonds are rich in healthy fats - in particular, ALA omega 3 fats - hello brain food! Almonds are also high in Vitamin E - which is a fat-soluble vitamin responsible for fighting free radicals and helping to repair damaged skin. 
Walnuts - aka the top nut for brain health! Walnuts are especially high in DHA, a type of omega-3 fatty acid that is protective to cognitive health and memory. 
Storage
Store in an airtight container in the fridge for up to 1 week, or in an airtight container in the freezer for up to 3 months.
#nomzilicious
Be sure to share a photo and tag us on social media @nomz #nomz when you make these healthy chocolate turtles - we would love to see your creations!
faq
Can I swap the pistachio butter/almond butter?
Sure! You could swap almond butter for any of our organic nut butters - hazelnut or macadamia butter would also be delightful in this recipe.
Do these chocolates need to be stored in the fridge?
... unless you eat them up in one day, then probably best to store in the fridge! ;)
Are dates a healthy sweetener?
Yes! Medjool dates contain fiber, vitamins and minerals such as potassium, iron, and calcium!