Healthy Vegan Banana Split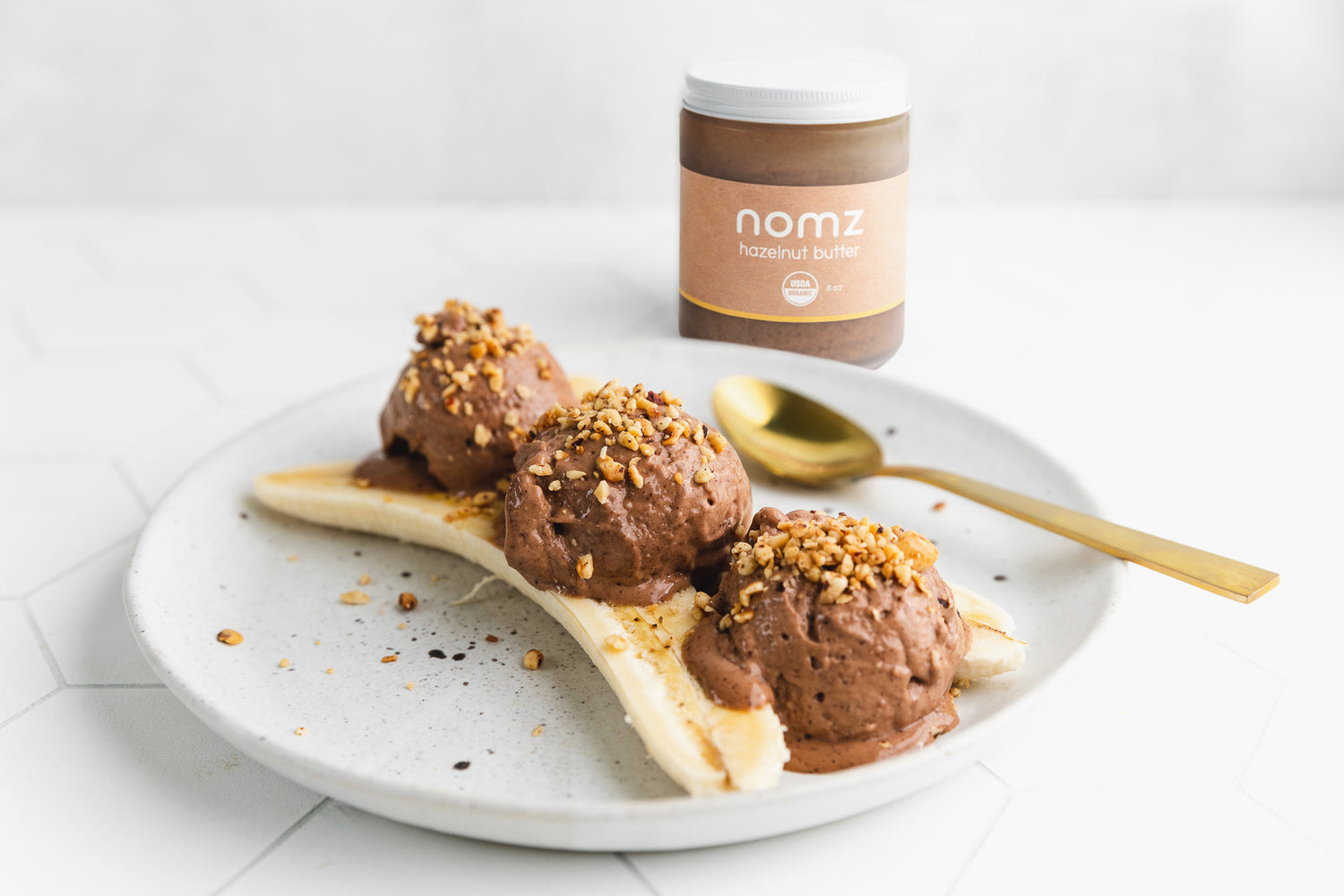 key points
This banana split is 100% refined sugar and dairy feel but still has that rich creamy taste that we love
This simple recipe is packed full of vitamins and healthy fats
A delicious summer treat that doesn't require an ice cream maker
This healthy vegan banana split combines all your favourite flavours of a ferrero roche, with the texture of delicious soft-serve ice cream! All you need are 3 simple ingredients, and a blender - and it's ready in 5 minutes!  
Just like our macadamia nut butter strawberry nice cream, this healthy vegan banana split is refined-sugar free and made with simple ingredients that are good for you. We're combining hazelnut butter with frozen bananas, and cocoa powder for a luxurious refined sugar free nice cream. Serve it up with fresh banana, and top with crushed hazelnuts (or even melted chocolate) for the full banana split experience. Adults and kids alike will love this refreshing summer treat! 
 What is Nice Cream?
Nice cream is a dessert (or snack!) made with frozen bananas as the base. It is 100% dairy-free, vegan, and refined sugar-free. 
By adding in our single ingredient organic hazelnut butter – it becomes a tasty snack loaded with nutritious healthy fats! Loved by vegans and non-vegans alike – this healthy vegan banana split will not disappoint!
Nutrient Breakdown
Bananas - are a great source of potassium, vitamin C, vitamin B6, magnesium, copper, and manganese. In addition, they are loaded with fiber that acts as a prebiotic in your gut – helping to support a healthy microbiome. 
Hazelnut butter - Hazelnuts are rich in vitamin E, healthy fats, and fibre - making hazelnut butter great for supporting brain health! They are also a great source of protein, providing 4.2 g of protein per serving (2 tbsp).
Cocoa powder - is a great source of minerals such as magnesium, manganese, phosphorus, potassium, iron, and zinc. In addition, cocoa powder is high in antioxidants including polyphenols! 
Tips for Success
- For less sweetness, use slightly green (less ripe) bananas. For more sweetness, use spotty, ripe bananas!
- Slice bananas before freezing to make blending easier.
- If your blender is having trouble with the thick texture, allow the banana to thaw for 5 minutes before making the nice cream. Alternatively, you can add a splash (1 tbsp) of plant-based milk
- Freeze leftovers (if you have any - you probably won't because it's so delicious!) in a covered silicone mold. When ready to enjoy, you can pop the nice cream out of the mold and blend it again for that delicious soft-serve consistency - or enjoy as is, if you prefer a thicker (more frozen) consistency.
1 comment