Macadamia Cookie Dough Bites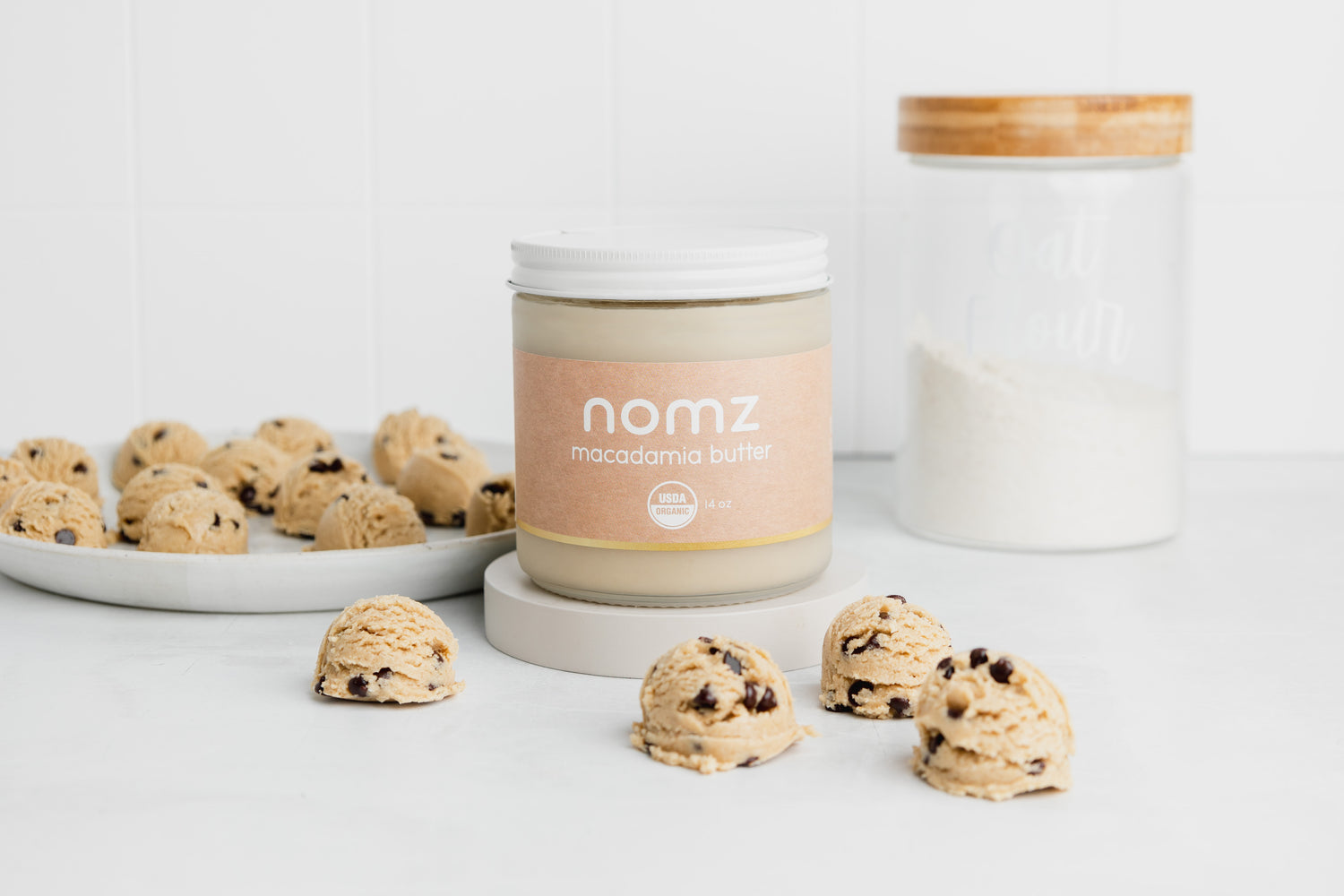 These macadamia cookie dough bites are the most delicious no-bake dessert around! Made with organic macadamia nut butter, chocolate chips, oat flour, honey, and vegan protein powder – they are so simple to mix up (but will quickly disappear)! 
Along with macadamia nut butter nice cream and white chocolate macadamia nut cookies, these macadamia cookie dough bites are a delicious way to enjoy our organic macadamia nut butter.  
Edible cookie dough has been taking the internet by storm, and for good reason – who doesn't love the texture and flavour of raw cookie dough?! However, most cookie dough mixes are made with refined sugar, butter, palm oil or canola oil, and wheat flour. 
In true nomz fashion, we decided to elevate the cookie dough experience by using organic macadamia nut butter as the base, along with organic oat flour, and honey for sweetness. Of course, no cookie dough would be complete without mini chocolate chips as well! For this recipe, we included a scoop of vegan vanilla protein powder, but you can omit if you don't have it on hand.  
Macadamia Nut Butter Health Benefits
Rich, sweet, and luxuriously nutty ... we're not kidding when we say that this nut butter is spoon-licking good. Beyond the delicious taste – macadamia nuts are also a nutrient-dense powerhouse! ⁠Macadamia nuts are rich in healthy fats – in particular, ALA omega 3 fats and oleic acid (omega 9) - supporting your brain and heart.⁠ In addition, macadamia nut butter is also a great source of Vitamin A, B Vitamins and folate, Iron, and manganese. 
faq
Can I make this recipe paleo?
Absolutely - just swap the oat flour for almond flour or coconut flour. Note that coconut flour does absorb more moisture than oat or almond flour, so you may need to add a little bit of extra
macadamia nut butter
to get the right dough consistency.
How should I store these cookie dough bites?
Store in an airtight container in the fridge for up to 1 week (if they last – you'll probably eat them up quickly)!
Can I make this recipe without protein powder?
Yes - simply omit the vegan vanilla protein powder if you don't have any on hand. Instead, add 1 teaspoon of vanilla extract for that classic vanilla cookie flavour!