Raspberry Almond Butter Thumbprint Cookies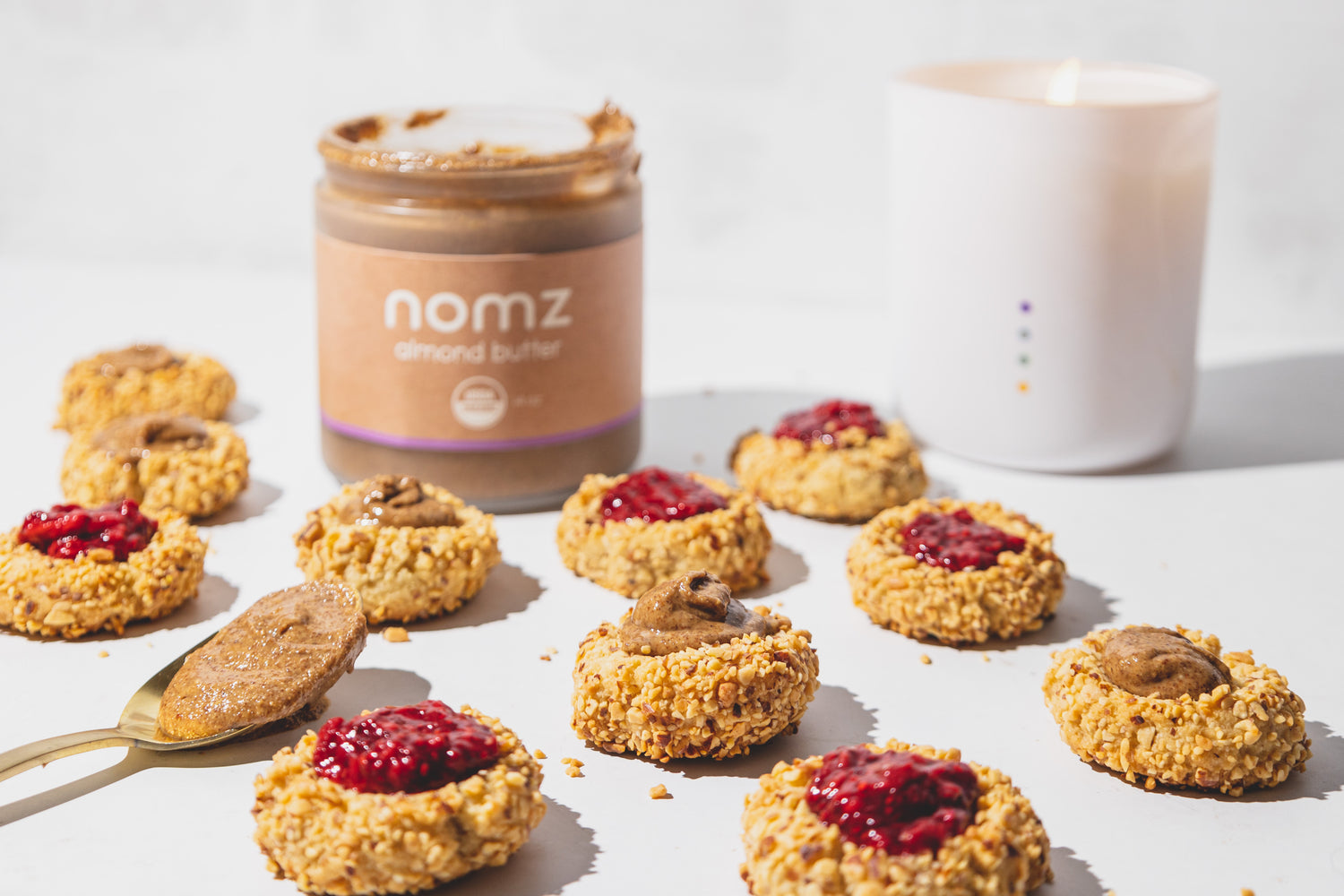 key points
Raspberry almond butter thumbprint cookies are vegan, gluten-free, refined sugar free and paleo
Based off the classic thumbprint cookies they are about to become your new favourite holiday treat
Great for adding a boost of healthy fats, protein and fiber into your diet
These raspberry almond butter thumbprint cookies are the delicious healthy holiday cookie you've been searching for! They are just as delicious as classic thumbprint cookies – but made without dairy, white flour, or refined sugar. Paleo, vegan, gluten-free, and refined sugar-free… this might just be your new favourite Christmas cookie recipe! 
Who doesn't love Christmas cookies?! Gingerbread, macadamia butter white chocolate cookies and these raspberry almond butter thumbprint cookies are among our top favourites. 
Choose from raspberry chia seed jam or almond butter for the filling – or layer both together for a "PB and J" style thumbprint cookie (delicious)! The addition of both almond butter and macadamia nut butter in these cookies adds a dose of healthy fats and protein – making them ideal for snacking. Including fat, protein, and fibre, alongside sugar or carbohydrates, will help to slow the absorption of glucose and stabilize your blood sugar levels.
Nutrient Breakdown
Almond Butter - Our single-ingredient almond butter is made with organic dry-roasted almonds that are high in minerals including calcium, magnesium, phosphorus, and potassium. Almonds are rich in healthy fats - in particular, ALA omega 3 fats - hello brain food! Almonds are also high in Vitamin E - which is a fat-soluble vitamin responsible for fighting free radicals and helping to repair damaged skin. 
Macadamia Butter - Rich, sweet, and luxuriously nutty ... we're not kidding when we say that this nut butter is spoon-licking good. Beyond the delicious taste – macadamia nuts are also a nutrient-dense powerhouse!  ⁠Macadamia nuts are rich in healthy fats – in particular, ALA omega 3 fats and oleic acid (omega 9) - supporting your brain and heart.⁠ In addition, macadamia nut butter is also a great source of Vitamin A, B Vitamins and folate, Iron, and manganese.  
faq
Can I swap the almond flour or coconut flour?
These cookies have only been tested as written, with almond flour and coconut flour. We do not recommend swapping the flour, as we have not tested other options.
Can I swap the nut butter?
Yes! You can use pistachio, macadamia, almond, and hazelnut butter interchangeably.
Is this recipe paleo / vegan / gluten free?
Yes, these raspberry almond butter thumbprint cookies are paleo, gluten-free, and vegan (if made using a flax egg).
How do you make the raspberry chia seed jam?
1 comment