6 Wellness Essentials for Travel in 2022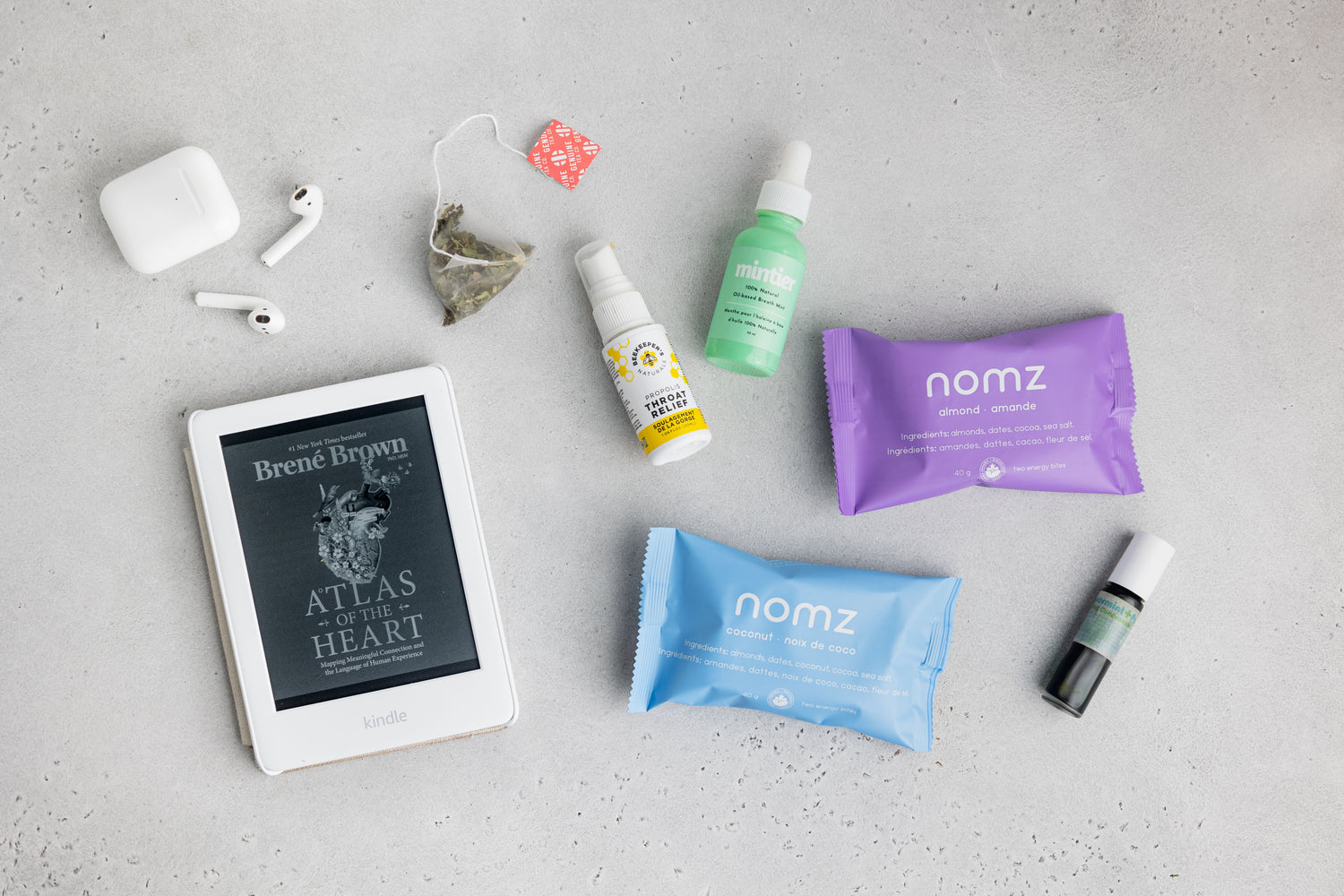 As the world begins to open up to travel once again, we've been thinking about how to feel your best when heading out on your next adventure!
Here are 6 wellness travel essentials to pack for your next trip! Whether you're flying across the globe for work, taking a long road trip, or heading out for a tropical vacation - these travel essentials will help you to stay healthy, refreshed, and at ease during your trip. 
1. nomz energy bites
Everyone needs a go-to travel snack that 1) fits easily in your carry-on 2) satisfies hunger 3) tastes delicious and 4) is made with simple, healthy ingredients!
Nomz energy bites are the perfect solution. It should come as no surprise that we ALWAYS travel with a pack or two of nomz bites (whether it's a flight or a short car ride - I'm always packing snacks)! 
Flying via Air Canada? Order nomz hazelnut bites through the Air Canada in-flight menu for a nourishing and easy snack. 
2. living libations peppermint pal
Made with blue tansy, peppermint, jojoba, and castor oil - this roller blend from Living Libations is fantastic for headaches and tension.
Roll onto your wrists, neck, or temples to revitalize your mind and body during your travels. 
Pro Tip: if you're wearing a mask for a long flight, try rolling peppermint pal under your nose before putting your mask - it's so refreshing! 
3. beekeepers naturals b.Immune throat spray
Support your immune system with a dose of bee propolis! Propolis contains vitamins B, C, D, zinc, antioxidants, and over 300 other beneficial compounds. This "bodyguard in a bottle" is the perfect way to wake up your immune system while travelling and is especially soothing if you have a sore or dry throat. 
4. genuine tea organic elderberry hibiscus
This organic tea packs a punch of delicious flavour and aroma. You can't go wrong with any flavour of Genuine Tea - from moringa mint to cream of earl grey. Stay hydrated on your flight with this delicious tea - order a cup of hot water, and you're set! Best of all - their tea bags are biodegradable and plant-based. 
5. mintier
This 100% natural oil-based breath mint is a game-changer for long-lasting fresh breath! Best of all, it's sugar-free and made with peppermint, citrus, spearmint, clove, and cinnamon essential oils. Sugar (found in most conventional breath mints) feeds oral bacteria in your mouth - making your breath even worse! Instead, mintier fights bad breath with natural essential oils, with long-lasting benefits. 
6. books + podcasts 
Of course, you'll need some entertainment if you're on a long flight or road trip. Below are a few of our current favourite reads, followed by a Spotify playlist of some awesome podcast episodes we enjoyed!
Untethered Soul by Michael a. Singer
Atlas of the Heart by Brené Brown
Keeper'n Me by Richard Wagamese
The Midnight Library by Matt Haig
The Rose Code by Kate Quinn