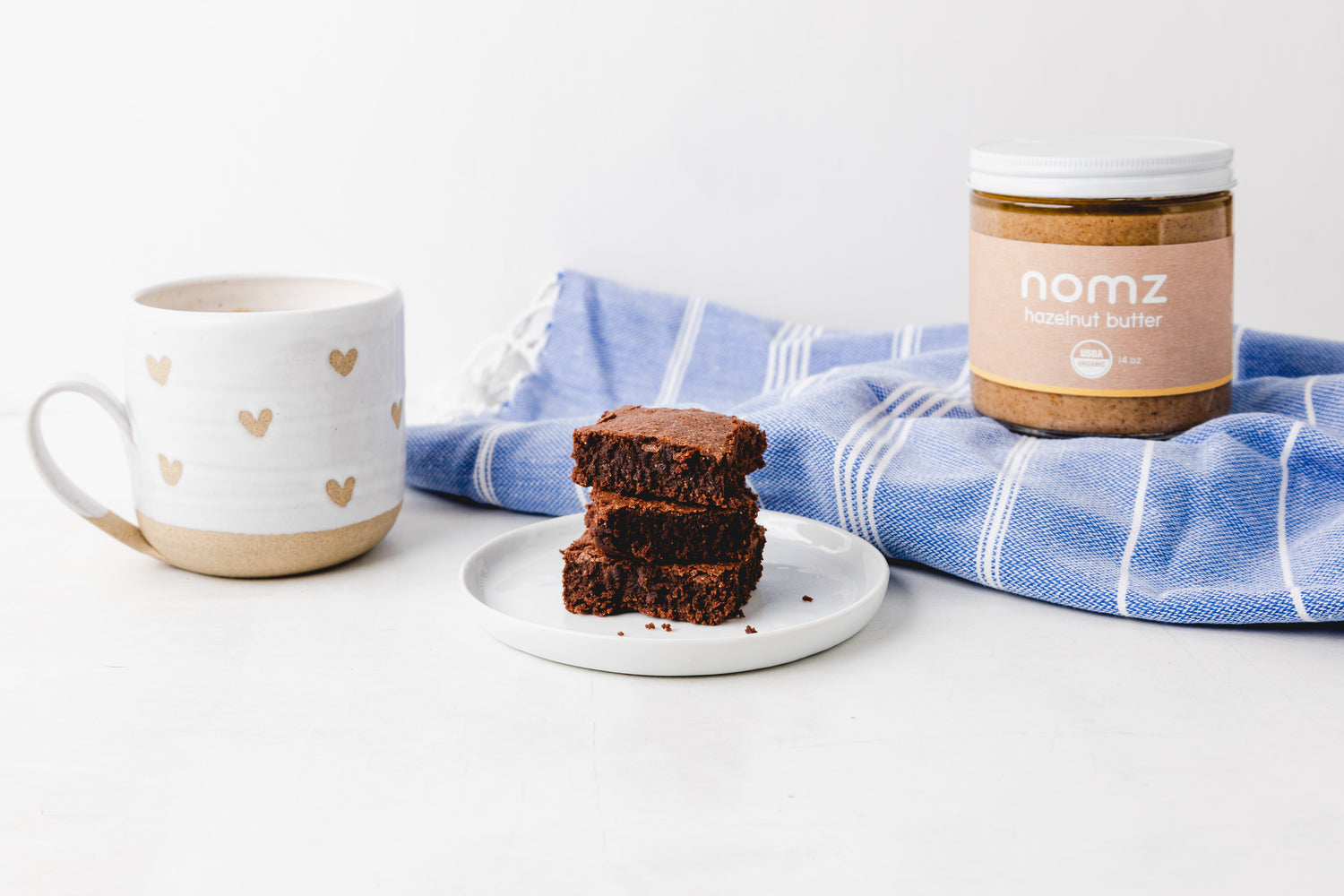 These hazelnut butter brownies are paleo, gluten-free, and refined sugar-free. Made with organic hazelnut butter, cassava flour, chocolate and sweetened with date sugar – they are rich, fudgy, and decadent! 
Along with our hazelnut chocolate chip cookie skillet recipe, these hazelnut butter brownies are one of our favourite ways to use our organic hazelnut butter. 
Chewy and fudgy, these hazelnut butter brownies are absolute bliss for chocolate lovers! In our experience, chocolate and hazelnut is always a winning combination – you may even win over your sweetheart if you mix up a batch of these for your Valentine's dessert!
Nutrient Breakdown
Hazelnut Butter - rich in vitamin E, healthy fats, and fibre - making our single ingredient hazelnut butter ideal for supporting brain health! They are also a great source of protein, providing 4.2 g of protein per serving (2 tbsp).
Cassava Flour - is a gluten-free, grain-free, paleo flour that makes a great swap for wheat flour. It is high in resistant starch – a carbohydrate that helps to feed good bacteria in your gut!
Date Sugar - our favourite natural sweetener, dates are rich in fiber, antioxidants, vitamins and minerals. Fiber helps to reduce blood sugar spikes, and is important for optimal digestion!
Dark chocolate - is a great source of minerals such as magnesium, manganese, phosphorus, potassium, iron, and zinc. In addition, it is high in antioxidants including polyphenols! We recommend opting for organic, vegan, and refined sugar free dark chocolate.
 #nomzilicious
Be sure to share a photo and tag us on social media @nomz #nomz when you make these hazelnut butter brownies - we would love to see your creations!
faq
Can I swap the egg for flax egg?
Yes! For a vegan variation, swap the eggs for flax eggs. One flax egg is made by combining 1 tablespoon ground flax with 2.5 tablespoons of water. Let it sit for 5 minutes to thicken, and use as an egg replacement in baked goods.
Can I swap hazelnut butter for almond butter?
This recipe should work with any of your favourite nomz nut butters - though we have only tested it with hazelnut butter.
Are these hazelnut butter brownies healthy?
Yes! They are sweetened with dates, and contain healthy fats and fiber thanks to the hazelnut butter. We also swapped regular white flour for cassava flour – which is a gluten-free flour that is beneficial for gut health and blood sugar balance.