High Protein Chocolate Fruit Dip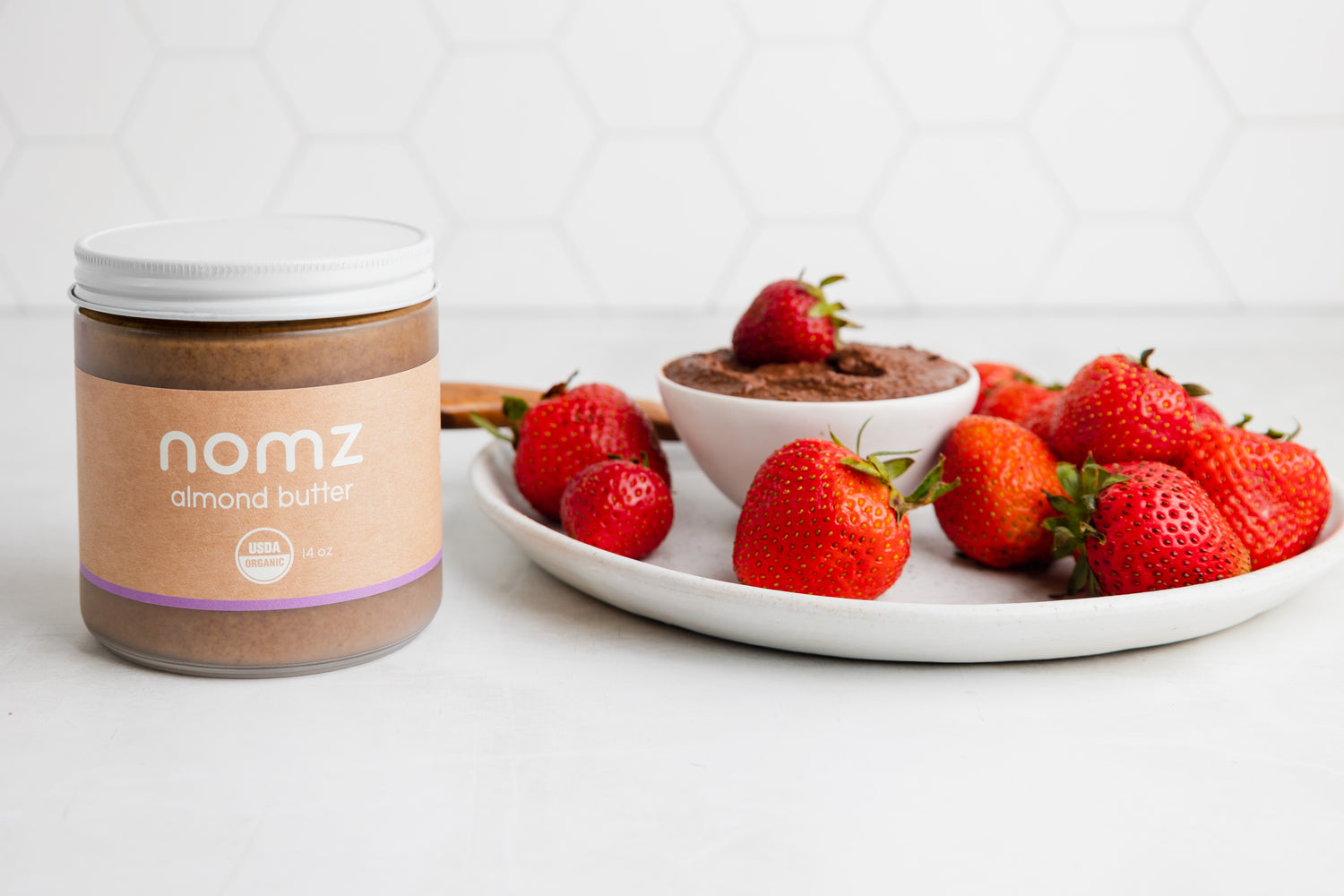 key points
High protein chocolate fruit dip is a simple recipe made with plant based ingredients
This sweet, fluffy and creamy snack is perfect for both kids and adults.
A great way to add protein and other great nutrients into your diet
This high-protein chocolate dip is made with simple, plant-based ingredients. With a boost of healthy fats and protein thanks to the almond butter and chickpeas, it's the perfect afternoon sweet snack for adults or kids!
Similar to our 4 ingredient hazelnut chocolate spread, this high-protein chocolate fruit dip will remind you of Nutella – without the refined sugar. The texture is creamy smooth, fluffy, and light. Best of all, it tastes like dessert but qualifies as a great snack option thanks to the balance of carbohydrates, healthy fats, and protein!
Inspired by Sweet Peas and Saffron, this recipe is one of our new favourites and can be adapted with any type of nut butter. For this version, we used almond butter – but hazelnut, pistachio, or macadamia would also be delicious. Your kiddos are going to love this recipe… let's dig in!
Nutrition Breakdown
Almond butter - our single ingredient almond butter is made with organic dry roasted almonds that are high in minerals including calcium, magnesium, phosphorus, and potassium. Almonds are rich in healthy fats - in particular, ALA omega 3 fats - hello brain food! Almonds are also high in Vitamin E - which is a fat-soluble vitamin responsible for fighting free radicals and helping to repair damaged skin.
Chickpeas - are high in fibre, and contain 2.4 g of protein per tablespoon! Chickpeas have a neutral flavour, and give this high-protein chocolate fruit dip the perfect creamy texture. Chickpeas are a great source of manganese, iron, zinc, folate, and vitamin B6. 
Cocoa powder -  is rich in theobromine – an alkaloid that provides sustained energy, and may help to lift your mood while also increasing blood flow!
Honey - adds sweetness, without any refined sugar. Swap for equal parts maple syrup for a vegan option.
faq
What kind of vanilla extract would you recommend?
Look for organic, pure non-alcoholic vanilla extract, or vanilla bean paste if possible. Artificial vanilla extract is flavoured with synthetically made vanillin, which is often made with petroleum-derived ingredients. Instead, look for a pure vanilla extract with no artificial flavouring.
Can I make this recipe with other types of nut butter?
Absolutely! This high protein chocolate fruit dip would also be delicious with hazelnut butter, macadamia butter, or pistachio butter.
Can I make this recipe vegan?
Yes! Honey can be swapped for equal parts maple syrup, or date syrup to make this recipe vegan.