4 Ingredient Hazelnut Chocolate Spread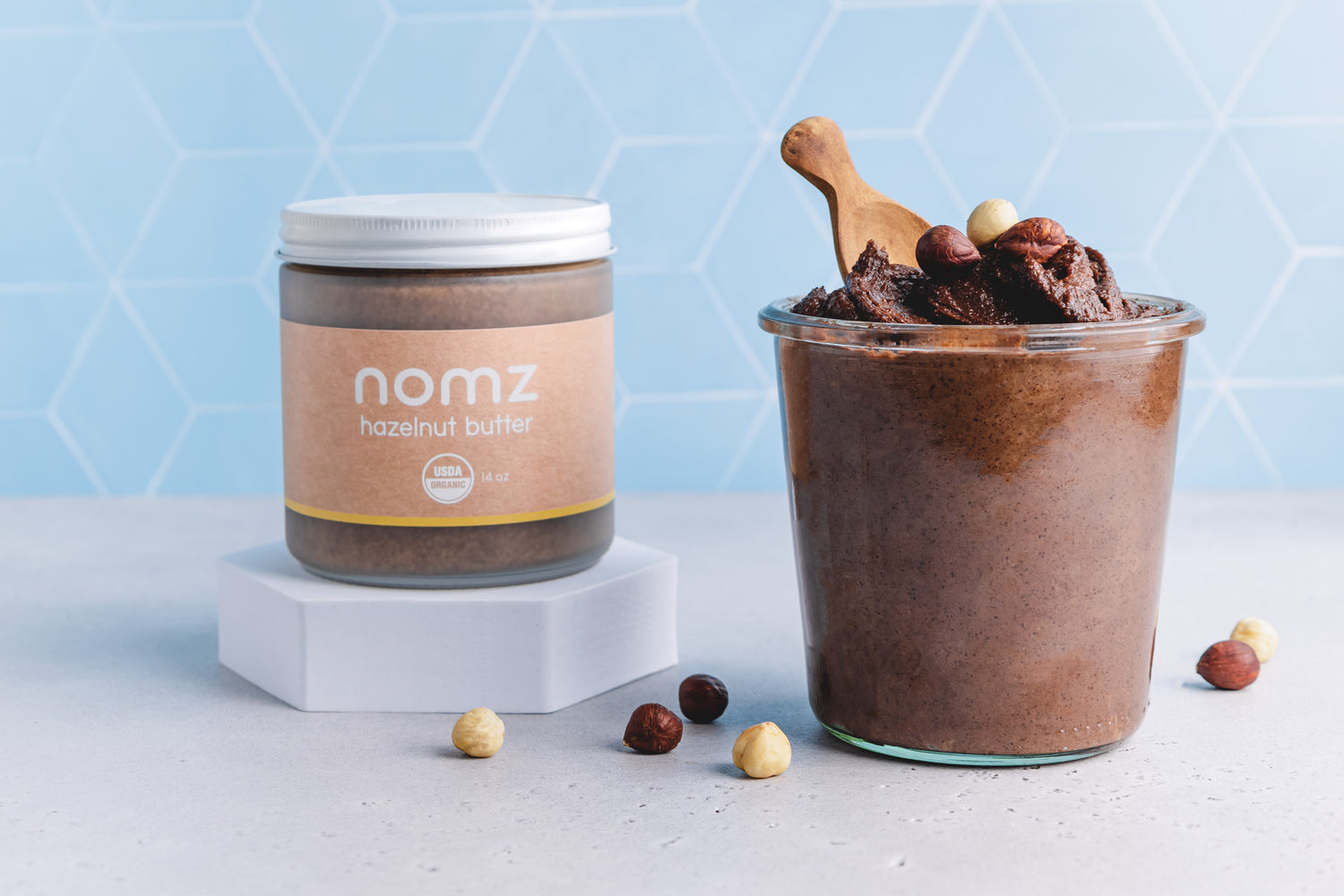 key points
Hazelnut chocolate spread is refined sugar free and the perfect snack that can be used as a dip or a spread
Excess sugar has many negative health effects including increased risk of heart disease, cancer, diabetes and more
This simple hazelnut chocolate spread is a delicious alternative to the well known and loved classic Nutella
This 4 ingredient hazelnut chocolate spread is refined sugar-free and absolutely delicious! Made with just hazelnut butter, dates, cocoa, and plant-based milk - it's an easy and satisfying sweet snack that you can dip or spread!
There's no denying that classic Nutella is tasty (and addictive)! However, the main ingredient is not hazelnuts or chocolate. That's right, the classic chocolatey spread of your childhood dreams is mostly made up of refined sugar, palm oil, milk, whey, and artificial flavouring. 
Here at nomz, we believe that eating healthy and nourishing your body does not have to mean giving up all your favourites! That's why we love finding easy and healthy swaps for your favourite sweet snacks and treats.
So, next time you've craving Nutella, try mixing up this easy hazelnut chocolate spread that is made with just 4 simple ingredients. 
Refined Sugar Free "Nutella"
We have all heard that excess sugar is bad for our health, with negative health effects ranging from increased risk of heart disease and cancer, dental caries, reduced testosterone, diabetes, obesity and more. 
Despite the negative health effects and warnings, sugar is difficult to limit or avoid because it's so addictive! With Americans consuming an average of 57 pounds of added sugar per person, per year (1), it's clear that this hyper-palatable food is hard to quit. Added sugar is found in processed foods, from sauces to salad dressings, sweetened beverages, snacks, desserts, candy, and more. 
Added sugar contributes absolutely no nutritional value, and is high in calories. Once consumed, sugar will provide a brief increase in energy - along with a spike in blood sugar and insulin levels, followed by a sharp crash. This unstable fluctuation in blood sugar is not sustainable. 
faq
Can I swap the dates for another sweetener?
Sure! You could easily swap out the dates for 2-3 tablespoons of maple syrup or honey for another refined-sugar-free option. We prefer to use dates, as they contain fibre, antioxidants, vitamins and minerals!
Could this be made with another type of nut butter?
Is this hazelnut chocolate spread a healthier alternative to Nutella?
Yes! With no refined sugar, added oils, artificial flavouring, or dairy - this hazelnut chocolate spread is vegan, gluten-free, and paleo friendly. Most importantly: it tastes delicious!