Pumpkin Spice Cookie Skillet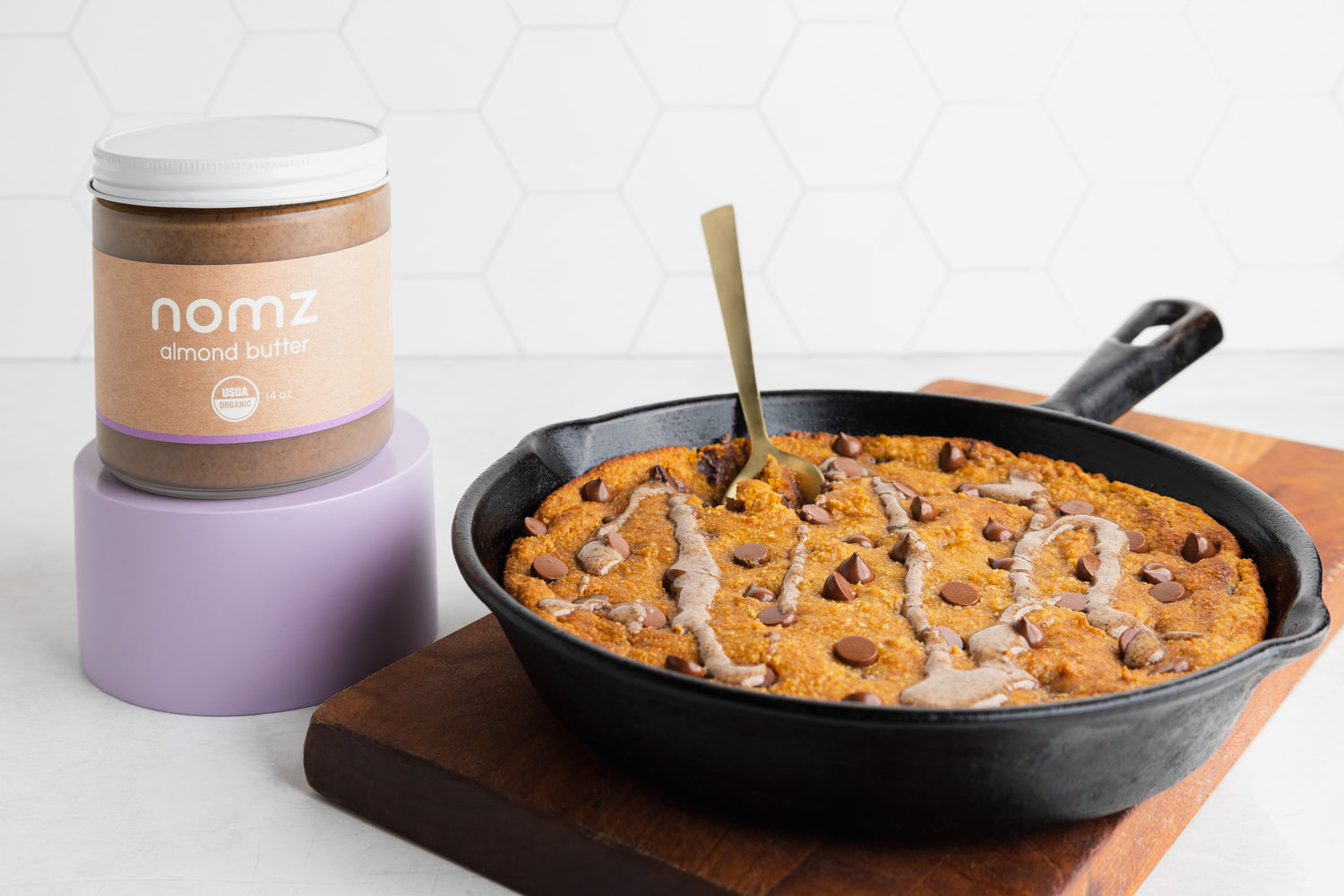 key points
This pumpkin spice cookie skillet is paleo, gluten-free, refined sugar-free, oil-free and vegan-friendly
With a rich decadent flavour that will remind you of the fall season
A simple warm dessert that will surely be a favourite all year round
This pumpkin spice cookie skillet is paleo, gluten-free, vegan-friendly, and made without any refined sugar! Made with almond butter, pumpkin spice, almond flour, and chocolate chips – it's a decadent dessert to enjoy during the fall season!

If you're a fan of our hazelnut chocolate chip cookie skillet recipe, then this pumpkin spice cookie skillet is going to be a favourite as well. Ideal for sharing on your next date night in, this cookie skillet is best served warm, scooped right out of the pan! Add a drizzle of nut butter on top, or a few scoops of vegan vanilla ice cream. 
reasons you'll love this recipe
this pumpkin spice cookie skillet is refined-sugar free - naturally sweetened with honey!
it's paleo, gluten-free and vegan friendly (just swap honey for maple syryp)
oil-free – we're using organic almond butter instead!
Almond Butter
Our single-ingredient almond butter is made with organic dry-roasted almonds that are high in minerals including calcium, magnesium, phosphorus, and potassium. Almonds are rich in healthy fats - in particular, ALA omega 3 fats - hello brain food! Almonds are also high in Vitamin E - which is a fat-soluble vitamin responsible for fighting free radicals and helping to repair damaged skin. 
Shopping for nut butter? Ask these 4 questions before purchasing any nut butter, and get the scoop on nutrition myths about nuts here! 
Note: this recipe makes one deep-dish chocolate chip cookie in an 8-inch skillet!
 #nomzilicious
Be sure to share a photo and tag us on social media @nomz #nomz when you make this pumpkin spice cookie skillet - we would love to see your creations! 
faq
Can I swap almond butter for hazelnut butter?
What is arrowroot flour, and can it be swapped?
Arrowroot flour is a starchy flour that is paleo, grain-free and gluten-free. It helps to hold gluten-free baking together. You can swap it for equal parts tapioca flour (a similar starchy gluten-free flour).
How do you make a flax egg?
Flax eggs are amazing for vegan baked goods! One flax egg is made by combining 1 tablespoon ground flax with 2.5 tablespoons of water. Let it sit for 5 minutes to thicken, and use as an egg replacement in baked goods. For this recipe, we're using 2 flax eggs (2 tablespoons ground flax; 5 tablespoons water).