Raspberry Almond Butter Chocolate Bites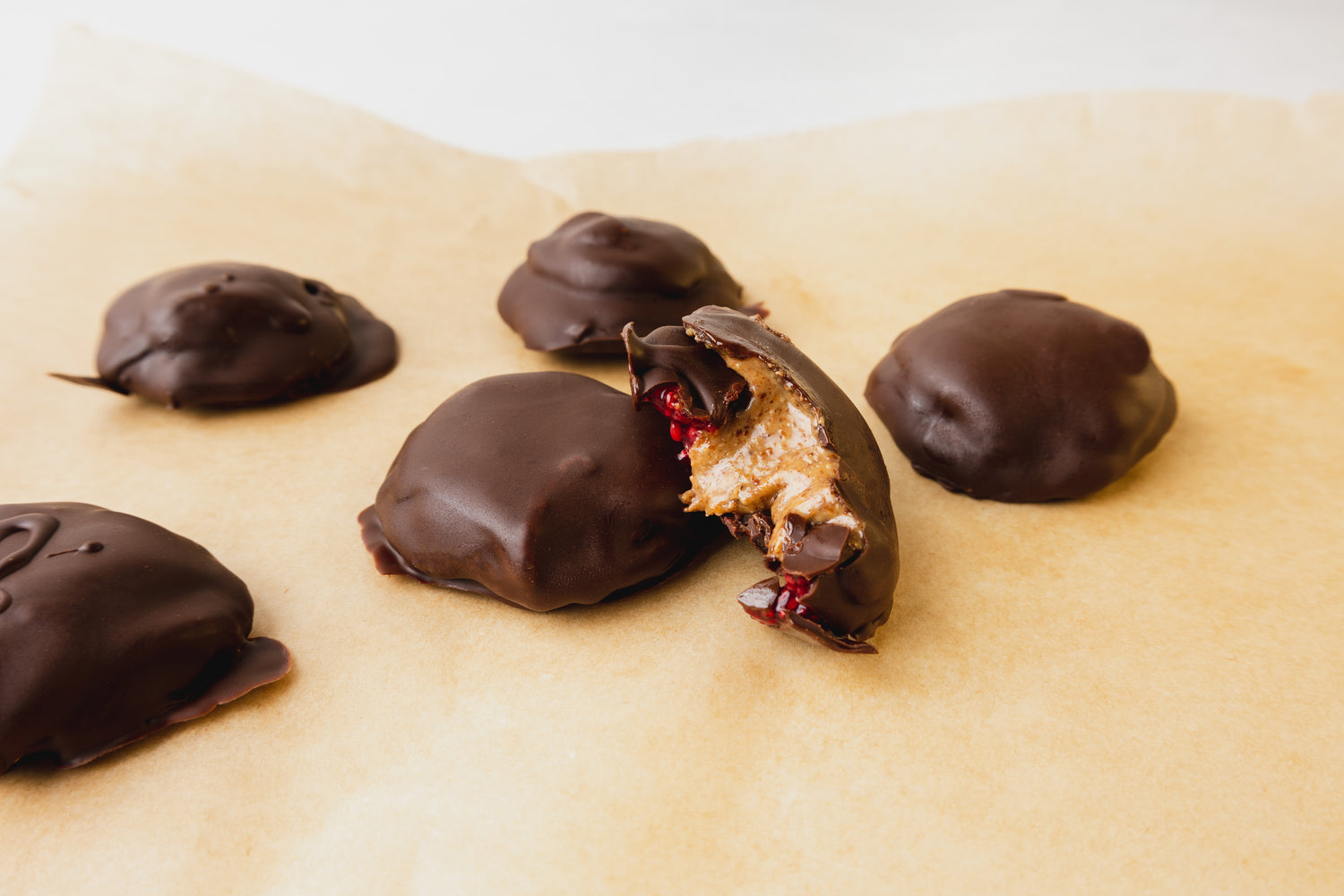 key points
These raspberry almond chocolate bites offer a healthier alternative to traditional desserts, allowing you to indulge in a sweet treat while nourishing your body with wholesome ingredients.
Organic almond butter provides healthy fats and essential nutrients, while dark chocolate offers antioxidants and minerals.
This recipe requires no baking and is simple to make!
These no-bake raspberry almond butter chocolate bites with will satiate your sugar cravings without any refined sugar! Packed with wholesome ingredients, these bites are not only delicious but also offer a range of nutritional benefits.
Just like our chocolate almond butter cups and healthy chocolate date turtles, you can make these delicious refined sugar free chocolates at home with fresh, good-for-you ingredients. 
Nutrient Breakdown
Almond Butter
Organic Almond Butter - Our organic almond butter is a great source of healthy fats, fiber, and important vitamins and minerals. Almonds are rich in minerals including calcium, magnesium, phosphorus, and potassium. They are also high in Vitamin E, which is a fat-soluble vitamin responsible for fighting free radicals and helping to repair damaged skin. Almonds are also a good source of monounsaturated and polyunsaturated fats, which have been linked to a reduced risk of heart disease and improved brain health.
Dark Chocolate
Dark chocolate not only adds a rich and indulgent flavor to these bites but also offers its own array of health benefits. High-quality dark chocolate with a high percentage of cocoa solids is a source of antioxidants, particularly flavonoids. Flavonoids have been linked to improved heart health, lowered blood pressure, and enhanced cognitive function. Dark chocolate also contains minerals such as iron, magnesium, and copper, which contribute to overall well-being.
Raspberries
This vibrant and tangy berry brings sweet and fresh flavour to these bites. Raspberries are an excellent source of vitamin C, which supports immune function and collagen synthesis. They also provide dietary fiber, promoting digestive health and aiding in weight management. The anthocyanins found in raspberries have been associated with reduced inflammation and improved cognitive function.
Chia Seeds
Chia seeds are tiny powerhouses of nutrition and play a vital role in creating the chia jam filling for these bites. They are an excellent source of omega-3 fatty acids, fiber, protein, and various micronutrients. Chia seeds' fiber content helps support digestion, promote a feeling of fullness, and stabilize blood sugar levels. Additionally, their omega-3 fatty acids contribute to heart health and have anti-inflammatory properties.
By incorporating these nutrient-rich ingredients into your diet through these Raspberry Almond Butter Chocolate Bites, you can indulge in a sweet treat while enjoying the benefits of these wholesome goodness. 
Raspberry Chia Jam
Ingredients:
2 cups frozen raspberries

2 tbsp chia seeds

1 -2 tbsp maple syrup

1 tsp pure vanilla extract
Directions:
In a medium saucepan, add the raspberries and place it over medium heat. Cook the raspberries for about 5 minutes, stirring occasionally, until they break down and release their juices.

Mash the raspberries with a fork or a potato masher to achieve a smoother consistency. 

Add the chia seeds to the raspberry mixture and stir well to combine. Chia seeds will absorb the liquid and help thicken the jam.

Cook the mixture for an additional 5 minutes, stirring frequently to prevent sticking. This will allow the chia seeds to soften and the jam to thicken.

Remove the saucepan from heat and let the jam cool for a few minutes. Then, stir in the maple syrup and pure vanilla extract. Adjust the sweetness to your liking by adding more maple syrup if desired.

Transfer the jam to a glass jar or airtight container and let it cool completely. Once cooled, refrigerate the jam to allow it to fully set and thicken.
#nomzilicious
Be sure to share a photo and tag us on social media @nomz #nomz when you make these Raspberry Almond Butter Chocolate Bites - we would love to see your creations! 
faq
Can I swap the almond butter?
Of course! Our hazelnut butter, pistachio butter, or macadamia butter would also work really well in this recipe.
Do these chocolates need to be stored in the fridge?
... unless you eat them up in one day, then probably best to store in the fridge! ;)
Can I use a different fruit instead of raspberries for the jam?
Yes, you can definitely experiment with different fruits for the jam. Other berries like strawberries, blueberries or blackberries may work well as substitutes.