Chocolate Hazelnut Berry Layered Smoothie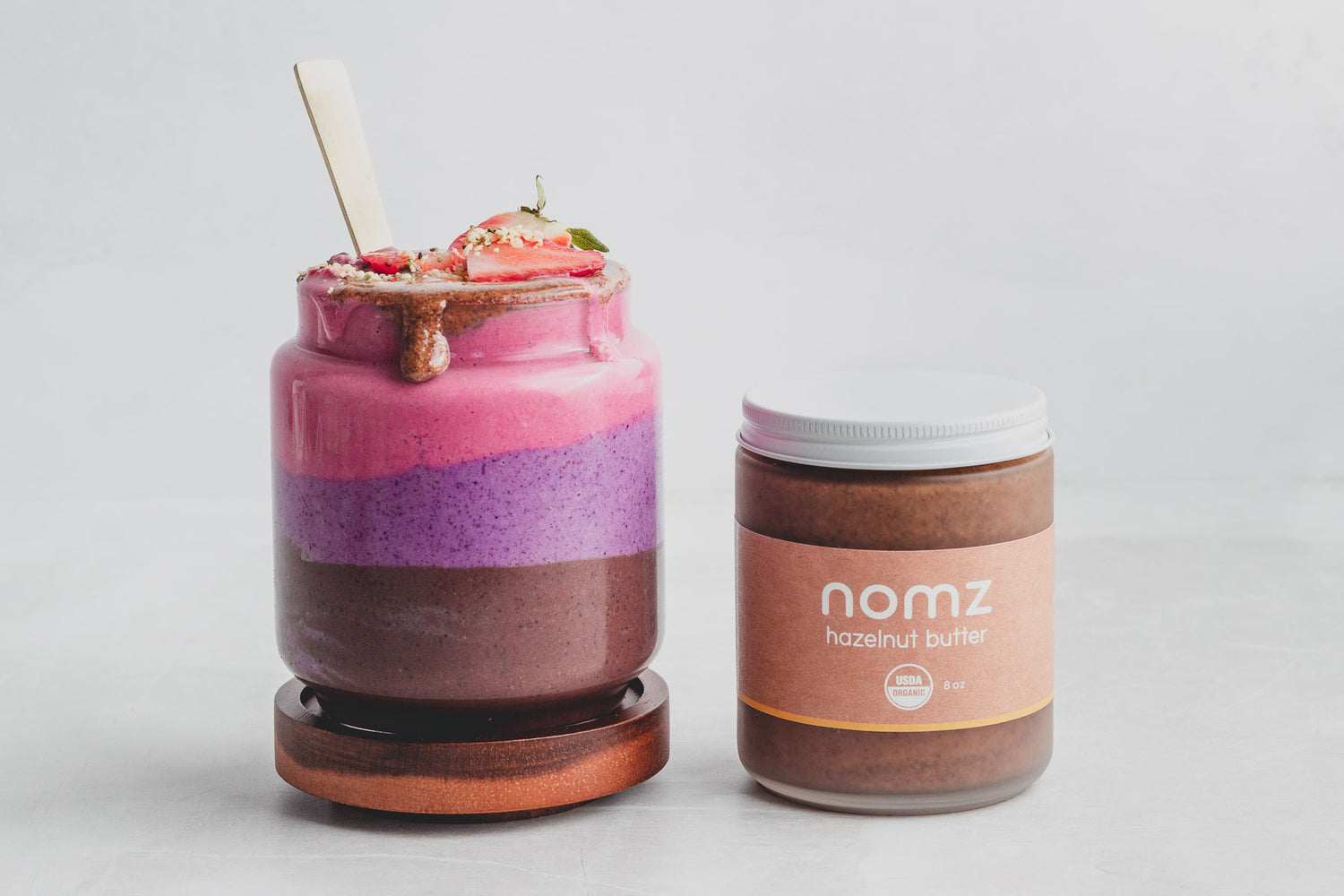 key points
The chocolate hazelnut berry layered smoothie is vegan, dairy free, gluten-free and paleo
This delicious smoothie is rich in flavour and taste like chocolate ice cream
Great to enjoy as a snack, a breakfast or even a dessert
This triple flavor chocolate hazelnut berry layered smoothie is rich and delicious. Made with strawberries, blueberries, raw cacao, banana, and hazelnut butter - it tastes like a chocolate ice cream but is vegan and dairy-free. 
Chocolate and hazelnut are just the perfect pairing - and if you've tried our hazelnut chocolate chip cookie skillet, or our 4 ingredient hazelnut chocolate spread you will definitely agree! 
This chocolate hazelnut berry smoothie tastes like ice cream, but is vegan, gluten-free, paleo and absolutely delicious. Enjoy for breakfast, or as a healthy dessert option.
Nutrient Breakdown
Hazelnut butter - is a nutritional powerhouse great for supporting brain health, cardiovascular health, supporting healthy hair skin and nails, and managing blood sugar. Out of all the nuts - hazelnuts have the highest content of proanthocyanidins (1), which are a class of polyphenols that have significantly high antioxidant activity! Read more about the health benefits of polyphenols here.
Blueberries - are low in sugar but high in antioxidants and phytonutrients known to help support brain health, your immune system, eye health, and more! Frozen wild blueberries are a great choice, as they are typically frozen at peak ripeness, which helps to preserve all their beneficial nutrients. Blueberries are also high in fiber, making them a gut-friendly food that is low on the glycemic index.

Strawberries - just like blueberries, strawberries are high in antioxidants and fiber. Strawberries are an especially great source of vitamin C - with one cup meeting the recommended daily value. 
Tips for Making a Layered Smoothie
Don't add too much liquid! Just as with a smoothie bowl, you are going to want this smoothie to be thick and creamy - otherwise the layers will not stay separate
Freeze each layer to ensure that the smoothie stays thick while blending up the next layer! Otherwise, the ingredients will melt and the layers will mix as you pour them together
Have fun with it - you can get fancy and make a three layer smoothie like we did, or just do two layers such as chocolate and strawberry or chocolate and blueberry
Add nut butter for the best creamy, rich, delicious texture - and of course for those healthy fats and protein as well!
 nomz organic hazelnut butter
Our single ingredient hazelnut butter is the perfect addition of delicious healthy fats to your diet. Smooth and creamy in texture; naturally sweet, rich and nutty in taste. It's especially delicious when paired with chocolate, and adds so much flavour to this chocolate chip cookie skillet! 

Check out this post on hazelnut butter uses for more ways to use our delicious organic hazelnut butter!