Hazelnut Chocolate Chia Pudding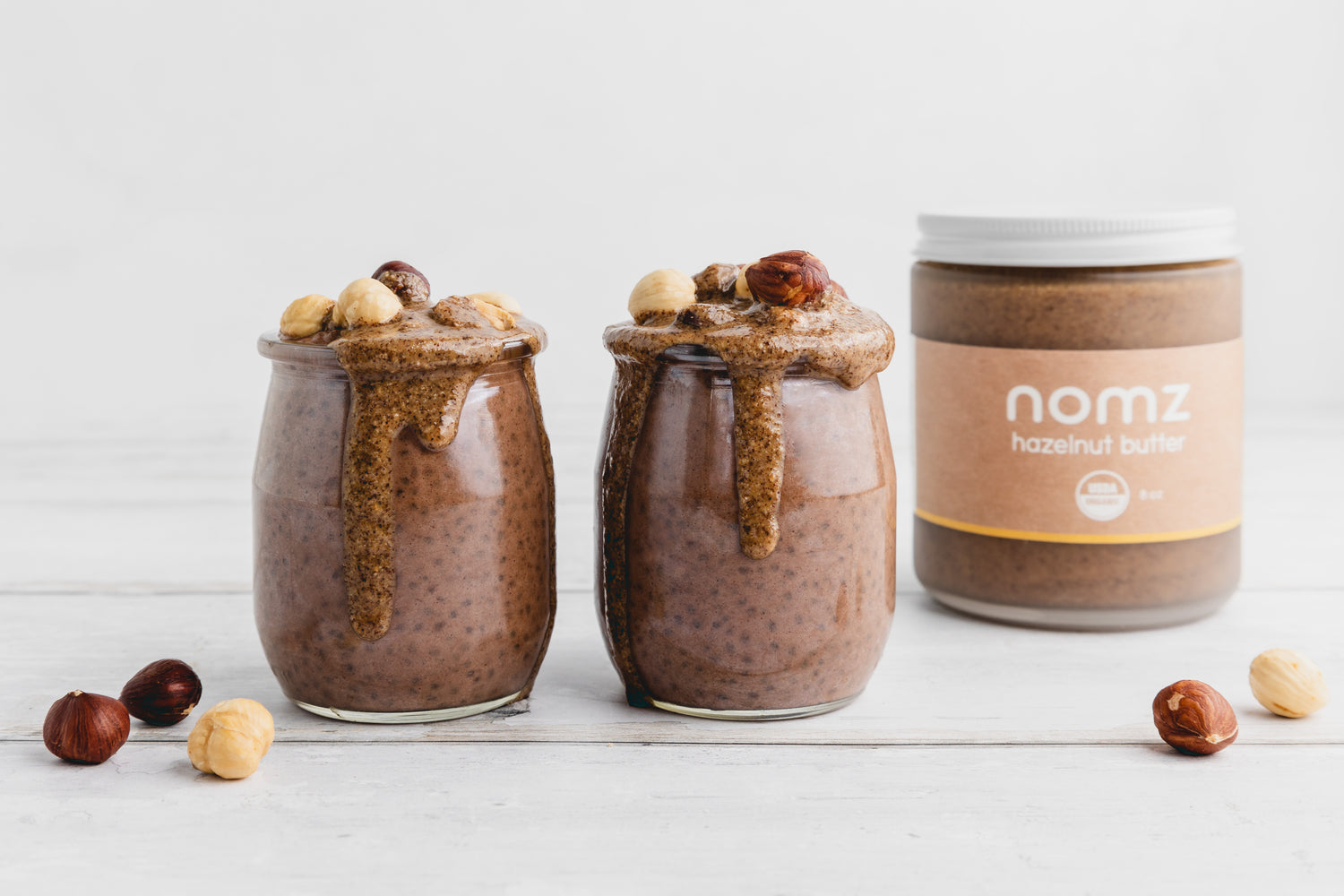 key points
Hazelnut chocolate chia pudding is vegan, gluten-free and paleo
This simple recipe is perfect for meal prepping for a quick snack or breakfast option that you can grab straight from the fridge
The hazelnut chocolate flavour resembles the much loved Nutella and is sure to be a new family favourite
This hazelnut chocolate chia pudding (aka "nutella" chia pudding!) is a healthy breakfast option that you can prepare ahead! Packed with nourishing fats, protein, and fiber - it's vegan, gluten-free and paleo. 
While we love an energizing açai smoothie bowl or a high protein green smoothie to kick off the day - sometimes the craving strikes for something a little sweeter!

This hazelnut chocolate chia pudding is made with just 5 pantry staples! Prepare it the night before for an easy, energizing breakfast (or snack) that the whole family will enjoy. It tastes like a healthier version of nutella thanks to the cocoa, hazelnut butter, and dates for sweetness! Best of all, it's filled with nourishing ingredients, and doesn't contain any refined sugar.
Want to make your own hazelnut chia pudding? Click HERE to buy your own organic hazelnut butter!
Nutrient Breakdown
Hazelnut butter - is a nutritional powerhouse great for supporting brain health, cardiovascular health, supporting healthy hair skin and nails, and managing blood sugar. Out of all the nuts - hazelnuts have the highest content of proanthocyanidins (1), which are a class of polyphenols that have significantly high antioxidant activity! Read more about the health benefits of polyphenols here.
Chia seeds - are a great source of soluble fiber, protein, and omega-3 fatty acids! They are also rich in antioxidants, and contain minerals such as manganese, phosphorus, and calcium. This impressive nutrient profile is what makes chia seeds nourishing for your digestive system, and great for balancing blood sugar levels. Chia seeds are very hydrophilic, which allows them to easily take on lots of water - making them ideal for creating pudding!
Dates - our favourite natural sweetener! Dates contain 4 g of fiber per 46 g serving (approximately 2 dates). Fiber helps to slow gastric emptying, leading to feeling of fullness, and reducing the spike in blood sugar that results from eating sugar or simple carbohydrates. In addition, dates numerous antioxidants, vitamins, and minerals!
faq
What does hazelnut chocolate chia pudding taste like?
This chia pudding tastes like a healthier version of nutella! All that chocolate-y, hazelnut flavor - without the refined sugars.
How long can I store chia pudding?
Store for up to 4 days in an airtight container in the fridge, or 1 month in the freezer.
I prefer a smooth texture - can I blend it?
Absolutely! If you prefer silky-smooth chia pudding, simply blend up the chia seeds with the rest of the ingredients, then let the mixture rest in the fridge to thicken.
Can I swap the hazelnut butter?
1 comment