Chocolate Almond Baked Donuts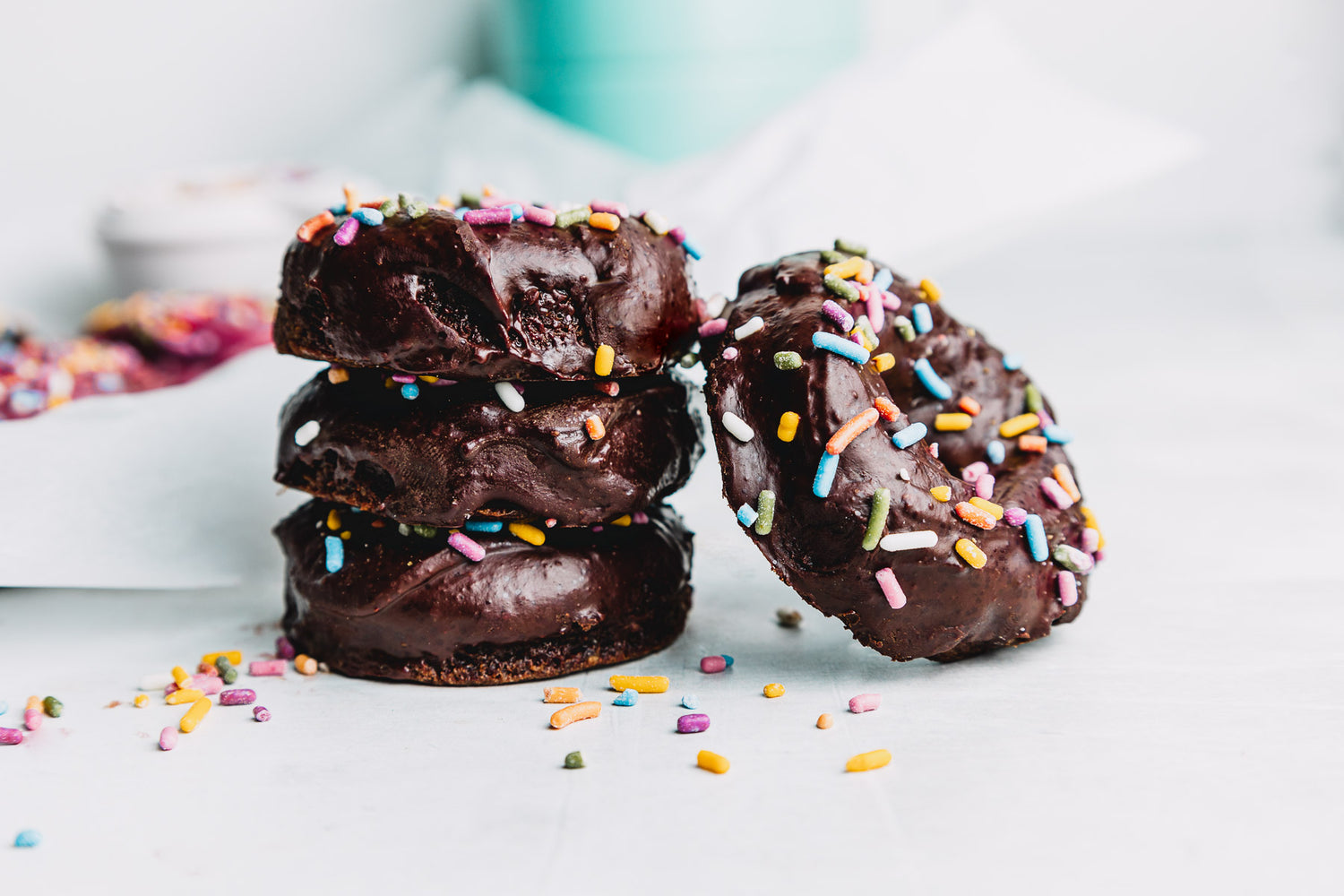 key points
Chocolate almond baked donuts are vegan, gluten-free and paleo
This recipe is made with simple healthy ingredients and without refined sugar and gluten like the ones you find in the store
The perfect snack or dessert for any occasion
Chocolate almond baked donuts that are vegan, gluten-free, paleo and made with simple healthy ingredients. Perfect for any occasion, they taste like chocolate cake, but without the refined sugar and gluten!
Chocolate and nut butters pair so perfectly in baking - from our hazelnut chocolate chip cookie skillet to white chocolate macadamia nut cookies, and these chocolate almond baked donuts! 
Made with almond flour, organic almond butter, organic macadamia butter, cocoa, vegan dark chocolate, and topped with rainbow sprinkles. If you're looking for a special treat to make for Valentines day, or your next birthday party - this is it!
Organic Nut Butters
Our single ingredient almond nut butter is the perfect addition of delicious healthy fats to your diet. Smooth and creamy in texture; mild and nutty in flavor. Similarly, our single ingredient macadamia nut butter is rich, luxurious, and delicious. You may want to enjoy it right off the spoon because it tastes so good!

Here are 3 fun facts about macadamia nuts that make us want to dive right into a jar of almond butter right away:

While the macadamia nut may be higher in fat and contain more calories, it's lower in omega-6s than some other nuts. It also packs an impressive amount of nutrients, including manganese, thiamine and copper. Plus, over half of the carbs in macadamia nuts are made up of dietary fiber, making them a great choice for a heart-healthy diet.
they are contain nutrients such as with manganese, thiamine, and copper, magnesium, and iron


macadamia nuts are rich in healthy monounsaturated fats - which are known to support heart health and aid in lowering LDL cholesterol


macadamia nuts contain antioxidants in the form of flavonoids as well as tocotrienols (a form of Vitamin E)
Be sure to share a photo and tag us on social media @nomz #nomz when you make this recipe - we would love to see your creations! 
faq
Can I swap the almond butter or macadamia nut butter?
Absolutely! We used almond butter for the donut batter, and macadamia nut butter for the chocolate glaze; but you could swap the two or substitute either
hazelnut butter
or
pistachio butter
.
What is arrowroot flour, and can it be swapped?
Arrowroot flour is a starchy flour that is paleo, grain-free and gluten-free. It helps to hold gluten-free baking together. You can swap it for equal parts tapioca flour (a similar starchy gluten-free flour).
How do you make a flax egg?
Flax eggs are amazing for vegan baked goods! One flax egg is made by combining 1 tablespoon ground flax with 2.5 tablespoons of water. Let it sit for 5 minutes to thicken, and use as an egg replacement in baked goods. For this recipe, we're using 2 flax eggs (2 tablespoons ground flax; 5 tablespoons water).