Macadamia Peaches & Cream Parfait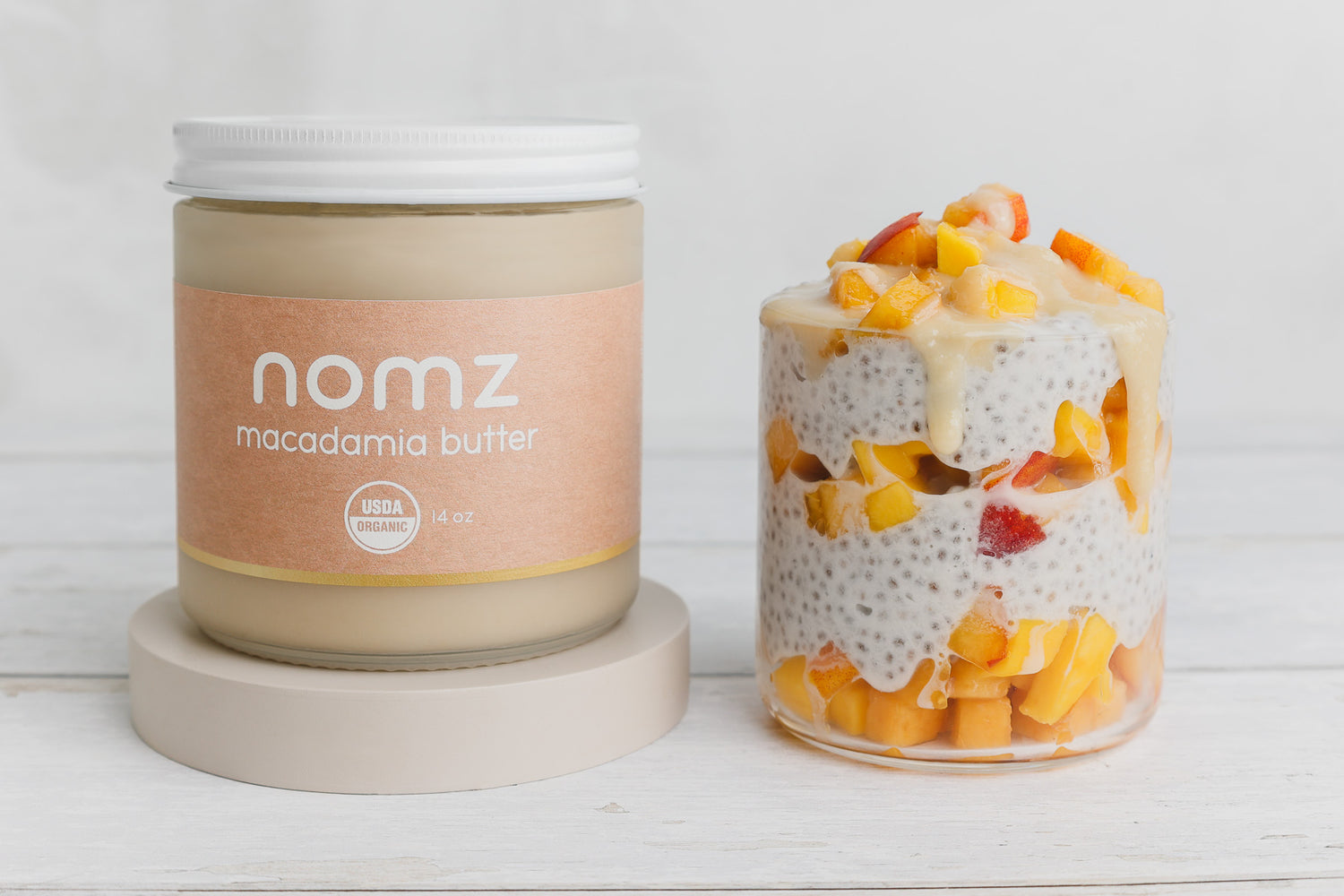 key points
The macadamia peaches and cream parfait is vegan, paleo and refined sugar free
A simple recipe that is easy to prep for a breakfast or snack you can quickly grab out of the fridge
This parfait is sweet and creamy with a luxurious rich flavour
This macadamia nut butter peaches & cream parfait is creamy, sweet and delicious - without any refined sugar or dairy. The macadamia nut butter is the perfect topping – adding a rich, luxurious and subtle nutty flavour. 
While we love a nomzilicious immune-boosting superfood green smoothie or hazelnut berry layered smoothie for breakfast, sometimes chia pudding is the way to go. Not only is it meal prep friendly, but it's filled with nourishing ingredients that will keep you fuelled all morning. 
This macadamia peaches and cream parfait is made with 4 simple ingredients - macadamia nut butter, coconut milk, chia seeds, and peaches! Prepare it the night before for an easy breakfast or snack option that adults and kids will enjoy.
Peaches and cream is a summertime classic - traditionally made with heavy cream and refined sugar. There's nothing we love more than putting a healthier spin on classic recipes – making them vegan, paleo, refined sugar free and absolutely delicious!
Nutrient Breakdown
Chia seeds - are a great source of soluble fiber, protein, and omega-3 fatty acids! They are also rich in antioxidants and contain minerals such as manganese, phosphorus, and calcium. This impressive nutrient profile is what makes chia seeds nourishing for your digestive system, and great for balancing blood sugar levels. Chia seeds are very hydrophilic, which allows them to easily take on lots of water - making them ideal for creating pudding!
Macadamia nut butter - rich, perfectly balanced, and delish... we're not kidding when we say that this nut butter is spoon-licking good. Beyond the delicious taste – macadamia nuts are also a nutrient-dense powerhouse! ⁠Macadamia nuts are rich in healthy fats – in particular, ALA omega 3 fats and oleic acid (omega 9)- supporting your brain and heart.⁠ 
Peaches - contain Vitamin A, which is important for eye health and supporting a healthy immune system. In addition, they are a good source of Vitamin C, potassium, and fiber. 

Coconut milk - this tasty dairy-free alternative is rich, creamy and delicious. Coconut milk is a great source of medium chain triglycerides (MCTs) a type of healthy fats that has been found to increase feelings of fullness, and therefore can potentially promote weight loss. In addition, MCTs are a great source of energy and may help to balance blood sugar levels.
We hope you love this recipe – be sure to share a photo and tag us on social media @nomz #nomz if you make this macadamia peaches & cream parfait!
faq
How long can I store chia pudding?
Store for up to 4 days in an airtight container in the fridge, or 1 month in the freezer.
I prefer a smooth texture - can I blend it?
Absolutely! If you prefer silky-smooth chia pudding, simply blend up the chia seeds with the rest of the ingredients, then let the mixture rest in the fridge to thicken.
What other flavours of chia pudding can I make?
This
hazelnut chocolate chia pudding
is another one of our favourite chia pudding recipes - made with organic hazelnut butter for a delicious "nutella" flavour.