Glowing Green Juice (No Juicer Needed)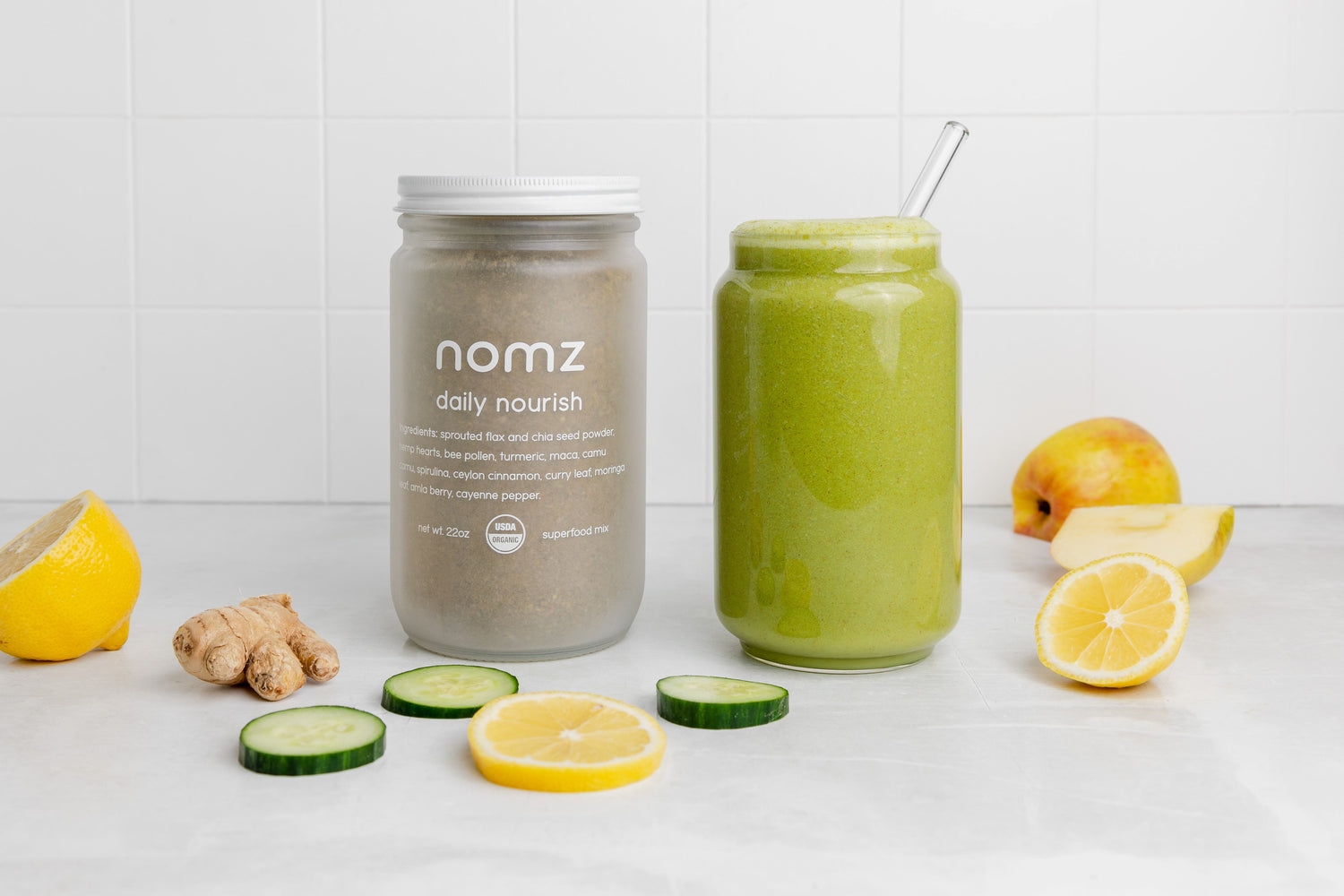 key points
Glowing green juice is great way to get a boost of vitamins, minerals, antioxidants, fiber and healthy fats
Perfect for non smoothie fans or those looking for a lighter alternative
A delicious effortless recipe sure to make you feel refreshed
This glowing green juice (no juicer needed) is simple, nourishing, and oh so delish! Made with daily nourish superfood mix for a boost of vitamins, minerals, antioxidants, fiber, and healthy fats! 
If you don't own a juicer, it can be hard to make green juice at home. Today we're sharing the easiest green juice recipe ever – made in the blender, with no straining necessary. 

From our immune boosting superfood green smoothie, to this energizing açai smoothie bowl – we've shared many smoothie recipes that incorporate daily nourish. But if smoothies aren't typically your thing, this "juice" recipe is a lighter, more refreshing way to enjoy all our favourite superfoods.
Juice vs. Smoothies – Which is Healthier?
Smoothies and fresh pressed juices are both healthy and packed with nutrients, and both have their benefits – but we lean towards smoothies when it comes to a more nutritionally balanced diet. Fresh pressed juices lack fibre, which is important for optimal digestion and blood sugar balance. 
That being said, this "juice" is the best of both worlds – as there is no straining necessary, meaning it contains lots of fibre, healthy fats, and protein. Thanks to the hydrating fruits and veggies, this recipe has the fresh flavour and texture of fresh-pressed juice, without the effort of juicing. Just blend, and enjoy!

With just 5 fruits and veggies plus daily nourish – we're able to pack in so many nutrients into this hydrating and refreshing drink.

This combination of 12 nutrient-dense superfoods is formulated to boost your energy, immunity, and overall health, daily. Rich in antioxidants, protein, Omegas 3 and 6, and so much more, this blend is made from absorbable organic ingredients to make you feel your best!
With 11 g of plant-based protein per serving, 12 g of fiber, it's a great addition to any smoothie.
No need to scoop out multiple superfood powders into your smoothie - instead we've combined all of the best into one convenient jar.
faq
What does Daily Nourish taste like?
Daily nourish
has an invigorating flavour that will wake up your taste buds and light up your immune system! With some heat from the cayenne (not spicy, just a slight heat), subtle sweetness from the hemp hearts and bee pollen - it tastes delish when blended into a green smoothie like this.
What is the recommended serving size for Daily Nourish?
45 grams, which is 4 tablespoons or roughly 1/3 cup. The serving size can be conveniently measured using the lid of the jar - which holds 45 grams.
What are some other ways to enjoy Daily Nourish?