Macadamia Butter Uses & Recipes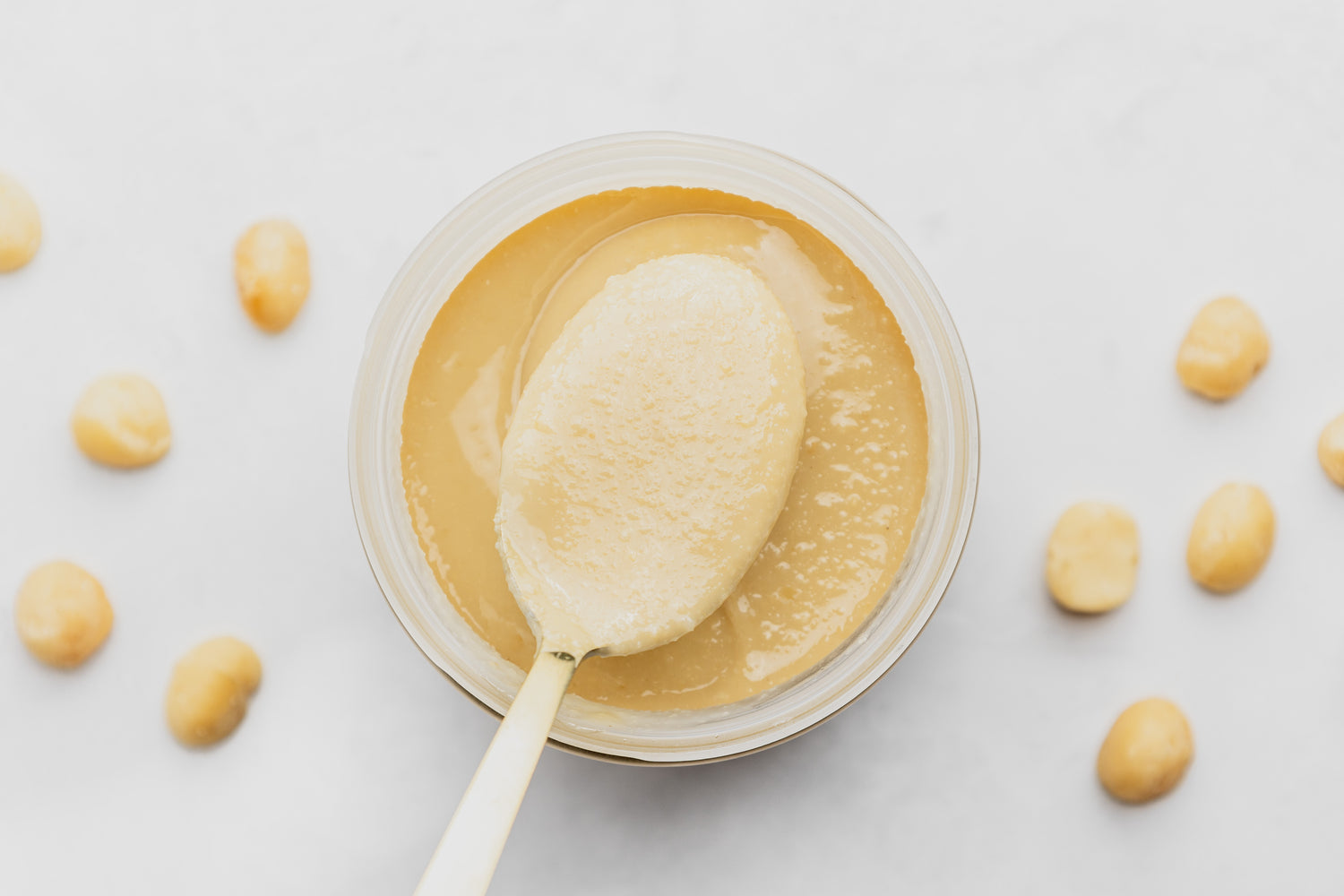 Macadamia nut butter has a creamy texture and light buttery flavour with a hint of nutty vanilla that exudes luxury. Want to feel like a Queen? Start your day off with a spoonful of mac butter in your smoothie or on top of a nutrient-packed coconut yogurt bowl. We're not kidding when we say that this nut butter is spoon-licking good!
Read on for more ideas on how to use macadamia nut butter, the health benefits of macadamia butter, and information on healthy fats and nut butter. 
Macadamia Health Benefits
Macadamia nuts are rich in heart-healthy fats, antioxidants Vitamin E, magnesium, manganese, and thiamine. Often touted as the best nut for heart health, macadamias contain more monounsaturated fats than any other nut. A number of studies suggest that eating macadamia nuts daily can reduce total LDL cholesterol levels – leading to reduced risk of heart disease. (1,2)
A diet rich in antioxidants reduces oxidative stress, lowering the risk of chronic diseases such as cancer, neurodegenerative disorders, diabetes, and heart disease. Macadamia nuts contain many antioxidants but are exceptionally high in flavenoids – making them an excellent choice for a nourishing snack with major long-term health benefits. (3)
Best of all, macadamia nuts are so easy to add to your diet - as they have a delicious taste and texture. Here are some ways that we enjoy using our single ingredient organic macadamia nut butter...
Macadamia Butter Uses
Our customers enjoy drizzling macadamia nut butter on many delicious snacks, breakfast recipes, and desserts! Some of our favourite macadamia butter uses are:
In smoothies - Add a spoon or two of macadamia nut butter to banana, chocolate or berry smoothies. Many ingredient combinations work well with the subtle nutty taste of macadamia nut. Check out 

these 3 simple smoothies for kids

 for inspiration - the strawberry macadamia mylkshake is loved by adults and kids alike.

In yogurt, oatmeal, or granola bowls – top off your next breakfast bowl with a drizzle of macadamia nut butter to stay fuelled for longer with blood sugar stabilizing healthy fats!

In your matcha – Add a tablespoon of macadamia nut butter to a high-speed blender with hot water and matcha for a creamy and luxurious matcha latté! 

On strawberries – Mix macadamia nut butter with coconut yogurt, vanilla extract, and a drizzle of honey or maple syrup. Dip strawberries in the vegan cheesecake mixture. Indulge. Repeat. See the full recipe here!

Apple snack - slice apples, spoon some macadamia nut butter butter on top, dust with cocoa or cinnamon powder.

On sweet potato toast - what could be better than this classic combination?! Here are a few ideas for how to enjoy sweet potato toast with your favourite nut butters!
Recipes Using Macadamia Nut Butter
Enjoy our spoon-licking good macadamia butter in any of these delicious, simple and refined-sugar free recipes:
A healthier take on traditional ice cream – this macadamia nut butter nice cream is made with just 3 ingredients. That's right! You can whip up a summer favourite using only macadamia nut butter, strawberries, and bananas. Plus, it's refined sugar-free, packed with healthy fats and so refreshing on a hot summer day. 
These macadamia cookie dough bites are the most delicious no-bake dessert around! Made with organic macadamia nut butter, chocolate chips, oat flour, honey, and vegan protein powder – they are so simple to mix up (but will quickly disappear)!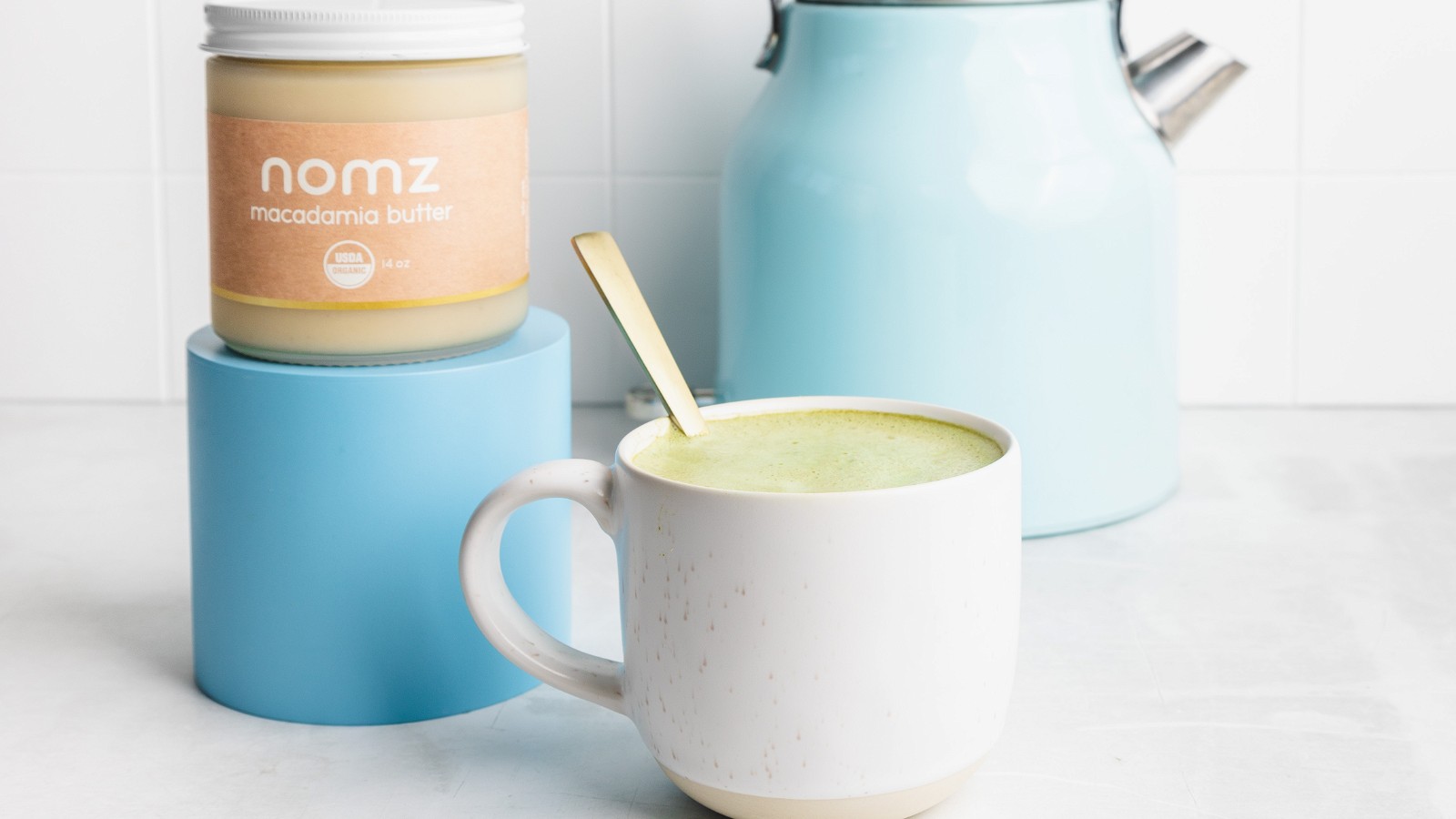 This macadamia matcha latté is made with three simple ingredients – organic macadamia nut butter, matcha, and water. It's a delicious energizing warm drink with a boost of healthy fats to help fuel your day!
This macadamia nut butter peaches & cream parfait is creamy, sweet and delicious - without any refined sugar or dairy. The macadamia nut butter is the perfect topping – adding a rich, luxurious and subtle nutty flavour. 
These white chocolate macadamia nut cookies are vegan, gluten-free, and refined sugar free. A healthier holiday cookie that is just as delicious as the classic, and so pretty!
The options for how to enjoy macadamia nut butter are endless! If you come up with another great use for our macadamia nut butter - let us know by tagging us on social media @nomz! We'd love to see your creations!
Other Articles