Almond Butter Uses & Recipes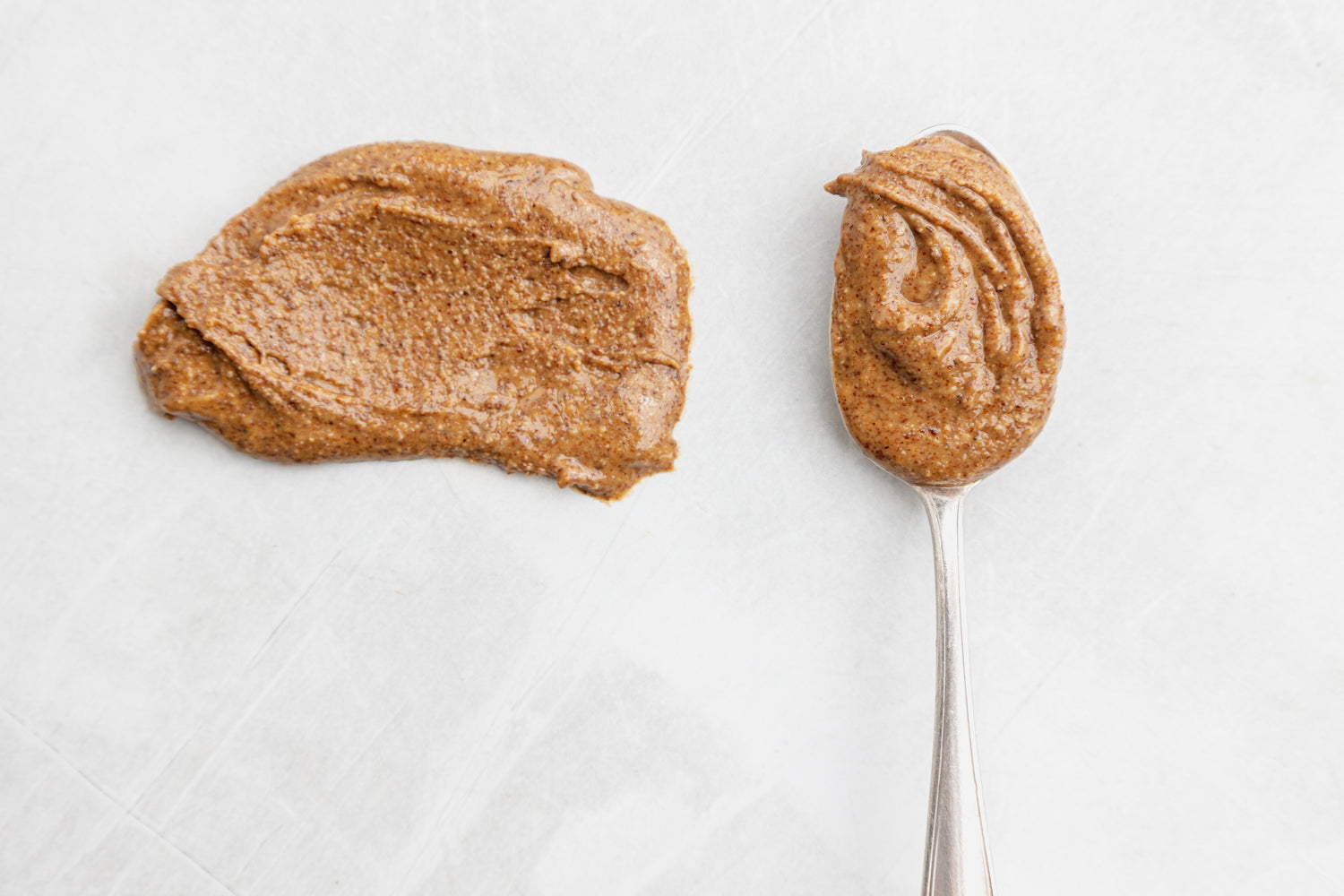 key points
Almond Butter is nutrient-dense and provides energy for the whole day
This thick creamy butter has plenty of health benefits and is packed with flavour
Almond butter is versatile can be used for all kinds of snacks and sweet or savoury meals
Almond butter is one of the most popular kinds of nut butter on the market, and for good reason! Packed with healthy fats, fiber, and nutrients – this fan favourite nut butter is thick and creamy, with a subtly sweet, and nutty flavour. From smoothies to chocolate almond butter cups, dressings, dips, and more – there are so many ways to use almond butter!
Looking for ideas on how to use hazelnut butter? Check out this post on hazelnut butter uses & recipes!
Almond Butter Health Benefits
Almond butter is a healthy, nutrient-dense food that will keep you fuelled throughout the day. Beyond the delicious taste, almond butter also has many health benefits: 
Blood sugar balance

- recent research has found that almonds could help to reduce blood sugar spikes and promote insulin regulation.

This 2011 study

found that adding almonds to your diet was beneficial for glycemic control and lipid control, and could potentially decrease risk of heart disease for those with type 2 diabetes 


Source of Magnesium - almonds are a great source of magnesium - with one ounce providing 80 mg of magnesium. This essential mineral is needed in over 300 chemical reactions in the body. It is involved in muscle function, maintaining blood pressure, bone growth, producing energy, DNA synthesis and more. Magnesium helps to transport calcium and potassium across cellular membranes and is therefore directly involved in conducting nerve impulses to the brain, as well as muscle contraction. 


Heart health

- almonds are high in

omega-3 and omega-6 healthy fats. Studies have shown that these fats are beneficial for cognitive health and development, healthy skin and hair, reducing inflammation, and can help to lower the risk of heart disease (amongst a multitude of other functions in the body)! Almonds in particular have been shown to reduce LDL cholesterol, and increase beneficial HDL cholesterol!

Learn more about

healthy fats here

.


Skin health

-

Almonds are also high in Vitamin E, a fat-soluble vitamin responsible for fighting free radicals and helping repair damaged skin

.
Almond Butter Uses
Almond butter is ideal for snacking, and can be added to both sweet and savoury meals! Some of our favourite ways to use almond butter include:
In smoothies - adding 2 tablespoons of 

almond butter to any smoothie recipe is a great way to increase satiety with lots of healthy fats.



Homemade nut milk

-

Ingredients:⁠ 1 liter filtered water⁠, 4 tablespoons organic nut butter (almond, macadamia, hazelnut, or pistachio)⁠,  (optional) 1 tablespoon raw honey, or 1-2 dates for sweetness. Directions:⁠ Add to a highspeed blender. Blend on high for 1 minute, then pour into a glass jar and store in the fridge for up to 4 days. 


Apple snack - slice apples, spread some almond butter on top, then top with bee pollen, berries, chocolate chips, or chia seeds!
Almond Butter Recipes
This almond sesame ginger dressing is made with simple, healthy ingredients and is delicious on nourish bowls, as a dipping sauce, or even as a stir fry sauce! Vegan, gluten-free, and easy to prep ahead.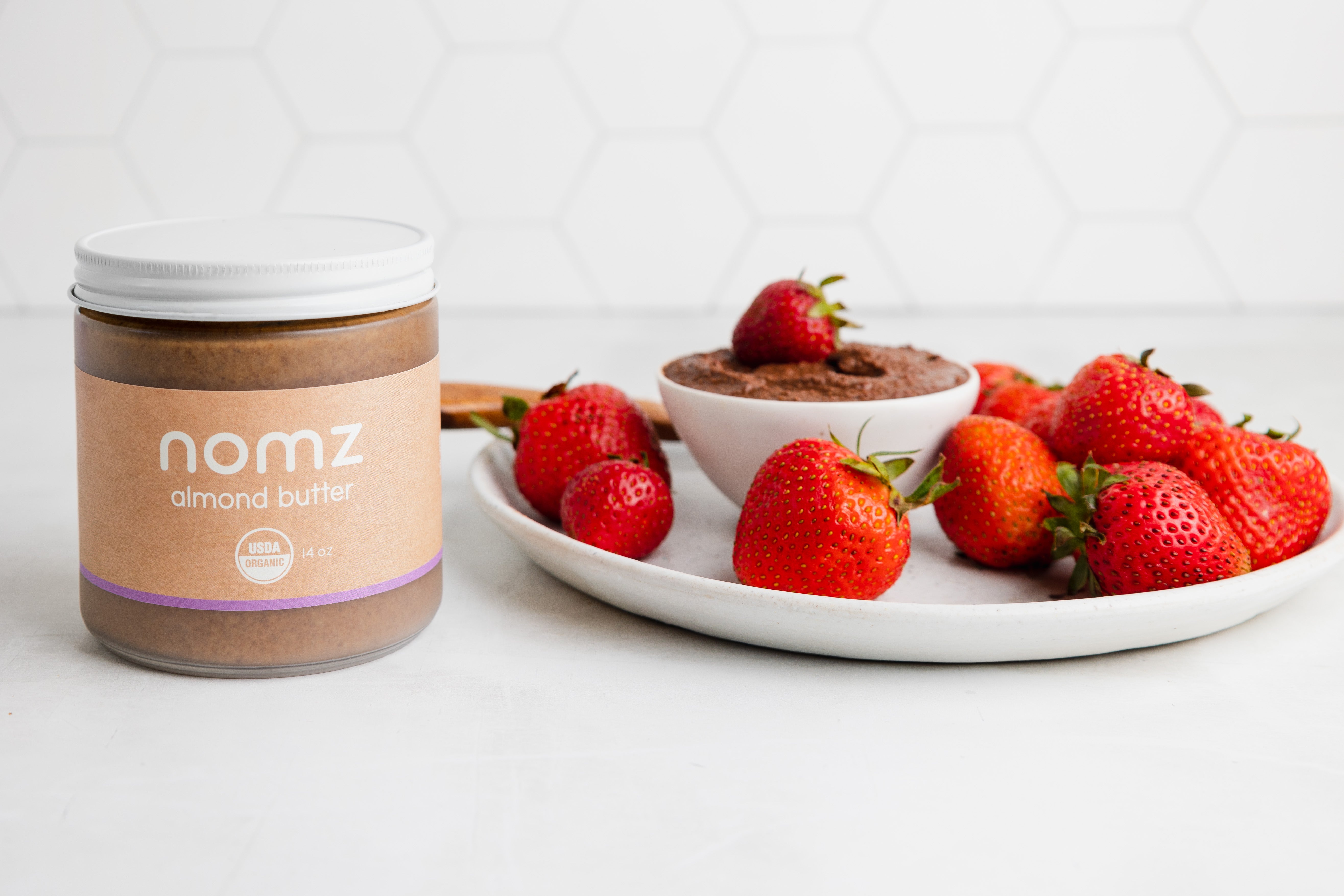 This high-protein chocolate dip is made with simple, plant-based ingredients. With a boost of healthy fats and protein thanks to the almond butter and chickpeas, it's the perfect afternoon sweet snack for adults or kids! 
This pumpkin spice cookie skillet is paleo, gluten-free, vegan-friendly, and made without any refined sugar! Made with almond butter, pumpkin spice, almond flour, and chocolate chips – it's a decadent dessert to enjoy during the fall season!
Satiating almond butter, sweet medjool dates and pure vanilla extract come together to create a tasty and wholesome snack that is packed with nutrients and so simple to make! 
This almond butter date caramel is a perfect complement to a variety of fruits, such as apples, pears, bananas, or berries. The combination of healthy fats and protein from the almond butter, alongside the natural sweetness of medjool dates creates a balanced snack that provides both quick energy and lasting satiety.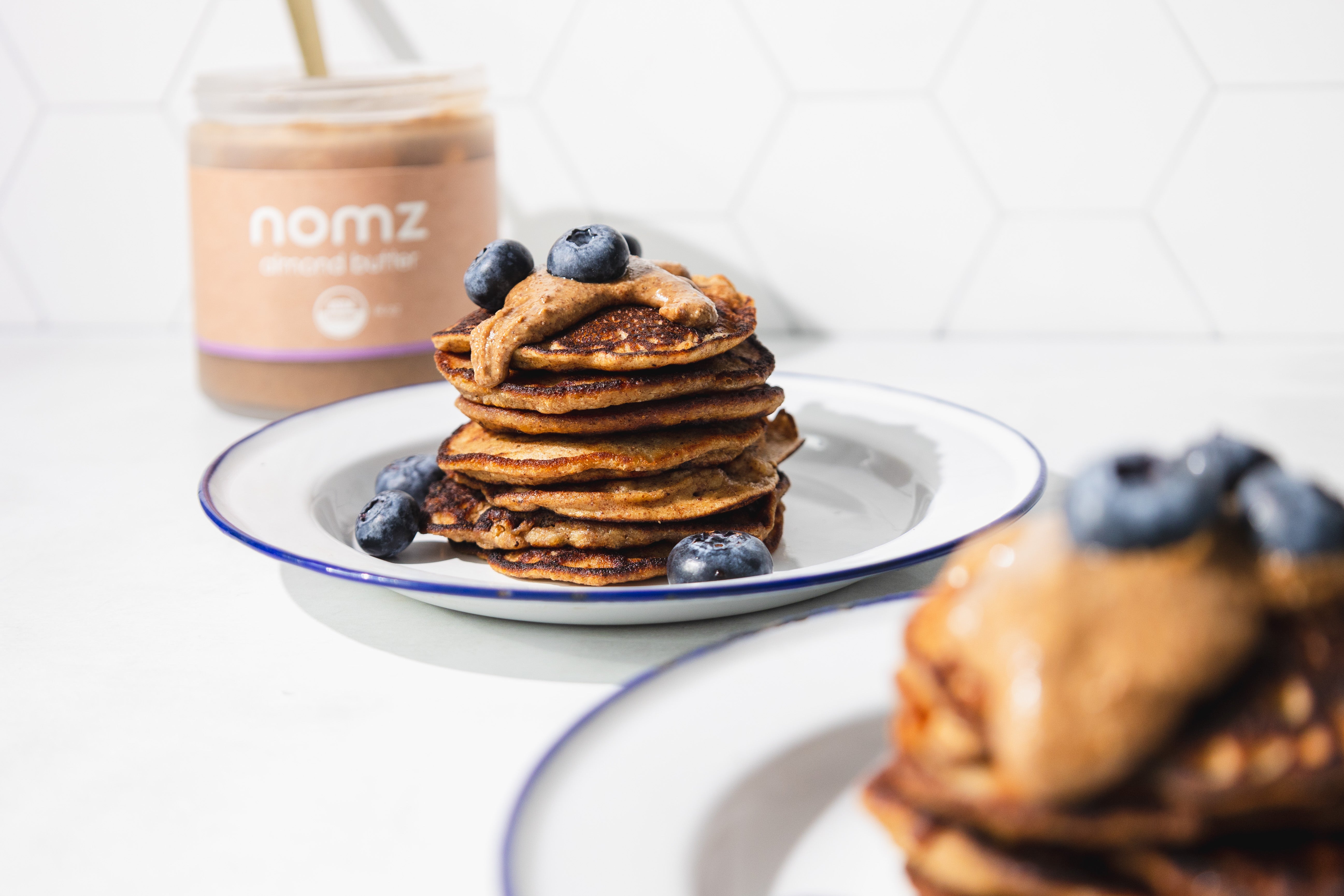 Made with organic almond butter, bananas, and eggs, these 3 ingredient pancakes are not only delicious but also packed with protein and healthy fats. Plus, they're perfect for maintaining stable blood sugar levels throughout the morning, which can help reduce cravings, improve energy levels, and support overall health.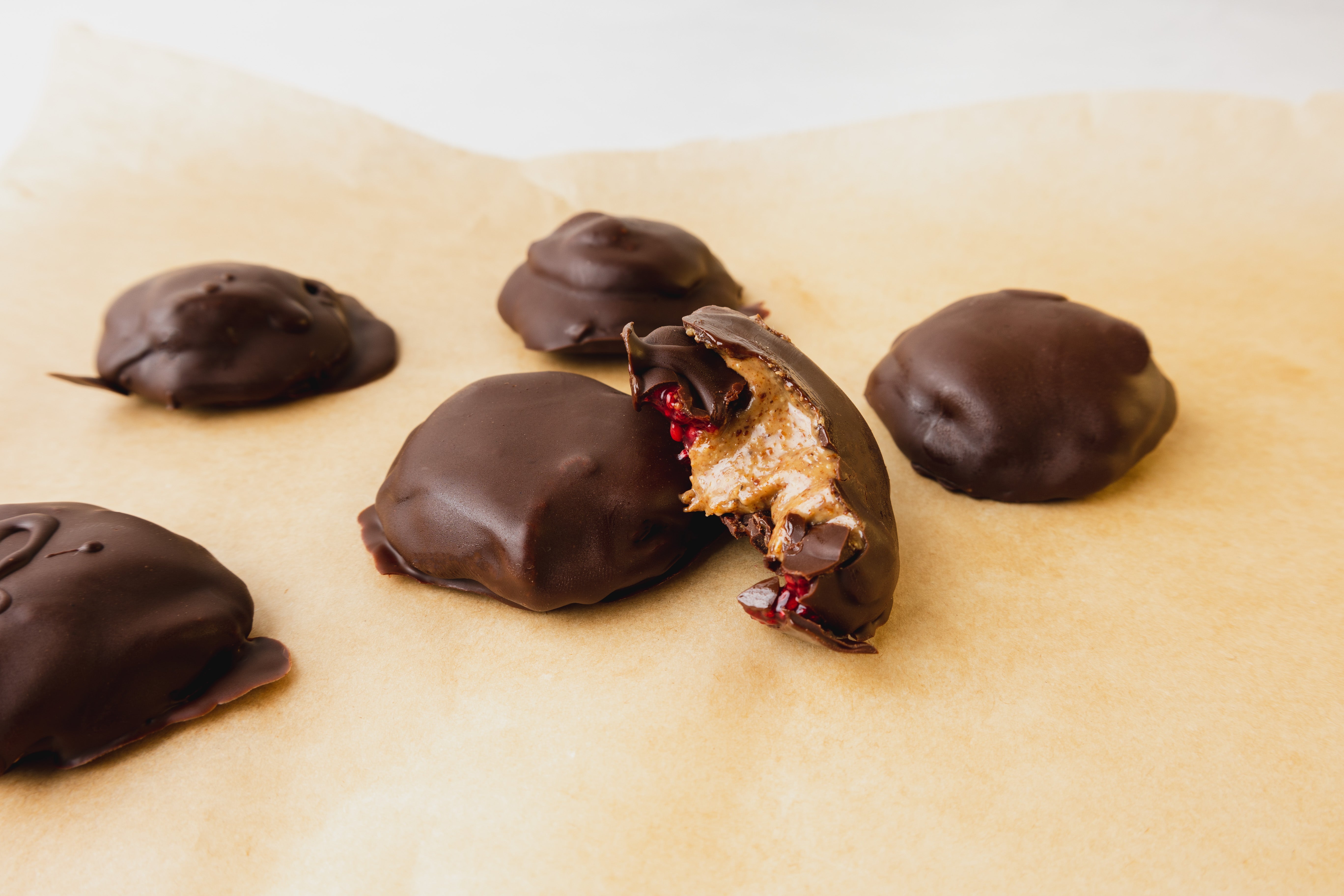 These no-bake raspberry almond butter chocolate bites with will satiate your sugar cravings without any refined sugar! Packed with wholesome ingredients, these bites are not only delicious but also offer a range of nutritional benefits.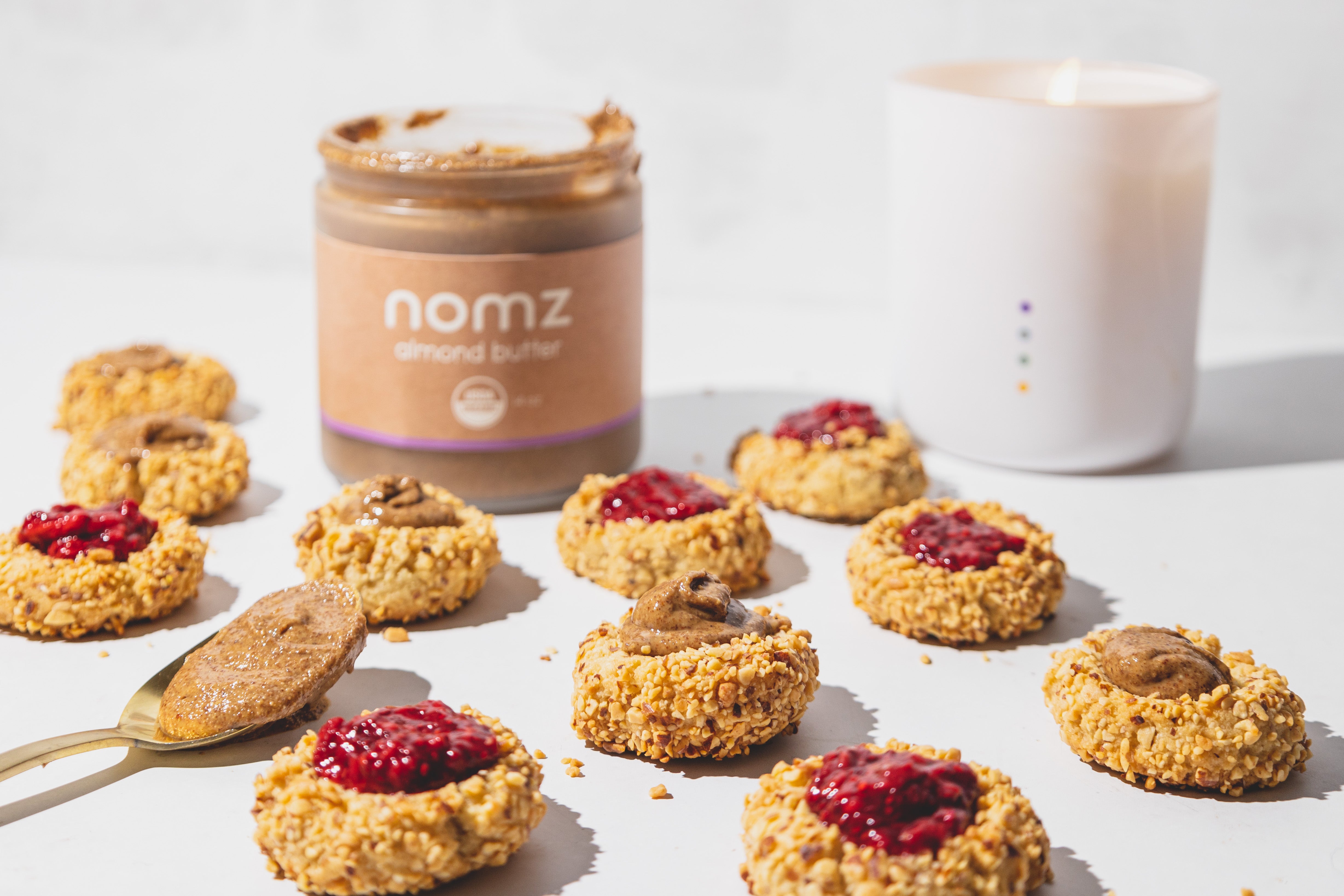 These raspberry almond butter thumbprint cookies are the delicious healthy holiday cookie you've been searching for! They are just as delicious as classic thumbprint cookies – but made without dairy, white flour, or refined sugar. Paleo, vegan, gluten-free, and refined sugar-free… this might just be your new favourite cookie recipe! 
Chocolate almond baked donuts that are vegan, gluten-free, paleo and made with simple healthy ingredients. Perfect for any occasion, they taste like chocolate cake, but without the refined sugar and gluten!
These homemade chocolate almond butter cups are a healthier twist on classic peanut butter cups, without any refined sugar! Packed with healthy fats and protein thanks to 100% organic almond butter. Get the recipe here!
Who can turn down a berry smoothie!? Wild blueberries are a tasty superfood – high in vitamin C, manganese, and antioxidants called flavonoids. You can swap out blueberries with frozen cherries, raspberries, or blackberries – any berry is delicious in this simple smoothie! Get the recipe from our 3 simple smoothies for kids blog post!
More Nutrition Articles: