Healthy Pantry Essentials for a Vegan & Paleo Diet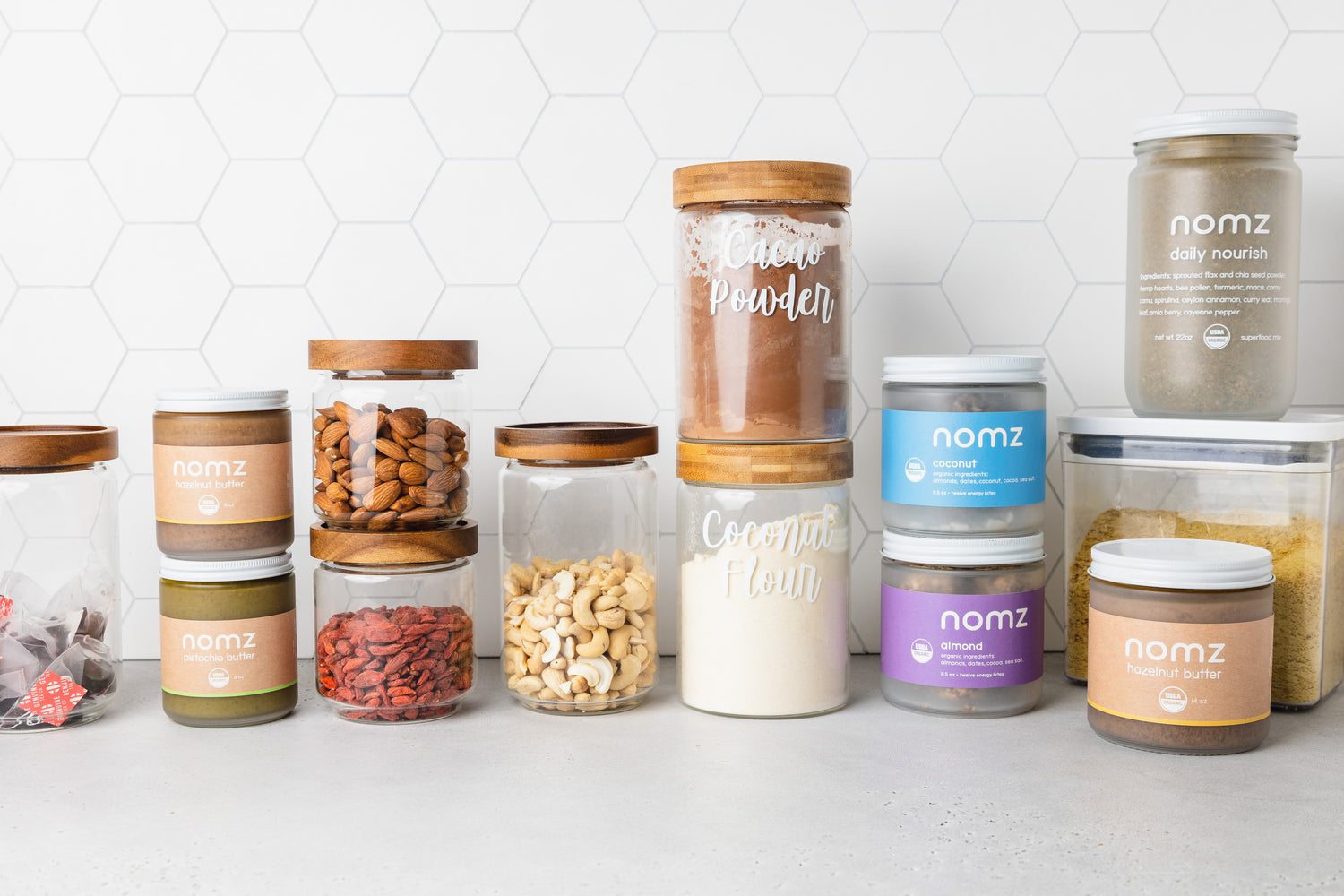 When it comes to eating well – stocking up on healthy pantry essentials is one of the best ways to set yourself up for success!  As the saying goes – if you stay ready, you don't have to get ready. A stocked pantry makes it easy to prepare simple, nourishing, and delicious eats throughout your week!
We've included some of our favourite paleo, vegan, and gluten-free pantry staples. From plant-based protein to paleo baking essentials, healthy fats, and our favourite snacks - we've got everything covered! Plus, at the end of this post – we include some simple, healthy recipes using your new pantry staples. Welcome to your healthy pantry makeover! 
Now, if you are just getting started with healthy lifestyle changes and wondering where to begin – try transforming one section of your pantry at a time. For example, you might try swapping out processed/ unhealthy snacks as the first step. Taking it one section at a time will make your healthy pantry makeover easier and more attainable!
Plant-Based Protein
Beans and legumes are great sources of vegan protein! Not only are they inexpensive and versatile – but they can be stored (dried or canned) for long periods of time in your pantry. Best of all they are low in saturated fat, high in fiber, and provide essential micronutrients.
lentils (red, green, black)

chickpeas

black beans

cannellini beans

kidney beans

pinto beans

split peas

hemp seeds
Vegan, Paleo, and Gluten-Free Baking Essentials 
If you love baking, but don't enjoy the sugar crash that comes with indulging in conventional baked goods - try swapping your baking ingredients for these alternatives! 
Substituting refined sweeteners with dates is an excellent way to decrease the amount of added sugar in your diet. Read more about why we love using dates as a natural sweetener here. Using paleo and gluten-free flours such as coconut flour or almond flour is a great way to add more nutritional value to your baking as well! 
date sugar

maple syrup

coconut flour

almond flour

cassava flour

arrowroot flour

flax seed

apple sauce
Snacks
Every pantry needs a snack section so that you know where to reach when the cravings hit! 
Many conventional packaged snacks are filled with refined sugar, stabilizers, hydrogenated oils, trans-fats, artificial flavours and colours, and more. Instead, we like to keep it simple with healthy, wholesome ingredients that provide energy while supporting whole-body health! 
nomz energy bites

(almond, hazelnut, coconut, or pistachio)

nuts (almonds, cashews, walnuts etc)

pumpkin seeds (aka pepitas)

sunflower seeds

chia seeds

vegan chocolate 

seaweed snacks

dried fruit - goji berries, dates, dried cranberries, apricots etc

nomzicles

(a chocolatey healthy snack to keep in your freezer!)
Healthy Fats and Oils
Replace highly refined processed oils and fats with sources of unsaturated fats and minimal amounts of high quality saturated fats! Here are some great sources of healthy fats to keep in your pantry:
extra virgin olive oil

avocado oil

coconut oil

tahini

coconut butter 
Read more about healthy fats and learn the difference between saturated vs unsaturated fats here. 
Superfoods + Smoothie Essentials
Even with the best intentions, we know how tough it is to make sure you're getting all the nutrients your body needs. This is where our daily nourish superfood mix comes in!
 Using daily nourish as our smoothie essential keeps our pantry shelves uncluttered. This all-in-one superfood mix contains 12 of the world's best superfoods – in one easy jar.
plant-based protein powder
Other Healthy Pantry Staples
full fat coconut milk

apple cider vinegar

nutritional yeast

coconut aminos

tomato sauce

quinoa pasta

chickpea pasta

tea

spices
Paleo + Vegan Recipes to Try
Let's Get Social!
Be sure to share a photo and tag us on social media @nomz #nomz if you make any of these healthy snack box ideas - we would love to see your creations!